Domenic Genua wins top exhibition award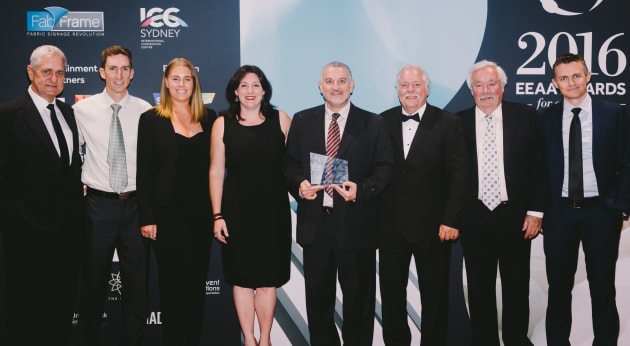 SIBS supremo recognised for service to exhibition industry.
The Boating Industry Association's national member events and marketing manager, Domenic Genua has been recognised for his services to the exhibition industry at a recent awards night held by the Exhibition and Event Association of Australasia (EEAA).
The awards ceremony was held at the new ICC Sydney venue as an official pre-opening test event. At the ceremony, Genua was presented with the Trevor Riddell President's Award for his service to the association.
President of EEAA, Spiro Anemogiannis said the award was being presented to someone who embodies the essence of the exhibition and events industry, as well as the value that associations play in building a community of professionals.
"Domenic is a passionate individual - who has given many years of service to the EEAA and its board. For over 13 years, the he has volunteered time in various positions on the board – as treasurer and also president.
"Domenic has hosted EEAA events at his show many times, spoken on behalf of the Association at conferences and training colleges and has given wise counsel to many.
"He has assisted the staff in so many ways over many years – nurturing and mentoring – sharing selflessly for the benefit of the whole industry.
"Domenic is the keeper of so much history about the EEAA and I was honoured to follow in his steps as the president of this wonderful Association."
Genua said he was proud and surprised to have received the award.
"There is a huge amount of satisfaction in giving back to an industry that has been good to you. I appreciate and am thankful for the recognition, but am equally thankful for having the opportunity to contribute back to an industry I love."
Another big winner at the EEAA awards ceremony were the organisers of the National 4x4 Outdoors Show, Fishing & Boating Expo - Exhibition and Trade Fairs – which claimed the top prize in the category for Best Consumer Show over 10,00m2 as well as being Highly Commended in the category for Best Show Team.