d'Albora tackles trash with Sydney Seabin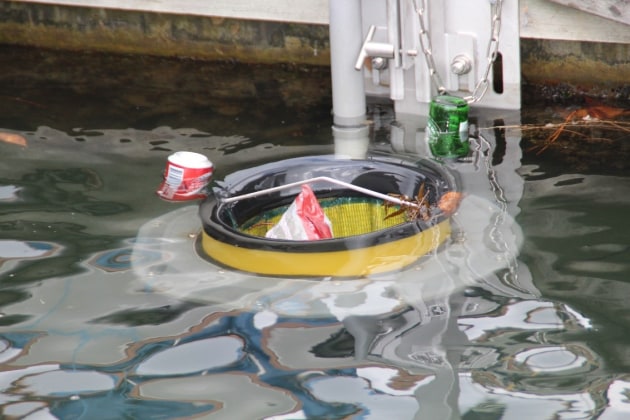 Floating rubbish collector is the first to be installed in Parramatta River.
A floating Seabin rubbish collector has been installed at d'Albora Marinas Cabarita Point site, the first Seabin to be used on the Parramatta River in Sydney.
Pete Ceglinski, CEO and co-founder of The Seabin Project, was on hand to install and demonstrate the effectiveness of the floating debris interception device.
The Seabin Project was founded by Ceglinksi and Andrew Turton in 2015 as a means of addressing the build-up of debris and litter that accumulates in waterways, not least around marinas and jetties.
Each Seabin is capable of removing up to 90,000 plastic bags, 50,000 plastic bottles and 35,700 disposable cups each year. The most common items caught in the bin are cigarette butts and micro plastics as small as 2mm that pose the biggest threat to marine life.
"As part of our environmental strategy, d'Albora is committed to working with and supporting businesses that positively contribute to keeping our waterways clean," said Suzanne Davies, d'Albora Marinas CEO.
The Seabin installed at Cabarita Point, sponsored by HP Australia, is expected to catch 1.5kg of marine trash every day (0.5 tonne per year). Images from the @Seabin_project twitter feed highlighted just how much rubbish the new bin was able to collect in only a short time after installation.
"It is great to see the bin in action. Everything from straws, cigarette butts and plastic bags were caught. I was astounded by the amount of marine trash collected in a 20-minute period," said Davies.
As part of the installation the Department of Roads and Maritime Services Environmental team has volunteered to survey the marine trash collected to gain a better understanding of pollutants entering the Harbour.