CYCA opens new clubhouse
Renovations on Rushcutters Bay clubhouse launched by longest-serving members.
After its nine month makeover, the Cruising Yacht Club of Australia (CYCA) has unveiled it's new-look clubhouse at Rushcutters Bay in Sydney. The club's two longest-serving male and female members, Michael York OAM and Joyce Warn, were chosen to officially open the refurbished clubhouse on the weekend.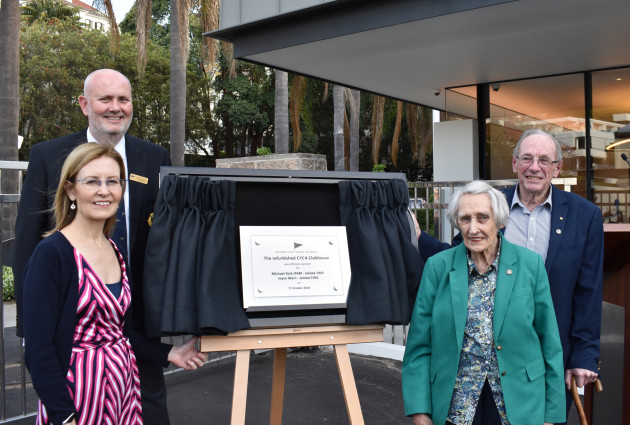 Designed by Allen Jack+Cottier and built by Belmadar, the new clubhouse combines modern and classic features in its traditional location on the Rushcutters Bay foreshore, offering improved accessibility, increased airflow and enhanced views of the marina, the traditional home to the Sydney-Hobart Yacht Race.
"The new clubhouse is all about a more comfortable and inviting experience for our members and guests," said CYCA CEO Karen Grega.
"Since May 2017 the club and its members have been inconvenienced in various ways by the refurbishments of both the clubhouse and the John Messenger Building, but hopefully now everyone will think it's all been worth it.
"We believe members will have real pride in showing off their 'new' clubhouse and be our greatest ambassador in growing our sailing membership."
Changes to the clubhouse include a new facade, entrance and reception area, a new ground floor layout to maximise space and improve traffic flow, refurbishment of the Sydney Hobart Bar, a new cafe servicing members and guests, and updated member-only facilities with improved sound-proofing and additional views.
The clubhouse also features the latest technology and improvements that highlight CYCA's commitment a more sustainable future with energy-efficient LED lighting, kitchen and bar equipment as well as solar panels to reduce electricity costs.
"We now have a home befitting our status as one of the leading ocean racing clubs in the world and one in which I know members are already proud," said CYCA Commodore Paul Billingham.
"The new clubhouse is fresh, new and interesting with the lower levels a nod towards the present and the future – carbon, concrete, steel - and the upstairs a modern take on the classic yachts of the past – beautiful wood, brass and marble."
Take a tour of the new clubhouse at CYCA.