Coppercoat goes around again with the Clippers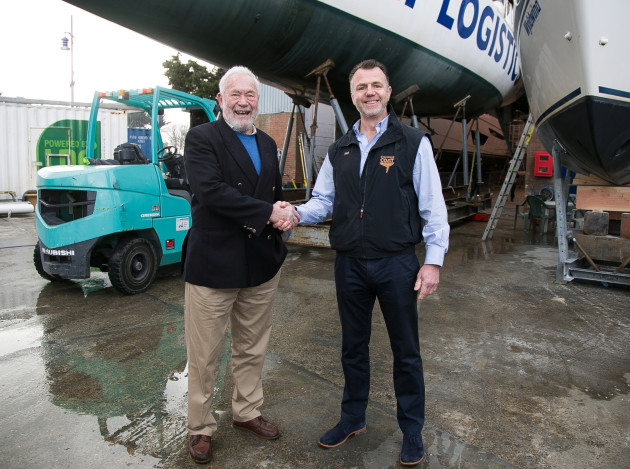 Current anti-foul coating is good enough for next Clipper Round the World Yacht Race.
The Coppercoat anti-foul coating has been selected again as the official anti-foul supplier for the next two editions of the Clipper Round the World Yacht Race in 2019-20 and 2021-22.
Coppercoat was used on the Clipper fleet for the previous 2017-18 race which meant the yachts didn't require hauling out in Sydney as happened on previous races. On completing the race, the hulls' coatings were revealed to be intact and with no marine growth following 16 months of constant seawater immersion over a distance of over 40,000NM.
As a result, the existing Coppercoat on the race boat hulls will not be stripped off and reapplied, and will still be in place when the boats set off again in August 2019 for the start of the 2019-20 race.
"We have of course made it clear that we will touch up the coating on the race boat hulls if required, but this emphatically hasn't been necessary as yet," said Ewan Clark, Coppercoat director. "Based on the unsullied condition of the Coppercoat on those hulls, supported by the innumerable positive testimonies we've accumulated over almost three decades of trading, there's every reason to suggest that the original coating we applied in 2017 will last not only throughout the 2019-20 race, but will also see out the 2021-22 event.
"Its coat-and-forget properties represent their own ringing endorsement."
Although the finer details of the Clipper 2019-20 Race route have not yet been finalised, it will consist of eight legs including stopovers in South America, South Africa, Australia, China, US and the UK, with Chinese stopovers in Sanya, Zhuhai and Qingdao already confirmed.
"Our confidence in Coppercoat has been rewarded," said Sir Robin Knox-Johnston, Clipper Race chairman. "Across the fleet of Clipper 70s, the coating withstood the rigorous conditions of a 40,000NM circumnavigation, and following the Clipper 2017-18 Race remains in near-perfect condition.
"As we prepare for the next race there was absolutely no question that we'd extend our association with the company.
"Due to the durability of the coating, the need for removal and replacement every year has been removed. Over the span of the partnership this will dispense with entire layers of inconvenience and expenditure."