Compass sets new direction for boaters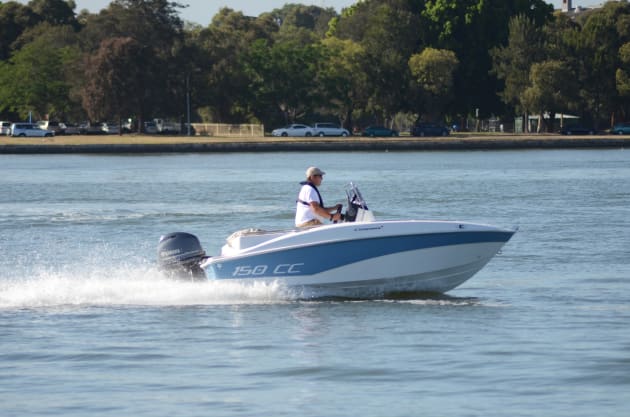 Innovative 'try-before-you-buy' plan in Sydney for Greek-made boats.
A new range of Greek-manufactured fibre-glass boats is now available in Australia offering an innovative 'try-before-you-buy' arrangement for prospective boaters.
Compass Boats based in Sydney has introduced a range of centre console fibre-glass boats onto the local market, starting with the 4.55 metre 150cc model powered by a 60hp Yamaha outboard.
The boats are manufactured in Greece and distributed throughout Europe by the Samouchos family which has been making boats for about 40 years and is one of the oldest Greek manufacturers of fibreglass boats. A few years ago, the company introduced new range of small boats aimed at the family boating market alongside its existing range of runabouts and small fishing boats.
The man behind Compass Australia, Dan Hanoumis, came across the boats while in Greece and thought they would be a good fit for the Australian market. There followed two years of discussions with the makers before Hanoumis was ready to import the first models into Australia, two 150cc models which will be followed by a larger 165cc model in about four weeks time.
"The primary reason for importing the boats is the quality in the boat and the cost," Hanoumis told Marine Business. "The construction is A1."
Apart from the boats themselves, an interesting development with their introduction is that prospective owners can have use of the demonstrator boats for everyday boating by paying an annual fee and becoming members of a share boat scheme.
Hanoumis, who comes from a background in commercial vessel safety, has had the boats certified for hire use, including adding extra foam polyurethane filling to ensure that level floatation standards are met and exceeded.
There are currently two boats available – one on a trailer so that members can tow it with them, and one housed at The Boathouse in Sydney with the usual walk-on, walk-off service. The $3,000 per annum membership includes all storage costs – the only out-of-pocket expense is fuel at marina rates – and members get up to 20 days usage per year. Currently there are 13 members in the scheme.
Hanoumis said the membership scheme sits somewhere between a day hire operation such as Boab Boats and more upscale membership schemes such as Pacific Boating. It is aimed at boaters who want access to a boat but who may not have room to store one or who may be planning to buy at a later date.
"The long-term goal is a GoGet style operation for boating," he said, adding that the biggest obstacle at the moment is getting marinas to accommodate membership-style programs.
Members also have the option of buying a boat if they wish, in which case the membership fee is deducted from the sale price. Currently a boat, trailer and outboard package for the 150cc model, fully-fitted and furnished with stereo and fish-finder, is approximately $27,000.
Hanoumis said the Compass Boats are ideal for use as hire boats and welcomes inquiries from boat hire operators as well as potential dealers. Contact him via email or the Compass Boats website.