Brooker and Bluefin to merge manufacturing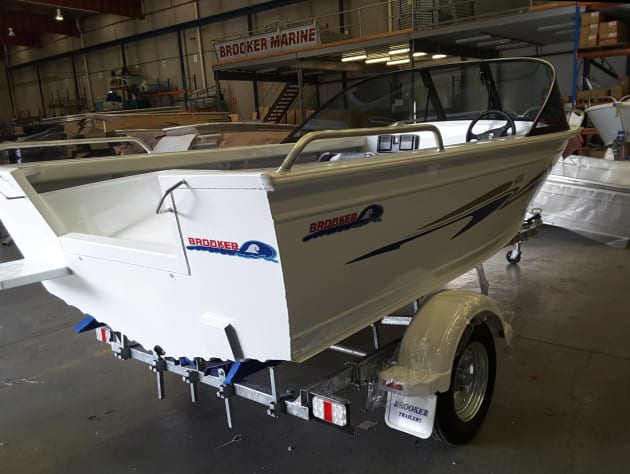 Two local aluminium boat builders move into Sydney factory.
Two of Australia's best-known aluminium boat builders, Brooker Marine and Bluefin Boats, have announced they are merging their manufacturing operations.
In a statement, directors Brad Richey of Bluefin and Kevin McCarthy of Brooker Marine said they are looking forward to working together to create a joint manufacturing facility at Brooker's Lidcombe factory in Sydney.
"These two brands have built a strong mutual respect with their respective independent dealer networks and we will continue to work with both groups offering new dealer agreements with supply and pricing," said the statement.
"This merger will build a future proof alliance for the benefit of our dealers and ultimately the consumers."
According to the two companies, the unique features of both brands will remain but they will "dovetail" model variants while continuing to offer bespoke customer modifications in both brands.
"Our strength is our capacity to build a stock of finished boats for immediate delivery and finish boats with specific requests of customers who know what they want. Both brands have that advantage over our larger competitors and we plan to keep it that way.
"Brooker and Bluefin recognise the advantage a dealer has by holding stock to show customers the features and options available. Together we will have the ability to provide dealers with a capacity to hold stock and be able offer the Wells Fargo (previously GE) Finance option to all dealers.
"We highly regard our dealer networks and wish to continue supporting all independent dealers offering the full choice of motor manufacturer configurations, allowing customers to choose the boat, motor and trailer package that suits their needs.
"The owners of Brooker and Bluefin recognise the industry needs a shot in the arm. We plan to make service improvements that will ensure that we will be here for the long term providing dealers and customers with the assurance of continuity and warranty.
"The merger of the two organisations will gain efficiencies in production, component purchasing and overheads management, together allowing us to supply boats and trailers at a competitive prices, with improved delivery reliability while maintaining our high standard of quality."
Brooker Marine is one of the best-known brands in the local boating market having been established by Norm Brooker in 1966. In 2011 the company was taken over by its current owners and moved into a new manufacturing facility in Lidcombe.
Bluefin Boats was founded in 1999 with manufacturing facilities on the Gold Coast. The company went into administration in 2015 but has continued in business and recently exhibited at the Gold Coast Expo with dealer Nitro Marine.