Brisbane Marine wins Mercury dealer of the year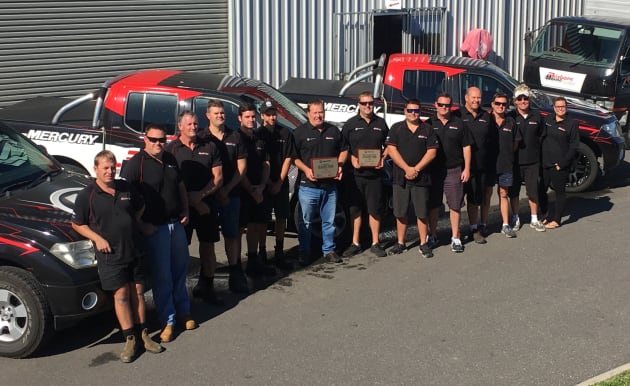 Mercury dealership in North Brisbane named as the best for 2016.
Brisbane Marine in Queensland has been awarded the 2016 Mercury Dealer of the Year award for Australia.
"On behalf of the Mercury team, I would like to congratulate the recipients of all this year's awards," said Will Sangster, general manager ANZP Mercury Marine. "Mercury dealers and boat builder partners across the region continue to raise the bar in providing the boating consumer with what is desirable in today's market. The winners all went above and beyond in 2016 so well done!"
Brisbane Marine was founded in 2013 as a hi-performance Mercury dealer and is billed as the only Mercury Certified Service Centre in the northern suburbs of Brisbane. The dealership handles a range of boat brands including Anglapro, Extreme, Profile and Savage.
"The team at Brisbane Marine are outstanding across the board and I wasn't surprised when they finished on top for dealer of the year," said David Meehan, Mercury's director of sales.
"The dedication of the team at Brisbane Marine is second-to-none. They do everything they can to support their local boating community. They epitomise what customer service is all about as well as passion for the brand."
Alongside the dealer of the year award, other Mercury dealers around the country to be recognised this year include:
Regional winners
QLD/NT Dealer of the Year: Brisbane Marine
NSW Dealer of the Year: TR Marine
VIC/TAS Dealer of the Year: Channel Marine
SA Dealer of the Year : Hodge Marine
WA Dealer of the Year: Aquasports Marine
Product winners
MerCruiser Towsport OEM of the Year: XFI Ski Boats (VIC)
MerCruiser Dealer of the Year: MY Marine (QLD)
Inflatables Dealer of Year: Waves (NSW)
MotorGuide Dealer of the Year: In and Outboard Marine (NT)
Parts and Access Dealer of the Year: Aquasports Marine (WA)