Brig set to launch largest RIB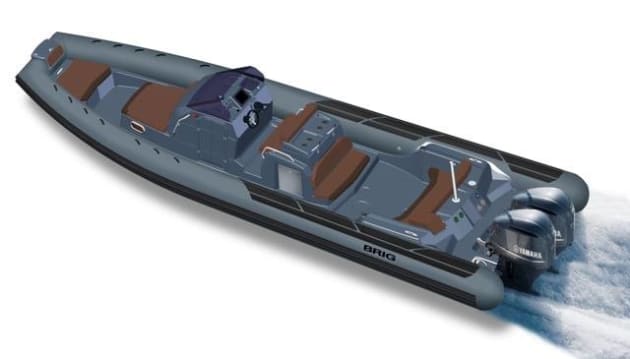 Eagle 10 model lined up for April arrival in Australia.
Rigid inflatable boat (RIB) manufacturer, Brig, is set to launch its new flagship model, the Eagle 10, billed as its largest and most versatile model to date, with an expected arrival date in Australia of April.
"It's the most exciting launch in the history of Brig," said Neil Webster, Australian distributor at Sirocco Marine. "It will be the largest at 10m, with twin 300hp engines for loads of oomph. The Eagle 10 will be a true 50 knot boat, and even more thrilling than its speed and stability – the array of unique features will make it a fantastic day boat and weekender suited to all kinds of uses."
Features of the Eagle 10 include comfortable seating, a convertible table and sun deck, a sink unit that can accommodate a fridge/stove, a stern swim platform with folding ladder and outdoor shower kit, plus a well-appointed cabin complete with double bed.
"People are queuing to see it," said Webster. "We already have six or so orders ahead of its launch next week and Australian delivery in April."
Webster said demand for the new model confirms the broader trend of a growing market for RIBS.
"There is certainly demand for larger inflatables now that the market and our loyal customers are accustomed to the idea of a RIB as a main boat. Once you've had one, you won't go back!"
Among the first parties to express their interest is long-time Brig client, Cary Redstone and his family of "die-hard boaties", currently owners of an Eagle 780 named Phase 5 which they bought in 2015.
"We have squeezed every last ounce out of our Brig," said Redstone. "The on-water experience is what matters. We love to shoot up to Manly from our berth at Birkenhead Point or over to Darling Harbour for a pizza. It costs $15 to park it, we have dinner and then tootle home enjoying the evening on the Harbour and all the sights, sounds and sea air."
The Brig Eagle 10 will be Redstone's fourth and largest RIB, destined to be named Phase 6. Phase 1 was a jet ski, followed by a bigger jet ski, two RIBs and then the Eagle 780.
"We are ready for bigger, better and with more cruising range," said Redstone. "RIBs handle exceptionally well, they're stable and safe even in rough waters, allow year-round boating and are economical to run.
"Brig RIBS are noteworthy for the quality of the materials, designs and exceptional service from Neil and the team. Nothing is too much bother."