Boating industry honours outstanding contributors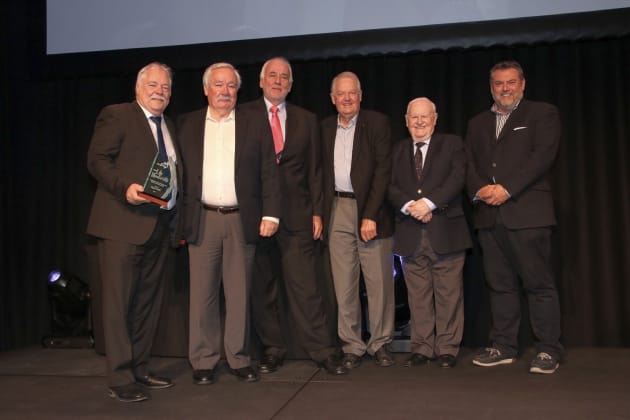 Roy Privett, Chris Mitchell and Mike Jarvin honoured at boat show breakfast.
Roy Privett, former general manager of the Boating Industry Association NSW, was named as the latest recipient of lifetime membership at the association in recognition of his many years of service to the industry and, in particular, the Sydney International Boat Show (SIBS).
BIA president, Alan Blake, presented the award in the company of four former presidents of the BIA (Peter Hunt, Ian McAndrew, Doug Olding, Darren Vaux) and in front of a large crowd of boating industry representatives, politicians and exhibitors at the opening breakfast for the 2017 Sydney International Boat Show. On accepting the award, Privett received a standing ovation from the breakfast crowd.
Over more than two decades, Privett was instrumental in establishing SIBS as one of the leading boat shows in the world as well as helping to foster the growth of boating in NSW. He originally joined the BIA in February 1989 and was immediately faced with the challenge of establishing the Sydney boat show in its new home at Darling Harbour, a transition which marked the start of the show's most successful years. He was also instrumental in many industry projects and initiatives from the BIA aimed at boosting participation in boating and driving the industry's continued prosperity. He retired from the BIA earlier this year.
The breakfast also saw the biennial NSW Maritime Medals being awarded to Chris Mitchell and Mike Jarvin in recognition of their services to boating safety and the community respectively.
Mitchell was recognised for his contribution to universal inclusion and disabled accessibility in sailing including new boat designs, advocacy, mentoring and philanthropy. Nearly 3,000 of his boats are used in 32 countries to enable even severely disabled sailors to sail competitively against able-bodied counterparts. He is also a regular volunteer at Shoalhaven Sailability and has designed access pontoons and portable cranes for club events that allow people to safely get into their vessels in a dignified manner.
Mike Jarvin was recognised for his work as a voluntary advocate, strategist and advisor to the boating community for over 25 years. During this time, he has become such a well-known face at key strategic maritime groups and events that he is commonly known as 'Mr Everywhere Man'. He has also contributed to the boating community by mentoring maritime start-ups from their inception, bringing many decades of experience from his successful maritime businesses.
As the managing director of Advanced Marina Management, a Sydney-based marina consultancy, Jarvin consults to leading marina operators, principally in NSW and Queensland, but also throughout Australia and Asia.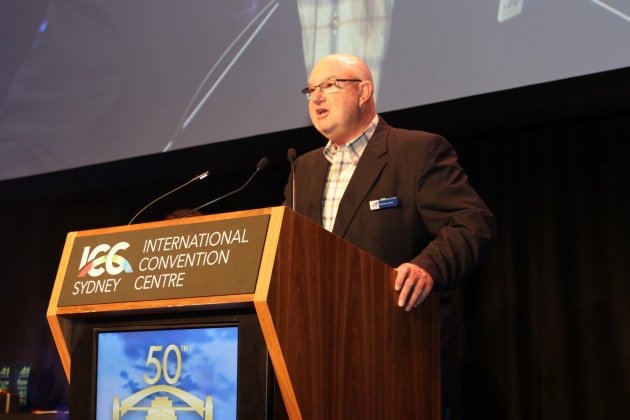 In his acceptance speech at the breakfast, Jarvin spoke about the essential link between government and the industry.
"Over the long journey I have seen an amazing coming together, coming apart, coming together of government and the industry," he said.
"Today, we have a joint vision that requires some investment of our boaters' funds in coastal infrastructure. South of Sydney is the untapped boating future.
"My friends know that I am passionate about developing infrastructure and most of you know that there are facilities on the south coast sitting there with approvals in place that just need the support of Government to develop."