Boaters invited to get into Beds on Board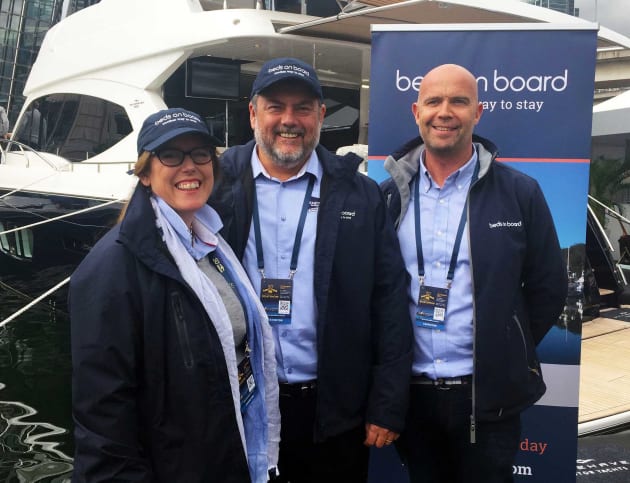 Peer-to-peer boat accommodation service launches in Australia.
The UK-based boat sharing website, bedsonboard.com, has launched in Australia and is in the process of establishing a network of boats for rent around the country. Unlike typical boat charter operations, the boats for hire through Beds on Board do not leave their moorings and are made available for accommodation only.
The share service was launched in the UK a couple of years ago and now has boats listed in over 60 countries, offering tourists and holiday-makers a range of on-water accommodation choices. Boat owners can list their boats on the website for free and interact directly with the hirers to rent out their boats whenever it suits them. Beds on Board charges a fee as part of each rental.
Co-founder Jason Ludlow was at the Marine17 conference and the Sydney International Boat Show to launch Beds on Board in Australia which will be run by Darren and Nicky Vaux at Empire Marina Bobbin Head in NSW.
Darren Vaux explained that the intention with Beds on Board is to work with the marine industry and maritime authorities from the beginning in order to establish a solid business foundation. A first step in this process has been advice from the Australian Maritime Safety Authority (AMSA) that a general exemption from commercial vessel regulation is appropriate for Beds on Board and will be issued for public consultation shortly.
Vaux said the service had also attracted a lot of interest from marinas, clubs and even charter operators in the industry who see the potential for extra revenue streams and as a means of promoting the boating lifestyle.
"We're working with industry first in order to get it right," he said, adding that establishing the operation in Australia is part of a long-term strategy. "We want it to become an overnight sensation sometime next year."
The website already lists Australian boats for rental and Vaux said the response from visitors at the Sydney boat show had been positive.
"There was a lot of enthusiasm from people who currently don't own boats, especially younger people who want access to the boating lifestyle and want it now."