BLA showcases new releases at Trade Show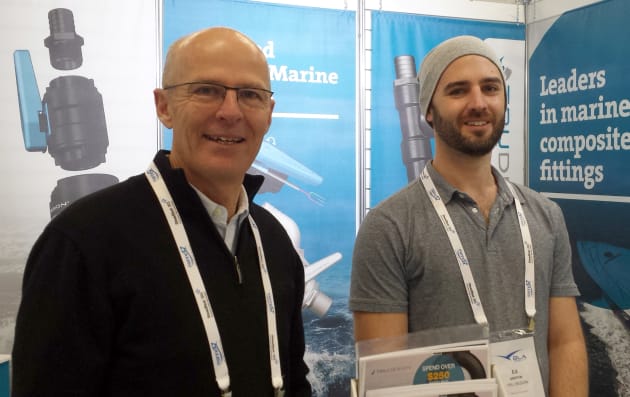 Three-day trade show highlights new products and brands for local market.
BLA Distribution held its second industry Trade Show in conjunction with the Marine17 conference, introducing a range of new products to the local market.
Geoff Nathan and Ed Griffin were on the stand to present the TruDesign range of marine plumbing fittings, a recent addition to the BLA portfolio. The New Zealand company is well-known for its success at the DAME Design Awards at the METSTRADE show including last year with its unique thru-hull fitting tool. The company uses injection moulded composite manufacturing technology to produce a range of long-lasting, corrosion-resistant thru-hull valves which have been enthusiastically adopted by local OEMS as well as in the retrofit market. Its products are approved to ISO and ABYC standards and, being non-metallic, are immune to electrochemical and galvanic corrosion that can afftect traditional bronze fittings.
Tyson Alvanos travelled from the US to present the latest Ultrex trolling outboard to the local market, showing the very first unit to arrive in the country. The Ultrex was launched in the US market last year and was an immediate success, selling three times faster than expected. The key selling point of the unit is that it combines a cable steer foot control which is fast and responsive with the remote-control convenience of i-Pilot or i-Pilot Link electronic controls. The unit has been awaiting compliance with Australian standards and having now gained it, the Ultrex looks like being one of the hit new products of SIBS 2017 with an expected market release towards the end of the year.
Bob Jarvis from Lewmar was showing the latest range of vertical and horizontal windlasses manufactured using hybrid technology resulting in a lighter and more competitively priced option. The patent-pending gypsy on the windlasses uses a metal anchor warp core combined with a polymer chain wheel which is quieter and lightweight while still delivering the durability of a traditional metal gypsy. Toughened glass products are also new to Lewmar, complementing its range of hatches, winches and bow thrusters.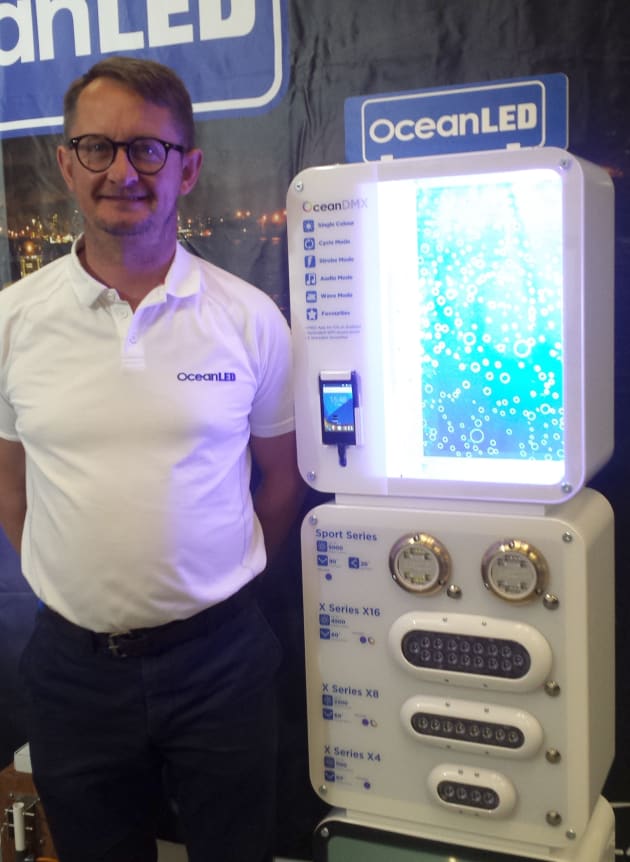 OceanLED is a major player in the competitive marine lighting market, delivering a proven LED technology based on years of experience in the boating sector. Jim Deheer from the UK-based company was on hand to demonstrate a range of products including the recently-released Sport S3116s light which combines a powerful LED with clever directional optics, the X Series range of lights, recently rationalised to simplify the product line-up, and the OceanDMX app which allows a boat owner to control and adjust their boat lights via a mobile app, even in sync with your music – very clever technology indeed.