Big marine brands out in force at SCIBS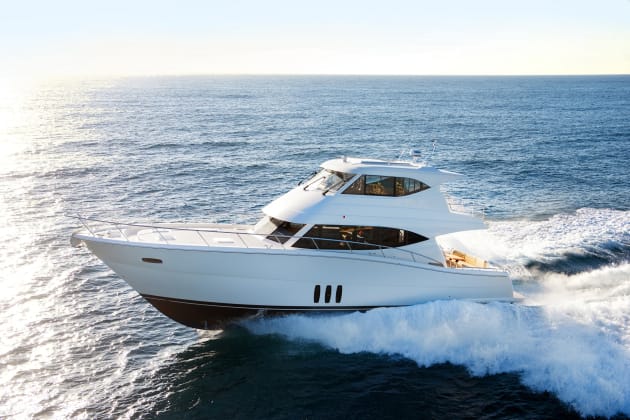 Find out what's coming up at SCIBS across motor boats, engines and watersports.
With just over a week to go until the 2017 Sanctuary Cove International Boat Show opens, the line-up of brands and new models appearing this year continues to grow. Here's a round-up of some of the exhibits which will be on display across motor cruisers, engines and watersports.
Motor cruisers
Centre-stage among the motor cruisers at the marina this year will be Maritimo which will be launching the new M59 model following its world debut in Miami in February.
The M59 – which comes with a price tag of $2.86 million - is a three-cabin, two-bathroom vessel with a wide beam and large back opening lazerette, similar to the large M64 motor yacht and smaller M51.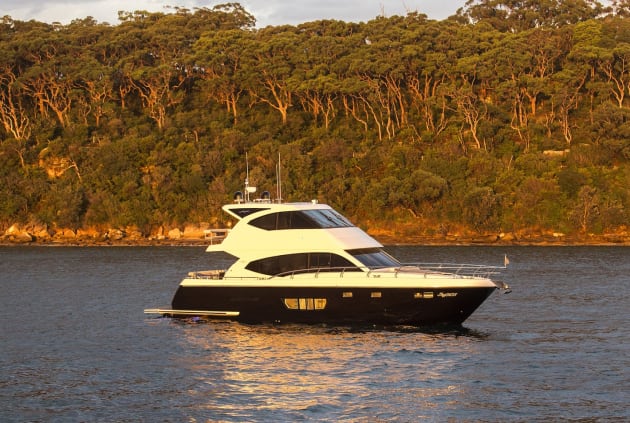 Maritimo has confirmed five vessels on water including the M51, M54, M59, M64 and X54 (although no mention of the S70 announced earlier).
Australian motor yacht brand Whitehaven will host the launch of the latest custom-built model from its 6000 Flybridge Motor Yacht series which, according to the makers, takes its inspiration from the Whitehaven 7000 Flybridge offering multiple accommodation layouts, forward or aft galley saloon and Euro-style cockpit.
British brand Sunseeker will be represented by the Sunseeker Manhattan 65, a four-cabin flybridge model while the Italian brand Monte Carlo, represented by Sundance Marine, will be showing the Monte Carlo 6, making its Australian debut, and Monte Carlo Yachts 70 models.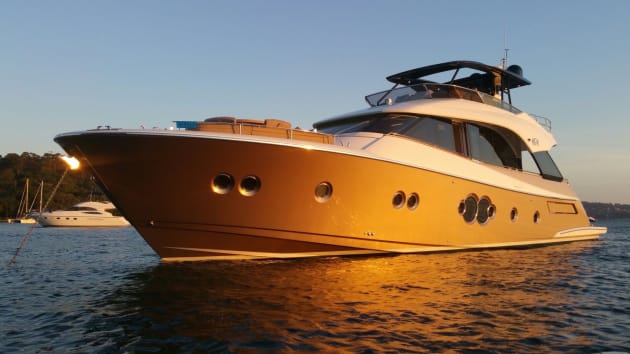 Australian-made Palm Beach Motor Yachts will be displaying the PB65 and PB42, the largest and the smallest models in the range, while Grand Banks will present the all-new GB60 model.
Engines
When it comes to heavy metal, there is an impressive line-up of engines and propulsion systems on offer at the show.
Long-time exhibitor Marine Diesel will have a selection from the John Deere Marine range on display for vessels from 30 to 120 feet, including a 13.5 litre 750hp engine suited to commercial or recreational craft.
Steyr Motors Australia is returning to SCIBS to showcase its diesel engines as well as the Uflex control system, Konrad stern drives, Cummins diesel engines and the Tercoo Rotating Blaster.
Seamech will showcase the Volvo Penta engine brand with a glass cockpit interactive display, enabling visitors to take the controls and get a first-hand experience of the glass cockpit system in action.
Scania will be exhibiting its 16L V8 1200hp engine, billed as one of the most fuel-efficient diesel engines in its class.
Vetus-Maxwell will exhibit its own brands, Vetus, Maxwell and V-quipment, including a new range of Vetus retractable bow thrusters for recreational vessels from 20 to 70 feet.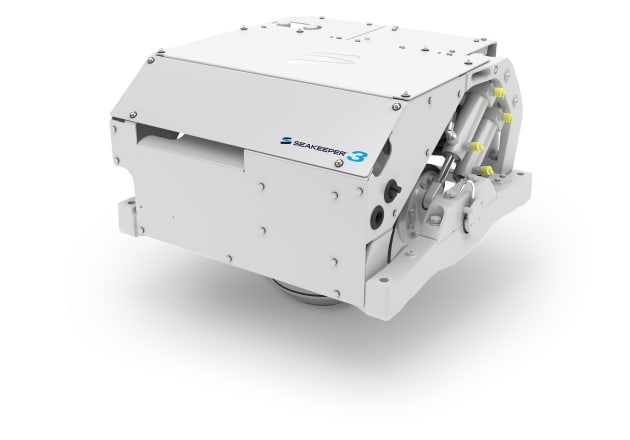 TwinDisc will be exhibiting the company's entire range of Twin Disc and Seakeeper products ranging from quickshift and standard marine transmissions through to Seakeeper Gyro Stabilisers. Twin Disc will also showcase the Seatorque Boss Enclosed Shaft System which was recently added to its line-up
Penske Power Systems will showcase the MTU 8V2000M94 engine, Kohler petrol 6EFKD and diesel 13EFKOZD marine generators.
Yanmar Marine engines will present engines to suit sailing, pleasure and commercial vessels in a power range of 9 to 1822mhp, while Torqeedo will feature electric motor technology for kayaks, dinghies, day sailers or tenders.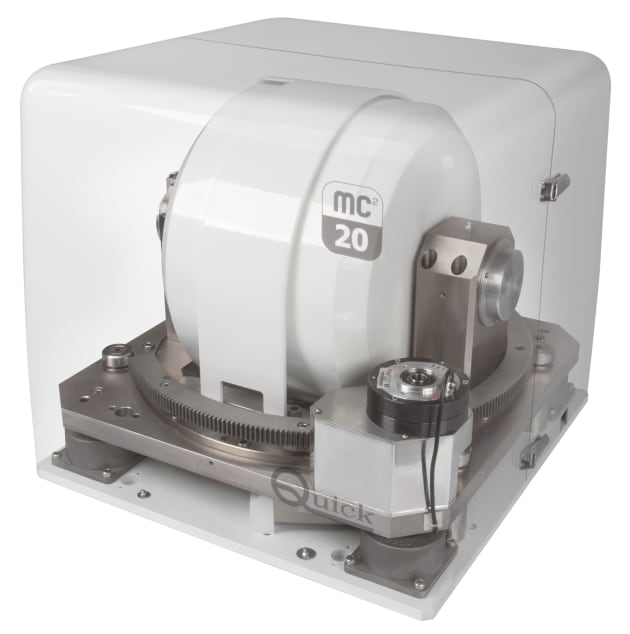 Cat Marine will have two engines on display including the new C7.1 and the C12.9 – both for the recreational market and suitable for larger pleasure boats from 40 to 65 feet.
Gineico will be presenting the MC² Gyro, making its Australian debut at SCIBS after being launched at the London and Miami International Boat Shows earlier in the year. Gineico's managing director, Pierluigi Gambacorti, said the company is looking forward to presenting the first unit in Australia, the MC² 20t, at SCIBS.
"The MC² does not require a hydraulically controlled gimbal mechanism or water cooling and is 30% smaller, as well as comparatively less expensive," he said.
Watersports
From wake and ski boats, personal water craft (PWCs) to leisure day boats, tenders and RIBS, the range of watersport makes and models on display is set to be another highlight.
Representing Yamaha, GC WaveRunners will present two new 2017 WaveRunner models including the EX Series, positioned as an entry level model for families, and the much-anticipated GP1800, a supercharged model for race enthusiasts.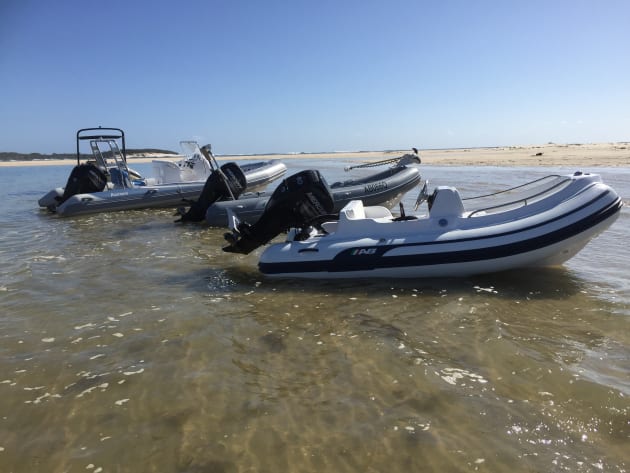 Active Watersports will be returning to SCIBS this year, exhibiting as Walker Bay Australia, with a range of tenders, sailboats and watersports accessories. The most popular products include the Walker Bay brand of Airis inflatable kayaks, the Airis SUPS, and the Walker Bay rigid dinghies.
RIB Force Inflatables will have 40 boats on display, including the AB and Aurora boats, covering fishing, performance and sports boats, tenders for sail and power, and RIBS up to 8.5m rated for 50 nautical miles offshore.
Whitewater Marine will display the US-made Tigé wakeboard and wakesurfing boats featuring the electronically-collapsible "power tower" fitted as standard on all Tigé boats plus the TAPS3 surf system. Whitewater Marine will also show two Buccaneer boats from New Zealand, one a weekender with full fibreglass hardtop and all the mod-cons for family enjoyment, the other a smaller day boat or overnighter suitable for all watersports.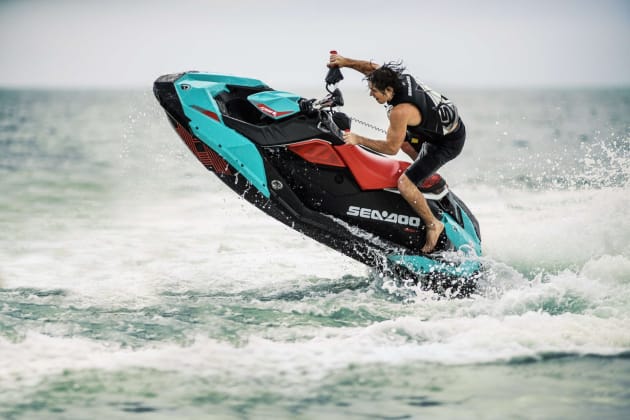 JSW Powersports will be showcasing the latest Sea-Doo Spark Trixx PWC, specifically designed for riders looking to perform on-water tricks. JSW will also have Sea Fox craft in five layouts and, as the newly-appointed Gold Coast dealer for Malibu Boats, a selection of these watersports towboats on show.
New from Jetski World is the Kawasaki 2017 SX-R 1500, billed as the world's first four-stroke stand-up and winner of the recent Australian National titles. Jetski World director John Moyle said the SX-R is a category-breaking jet ski guaranteed to be a hit at SCIBS.
"It's the latest thing from Kawasaki and there's nothing like it on the market. It's fast, easy to ride and designed for people to learn to ride a pole ski easily," he said.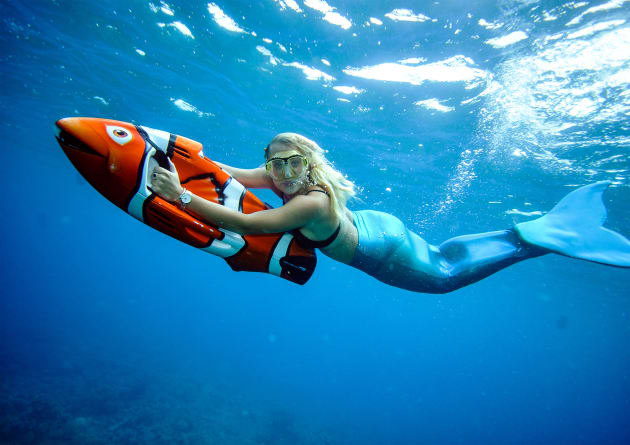 Seabob Jet Australia will have the Seabob Jet F5s at SCIBS this year. Powered by lithium ion battery technology that produces 680Nm of torque and 4 kW of power, it is capable of speeds up to 20 kph. The unit comes with a factory setting that shuts the engine off below a depth of 2.5 metres, which for the more adventurous can be adjusted to a maximum depth of 40 metres.
Superior Watersports will be displaying its range of sturdy SUPs which are manufactured on the Gold Coast and are ideal for commercial use being 100% polyethylene rotomoulded.
Henshaw Yachting is presenting the TIWAL 3.2 inflatable sailing dinghy, designed by French designer, Marion Excoffon. Designed for safety, it has a wide V-shaped underbody that provides more stability than a traditional rigid dinghy. The TIWAL can take an adult and two children or two adults and is 10.5 feet long, weighs 50kgs and comes in two bags.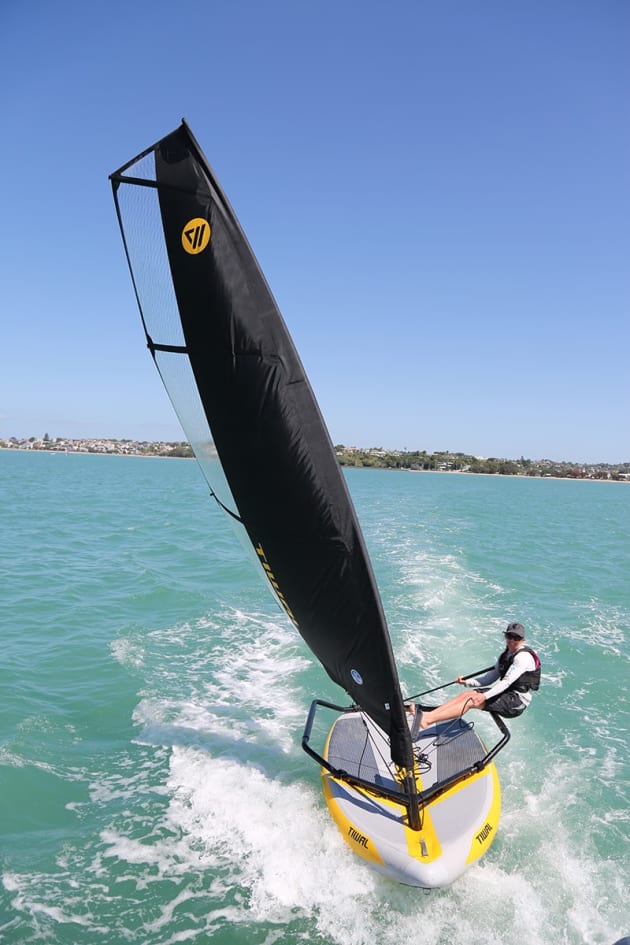 From the UK, Red Paddle Co will exhibit the full 2017 range of inflatable stand up paddleboards, from entry level to premium, with special packages of 'board, paddle, pump and bag' on offer. The brand's biggest selling SUP, known as The Ride, is a stable 3m SUP ideal for beginners and experienced paddlers, and is versatile for use on the sea or lakes.
Sirocco Marine North will have the Australian launch of the new Sealegs 7.7m Sport D-Tube, ideal for the coastal lifestyle, adventure nomads, anglers and those living in regions where there is challenging terrain, crocs and reefs.
There will also be 15 Brig models on display, among them the new HT series from 2.9m to 3.8m.