Beneteau records fourth year of growth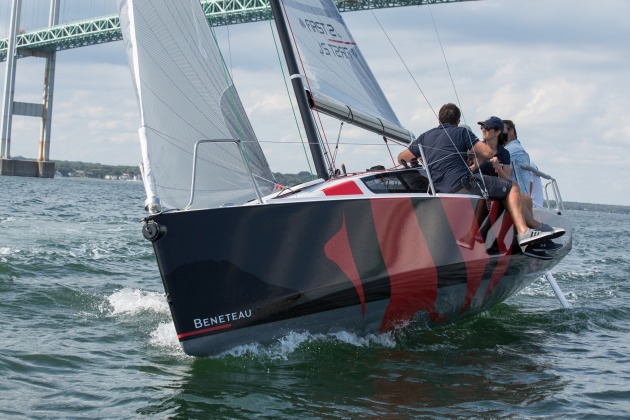 French boat builder beats forecasts as sailing and powerboat revenues continue to grow.
French boat builder Groupe Beneteau has recorded its fourth consecutive year of growth in boat sales for the financial year 2017-18, ending in August.
Full-year revenues for the boat business were up 6.7% year-on-year on reported data (9% at constant exchange rates) to nearly €1.1 billion. Income from ordinary operations was down 7.2% on a reported basis due to the effect of foreign exchange rates (€11 million) and the return to profit-sharing in the Group's main subsidiary (€6 million).
Overall, Groupe Beneteau, which also includes a housing division, recorded revenues of €1.29 billion, up 6.6% on reported data (8.5% at constant exchange rates).
The company said the good performance of the boat division was thanks to the "dynamic" level of sales in the multihull sailing and outboard/inboard motorboat segments which helped to offset the contraction in sales for large motor yachts (60+ feet). Delays with deliveries in the third quarter of the year had now been caught up.
Sales were split almost evenly between power and sail with motor boats accounting for 56% of revenues, and sailing yachts 44%.
Globally, the stand-out region was the Asia-Pacific which saw boat sales up by 27.3% at constant exchange rates to €96.6 million. This compared with a 12.7% increase in Europe (which accounts for more than half of all sales) and 4.4% growth in North America where strong progress for small boats was counter-balanced by a contraction for large motor yachts. South America and the rest of the world saw significant contractions of 44% and 39% respectively.
The addition of the Slovenian builder, Seascape, generated revenues of €300,000 over the last two months of the financial year with the integration of four models into Beneteau's First range.
The acquisition of Polish shipyard, Delphia Yachts, is expected to be completed before the end of 2018 adding further production and development capacity for sailing and motorboats.
Looking ahead, the company reported a "positive" atmosphere at the season's first shows in Europe which is expected to continue in the US. A new catamaran brand, Excess, was unveiled at the Cannes Yachting Festival. The company said new production capacity and quicker production speeds are enabling it to respond to market demand with 32 new models launched during the 2018-19 season.
Over the past three years, 44% of the company's product range has been renewed (88 models out of 200).
See also Big, beautiful Beneteau – Marine Business's report of the French boat builder's appearance at this year's Sydney International Boat Show.