Aussie pedals to save the environment
Tom Hill completes 1,100km cycle ride to raise funds for ocean conservation.
Director of Rivergate Marina in Brisbane, Tom Hill, recently completed the 2018 London to Monaco bike ride to help raise money for conservation projects with the Blue Marine Foundation.
The 1,100km ride passed through eight countries over seven days, travelling between 100 and 250kms each day before crossing the finish line in Monaco where the 100-strong peleton was met by Prince Albert II and a passionate band of Australian superyacht industry proponents who were in the principality for the 27th Monaco Yacht Show.
Hill said he was relieved and proud to have notched up the achievement.
"To say I was proud to represent Australia and my family business, Rivergate Marina and Shipyard in Brisbane, would be an understatement.
"The riders in this year's event represent the world's leading superyacht businesses. They are CEOs, directors and managers – senior influencers who are well informed about Australia's refit facilities, ingenuity and our spectacular cruising destinations.
"The London to Monaco ride unites my great passions – the superyacht industry, cycling and the marine environment.
"Raising money for the Blue Marine Foundation, riding alongside the industry's finest, is my main objective. Flying the Australian flag as the only Aussie in the event was the absolute highlight."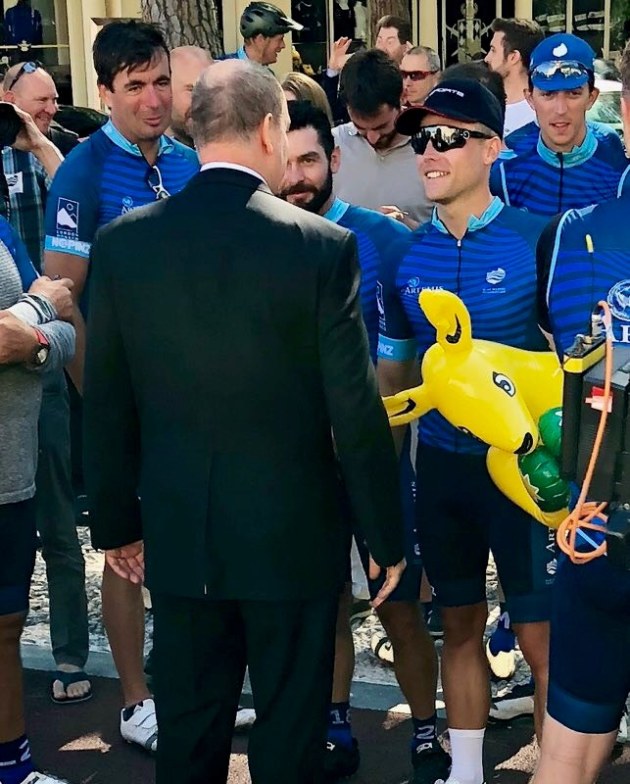 All funds raised this year will support the Blue Marine Foundation's conservation projects on Ascension and St Helena, the Mediterranean and Lyme Bay.
"Oceans are our livelihood," said Hill. "Beyond its beauty and serenity, the sea is vital for all aspects of our lives from the food chain to the water cycle, as well as recreation and the breadth of our marine industry.
"Pollution, plastics, water temperature, water quality, the health of the marine environment and sustainability of our processes should be forefront in our minds. They affect our quality of life, and our bottom line in business."
To date, Hill has surpassed his target of £5,000 but is still accepting further donations for the Blue Marine Foundation here.