ASMEX 2018 speaker line-up unveiled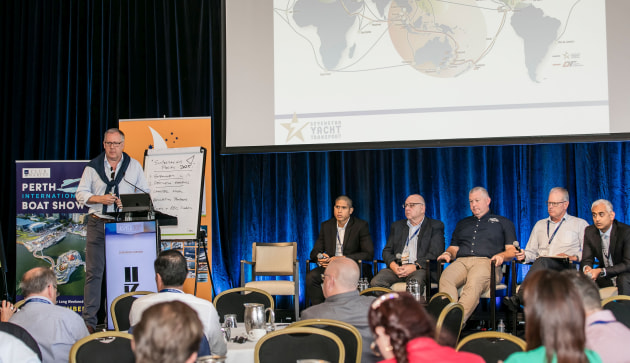 Conference program combines industry speakers with panel discussions.
The organisers of the ASMEX 2018 conference, due to be held at Sanctuary Cove from 21-23 May, 2018, have released details of the preliminary program for the three-day event.
Following the Monday evening welcoming reception, sponsored by Maxwell Marine, the conference sessions kick off the following morning with a welcome video from the Minister for Trade, Tourism and Investment, Steve Ciobo, an official welcome from Richard Chapman, AIMEX president, and the launch of the Queensland Superyacht Strategy by Cameron Dick, Minister for State Development, Manufacturing, Infrastructure and Planning.
After a morning of presentations and panel discusssions, the afternoon of Day 1 will be taken up with breakout sessions for the various industry sectors represented at the conference.
The superyacht session will feature panel discussions with representatives from the Great Barrier Marine Park Authority, Australian Border Force and Maritime Safety Queensland.
"For those in the superyacht sector it is critical we get the opportunity as a group to talk directly to policy makers and it is exciting for us that we will have key government representatives in the room," said Barry Jenkins, chair of Superyacht Australia. "Government has indicated to us they support the superyacht sector and appreciate our frustrations around some of the policy interpretation issues. We will certainly be asking the pointed questions, I see this conference opening a positive path for the future."
In the export sector, Alistair Murray, chairman of Ronstan International, will be examining how the government can better support export businesses. Representatives from Austrade, Department of Industry and Australian Maritime Safety Authority will also be available during the conference to discuss issues with industry.
The commercial sector breakout session will feature a presentation from Mike Deeks of Forgacs Marine and Defence covering the construction of Australia's largest shipbuilding hall at its Henderson base in Western Australia.
The first day will wrap up with the presentation of the Australian Marine Industry Awards at the gala dinner that evening with conference sessions resuming the following morning with presentations from Pantaenius, Benetti Asia, Superyacht USA and NZ Marine.
"We have listened carefully to members and our industry committee members and developed a program we believe will meet the needs of the various groups," said Richard Chapman. "Clearly the number of registrations we have received and the increase this week confirms we are on the right track."
More details on the ASMEX 2018 website.