Anchorage Marina makes room for big boats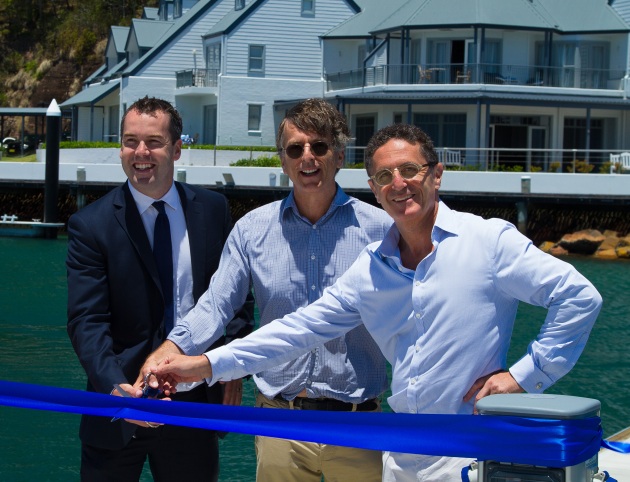 Official opening of NSW marina upgrade in time for summer boating season.
Anchorage Marina at Port Stephens in NSW has officially opened its latest upgrade which will see an expansion of its capacity for larger cruising vessels. The upgrade includes two new marina arms with 22 berths catering for larger boats between 55-66'. Berths of this size have previously not been easily accessible in Port Stephens.
Speaking at the opening ceremony, Port Stephens mayor Ryan Palmer said the upgrade will help to raise the profile of Port Stephens as a destination for larger boats.
"It's about quality, not quantity. Our waters are the bluest, our beaches are the quietest. Luxury boat owners can get away from it all up here, knowing there are now modern and secure facilities specifically for boats their size."
Marina owner Greg Shand from Barana Group said he is pleased with Anchorage's new capacity.
"We've taken advantage of the winter months to push completion through in time for the upcoming season. The high end of the boating industry is growing in Australia and it's time to provide for those boats in Port Stephens.
"Owners of boats over 55' can't just arrive casually and hope for a berth; it takes planning. Here at Anchorage we now have a place you can enjoy the luxury, the quiet, the beautiful waters and the best of onshore life too."
Anchorage Marina operates alongside the Anchorage Hotel and Spa, which hosts two restaurants and a cocktail bar.
One of the challenges of the upgrade has been ensuring the best design to cope with the seasonal winds that bring fetch into all of Port Stephens' north facing marinas. The marina commissioned a wave study for the location prior to finalising the design of a 5m x 50m wave attenuator that runs east-west across the mouth of the marina. One of the widest in Australia, the patented design has specially designed and proven 'skirts' to further attenuate the waves.
"The wave attenuator was a critical part of the installation," said Gary Charlwood from Bellingham Marine Australia. "Winds on Port Stephens can create a bit of discomfort wherever you are, so the brief was to ensure boats within the marina walls had maximum protection.
"We are finding the need for attenuators increasing in Australia and globally. We can provide shelter for and build marinas in places not possible 20 years ago. Corlette is certainly one of the prettiest places we've built a marina and I'm not surprised how popular it is with boaters."
The marina is now taking bookings for permanent and casual berths.