Anchorage Marina expands at Port Stephens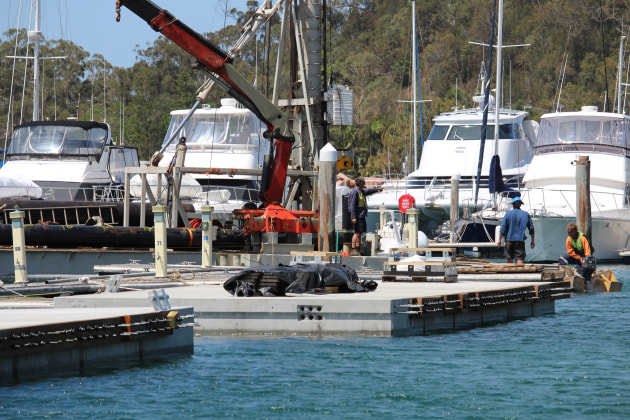 Marina upgrade will increase large boat berthing capacity in NSW.
Work has started on the expansion of facilities at Anchorage Marina in Port Stephens which will result in more berths being made available for larger boats.
Due for completion in December 2017, the expansion works will see an additional 22 berths installed at the marina with a new arm specifically designed for larger boats from 17 to 20 metres.
As part of the expansion work, which is being carried out by Bellingham Marine, existing docks have been removed to create room for the new arm and old pilings have been removed and replaced with new ones. Concrete pontoons will be lifted into place by crane over the next weeks. Contractors are also upgrading the fuel dock which will enable boats up to 30 metres to refuel.
New marina manager, Patrick Whetter, said he has seen the growth of demand for larger yachts over the last few years. Coming from a background in the superyacht industry in the Mediterranean and the Caribbean, he is very happy about the improvements.
"It's about time," he said. "The last work was done quite a few years ago, and we just haven't been able to accommodate those larger boats.
"The industry is growing, and we have more and more people needing berths for their high end, larger boats. It's all about quality, and the experience on shore of course."
Given the length of wait lists for a mooring in Sydney Harbour or Pittwater, Whetter said boat owners may well want to consider Port Stephens as an option to store their boat.
"It's just a short drive up the freeway after all, and its beautiful surroundings offer many options for boating both inshore and outside."
Adjacent to the marina is the Anchorage Hotel and Spa which offers apartment style accommodation, two restaurants plus beauty spa, swimming pool and BBQ area.
"We've got the best of both worlds here," said Whetter. "Blue water, protected anchorages, and creature comforts on shore. What's not to love?"