AMW launches racing and comms units at SIBS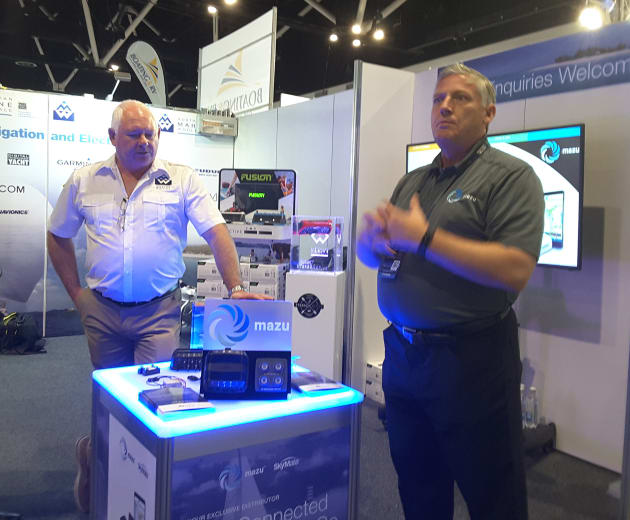 New models from Racegeek and SkyMate unveiled at Sydney show.
Local marine electronics supplier, Australian Marine Wholesale (AMW) has launched two new electronic systems at the Sydney International Boat Show, one for the sail racing market and one for cruisers.
The Racegeek tactical racing tool is a lightweight, fully self-contained unit designed specifically for one-design racing in the 20-35 foot market. The d10 unit launched at the show can be easily attached to a mast using a clip-on bracket and displays a range of race data on a waterproof backlit LCD display with 60mm and 40mm digits. It includes an inbuilt compass and GPS for positioning as well as wi-fi connectivity for integration with tactical racing apps.
Errol Cain of AMW said he expects the Racegeek unit to "revolutionise" one design racing when it starts shipping in September. It is priced at $1549.
The other launch on the AMW stand was the Mazu iPad app and mSeries system from SkyMate based in Canada. The app is free to use via wi-fi, offering a range of data services such as weather forecasts, navigation and position tracking, email and SMS.
When combined with the plug-and-play mSeries system, the same functionality is availably globally via the Iridium satellite network on a subscription basis. The system comprises the ISI 2000 module which operates on standard 12-24V DC power (max 4 watts in transmit, negligible when monitoring), an illuminated keypad for initiating emergency signals and indicating when a message is received, and a small antenna which can be flush mounted.
The system can also be used as a remote sentry system or for detecting when a vessel is dragging an anchor, as well as for controlling onboard systems remotely.
The hardware component costs $1515 while the satellite subscriptions start at US$39.99 per month.