AMS to distribute Oceanmax marine coatings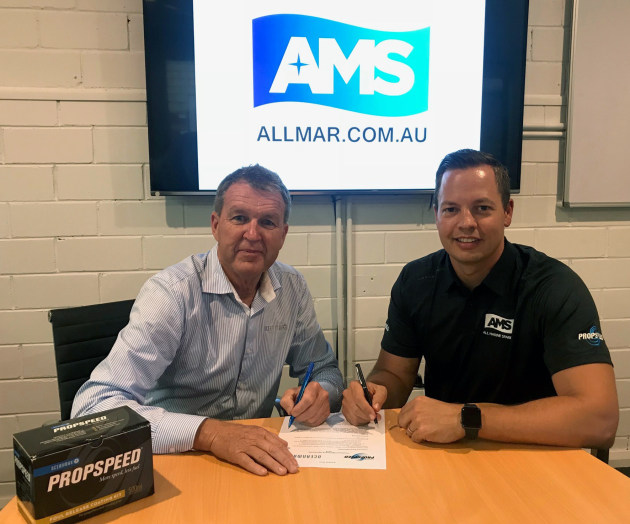 New distribution deal includes both Propspeed and Lightspeed products.
Local marine parts distributor All Marine Spares (AMS) is teaming up with New Zealand manufacturer Oceanmax to handle the distribution of its well-known Propspeed foul release coating system in Australia. AMS will also distribute the Lightspeed product from Oceanmax which is designed for use on underwater lights.
The new agreement follows hot on the heels of AMS taking on the distribution of Solas Propellers throughout most of Australia (except WA).
Jason Mitchell, AMS director, said the company is extremely proud to be working with Oceanmax on distribution of its products in Australia.
"As AMS continues with our focus on a growing selection of technical products, the fit couldn't have been any stronger between our two companies as we are now able to offer not only consolidation of Propspeed with all other marine products but also a growing outside and inside sales team with industry-leading knowledge of the brand dedicated to the education and training of skilled applicators in Australia.
"AMS will be focused on not only our current customer base in Australia but also working with shipyards and other commercial services to educate about the advantages of Oceanmax products with 'More Speed, Less Fuel'."
Propspeed is widely used throughout the commercial and recreational boating markets to prevent underwater marine growth on propellers and running gear. It is not an anti-foul system as such but rather a foul release coating system specially formulated to prevent marine growth from bonding to metal surfaces below the water line. The top coat on the Propspeed system is an ultra-slick surface that resists marine growth getting a grip. The strong chemical and physical bond between the metal substrate, the primer and the top coat is designed to ensure the Propspeed coating stays on the running gear for longer.
Lightspeed is special application for underwater lights which uses a transparent coating to prevent marine growth attaching to the surface of the lights without affecting their luminosity. In fact, Oceanmax claims that Lightspeed can improve the luminosity of the lights by decreasing scatter and increasing the organisation of emitted light.
All Marine Spares is planning to present Propspeed at the upcoming Sanctuary Cove International Boat Show where it will be exhibiting on the Promenade. Oceanmax managing director Clint Jones will also be a speaker at the ASMEX conference preceding the show.