AMM goes bush bashing with a boat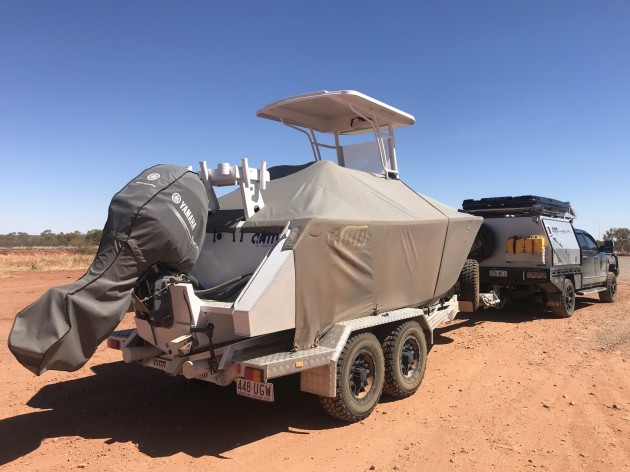 Australian Master Marine performs outback 'torture test' on boat and trailer.
Queensland plate alloy boat and off-road trailer manufacturer, Australian Master Marine, has just completed a 9,500km non-stop endurance test that pitted one of its centre consoles and its off-road trailer against some of the most tortuous outback roads of Australia's north.
The aim of the journey - which took in isolated destinations such as Borroloola near the Queensland-Northern Territory border in the Gulf of Carpentaria, the aptly named Hell's Gate, Karumba in the lower west of Cape York and the northern reaches of the Cape itself - was to see how well the AMM products would stand up to such an arduous trip.
Pretty well it turns out, according to AMM director, Barton Thomas, with the only casualties recorded on the trip being a lost D-shackle and a side reflector broken by a stone. An impressive result, especially given that the boat-trailer-motor package which undertook the test was a typical build for AMM, said Thomas.
"The Sea Class 5700 centre console and the off road trailer were AMM's standard production designs – we believed it critically importantly not to add any additional bracing, reinforcing or other strengthening elements," he said.
"To have done so might have added a further level of structural security, but it would have been misleading in terms of the final performance.
"We did prepare the rig well for the trip with a heavy duty boat cover and taping up the water cooling inlet and outlet ports, the exhaust gas outlets and other key areas of the Yamaha outboard. We then zipped up a full outboard cover. We also taped-on the plastic covers for the centre console electronics, radio and other exposed equipment.
Given the remoteness of the country, AMM took camping gear, extensive supplies of food and water, medical kits, a back-up vehicle and crew as well as recovery gear.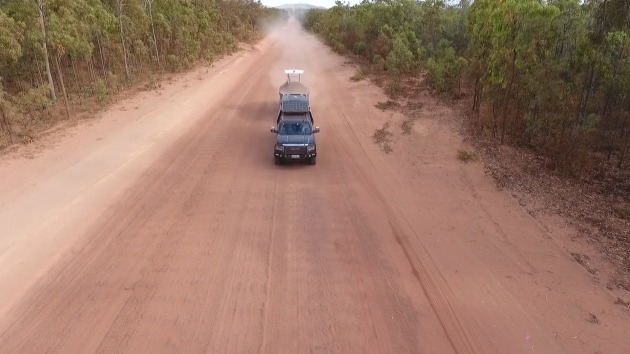 "Obviously under those road, track and trail conditions, the centre console picked up a fair amount of red dust under the covers, but you have to expect that," said Thomas.
"The boat and outboard covers themselves were sensational - not one rip or tear after perhaps a thousand kilometres of stone throwing, bone jarring, teeth rattling corrugations as well as some ultra-ordinary dirt and partially sealed roads."
Thomas said AMM designs its off-road range of boat trailers specifically for the exact configuration of the alloy plate boats they are going to carry.
"It's one of the key elements in putting together a super-robust rig and the trip proved that," he said. "Yes, it does add a little to the cost but in the end, it delivers a far superior product."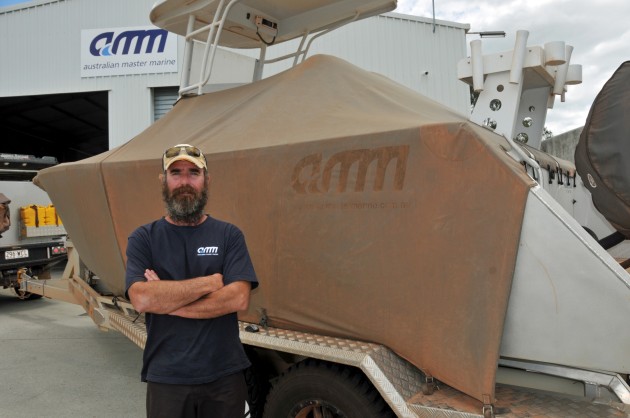 On returning to the factory, AMM appointed its leading hands to look for any signs of material stress, damage or anything that might require some rectification or consideration in future designs, from a strength perspective. After a day and a half they signed off on its durability.
"I feared there might have been some dust blasting of paintwork and perhaps some chafing or stone damage, but there was none evident," said Thomas.
"It might have been the result of how we prepared the tow vehicle with stone deflector flaps, the angle of incidence when they did hit, the composition or texture of the dust and stones, I honestly don't know.
"But there was nothing evident."
Having safely returned, Thomas said he now plans to use the boat for what it was designed to do.
"I'm going to take it offshore for a day of trolling for pelagics as soon as I can get a day off and a break in the weather to coordinate with each other," he said.
More information, including a short video giving an overview of the trek and an insight into the conditions, can be found on AMM's website.