Young guns get personal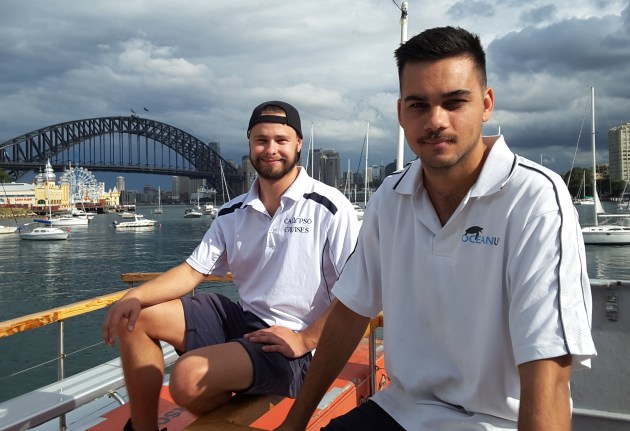 Two young charter boat operators on Sydney Harbour are bringing a personal touch to the competitive world of pleasure cruises.
Talk about jumping in at the deep end. Many people, when venturing into the charter boat business, might decide to start out small, try their hand at a few cruises and gradually build up to something bigger and better. Not so Alex Cavallaro and Luke Feledy. When the pair decided to launch their own charter business in Sydney they went all in from the beginning. Their first hire was for 80 guests. On Sydney Harbour. On New Year's Eve, probably the busiest, most demanding debut anyone could imagine for a charter boat business.
Call it the confidence of youth if you like, given that both of them are still in their early 20s, but it also speaks volumes about the enthusiasm and energy the pair display when it comes to taking on the competitive Sydney cruise market. Even that very first cruise, which featured a heroic effort from Feledy's father on the BBQ feeding the guests, had a positive result.
"We actually had some pretty good reviews," recalls Feledy. "We had people book for the following year, despite it being our first ever cruise."
Release the Kraken
The idea of getting into charter boats came about when they were both in year 12 thinking about what to do after graduation. Seeing a boat on the Harbour, they were attracted by the idea of running cruises. An initial investigation revealed some of the obstacles that lay in the way but rather than being deterred they went to work in the industry, gaining experience with other charter boat companies in order to learn the ropes.
When the time came to strike out on their own, they found a suitable vessel up at Nelson Bay in NSW and sailed it back to Sydney. A former ferry, the MV Kraken turned out to be the ideal vessel for what the pair had in mind with a big lower deck suitable for hosting parties as well as an upper sundeck which is good for, well, more parties. Since the NYE debut a couple of years ago, the pair haven't looked back, hosting over 100 party events in the first year of operation, and they have now added another boat allowing them to run two separate businesses. Feledy now operates the original vessel under the banner of Sydney Harbour Party Boats, while Cavallaro runs a 44ft Markline 1200 called Mayfair as Stellar Cruises, offering smaller events for groups of up to 25 guests.
From the beginning they've been prepared to take on cruises that other operators might choose to avoid, such as backpacker cruises, party events, Vivid cruises, but they've also made a point of providing something different for customers, giving every event a personal touch and interacting with their guests.
"I've noticed working on other boats that often they just get the customers on the boat, do the charter and then say goodbye," explains Cavallaro. "We like them to really engage and invite them to come to other events we hold. It's more personal which I think is a very unique thing that we do."
Having the two boats means they can tailor their offerings to different clientele so, for instance, while the larger vessel is targeting the party crowd with its Manly Boat Party pub crawl events, Stellar Cruises is partnering with a vineyard to do wine tasting with stopovers at a Harbour island. Every once in a while, too, they go out with their mates just to enjoy some time out on the Harbour and remind themselves what a special place it is earn a living.
All hands on deck
Running their own businesses means they have to do pretty everything themselves including all the marketing, accounting, looking after the guests and cleaning up afterwards – whatever it takes they're prepared to jump in and give it a go. "You say you own a charter boat but really you're a toilet cleaner," jokes Feledy. "There are a lot of things that you've got to do."
One thing they can't do at the moment is drive their own vessels on cruises so they have to hire skippers for that task, the benefit being that they get to spend more time with their guests making sure they have a memorable time. At the same time, they are both studying to get their commercial boat certificates which will allow them to operate their own vessels.
Despite being relatively new to the industry, both see it as a long-term proposition with ambitious goals to grow the business. While the focus at the moment is on cruises and events they can see the potential to do a whole lot more.
"We're humble with what we've got but we're still ambitious to get up with the big competitors eventually," says Cavallaro.
"There are industry leaders out here that everybody knows," adds Feledy. "We look at them and say 'Yeah that's where we want to get to'."
stellarcruises.com.au
sydneyharbourpartyboats.com.au
This article was first published in the December 2018 issue of Marine Business magazine.