Who will build tomorrow's boats?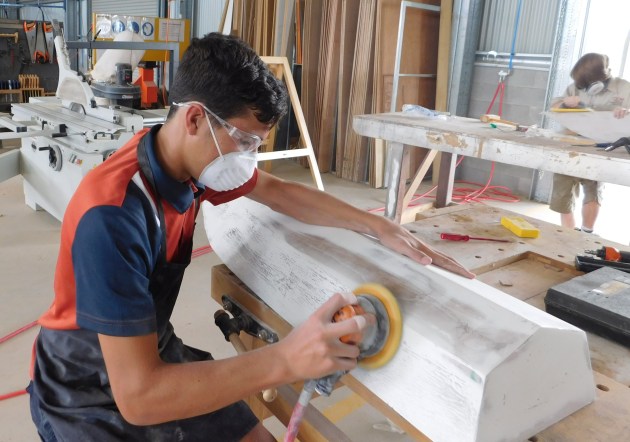 A Queensland school is taking a proactive approach to fostering tomorrow's boating skills.
Who will build the boats of the future? Who will service them, repair them and ensure they are safe to use? Who will have the necessary skills to accomplish the myriad of tasks and processes that go into making and sustaining a successful marine business? The easy assumption is that someone will just do it because, well… they always have. People with enough passion, vision and nous will always want to make boats or spend their lives working with them.
Well, maybe. The fact is that many marine businesses today struggle to find enough qualified and competent staff for their day-to-day activities, to the extent that the constant search for skilled workers can become an impediment to growth. One solution is to find them overseas and bring them here, and while that is a workable fix from a business perspective, it's really only addressing the symptom rather than the cause.
The issue, as many people in the industry recognise, is providing sufficient entry points into the industry and then subsequent pathways for people to build a career and a life in the boating sector. Typically, unless a young person comes from a boating background or has a family connection, then it's unlikely that forging a career path in the marine industry will be an obvious choice to them. Not that it is an unattractive option – far from it – but the boating industry lacks the profile to compete for talent with other better known vocations.
Starting in school
One education institution attempting to tackle this problem is Livingstone Christian College in Ormeau, Queensland, not far from the Gold Coast's boat-building heartland. Starting with high school students in years 8 and 9, the school runs a dedicated marine trade skills pathway for students interested in gaining an introduction to boat building and potentially going on to undertake an apprenticeship. Led by local boat builder, Simon Taylor, the program makes use of the school's on-campus Trade Training Centre which was built with funding from a government grant. Students start out by building model boats and can then undertake a Certificate 1 in Boating and Boating Services which gives them a good grounding if they decide to go into the workforce or take on further studies.
Students are enrolled as full-time students, doing maths and English alongside the vocational training courses, and complete school at the end of Year 12 with the necessary skills to enter into an established trade industry. Alongside boat building, the school is also looking to run other trade training programs including hospitality, child care and engineering.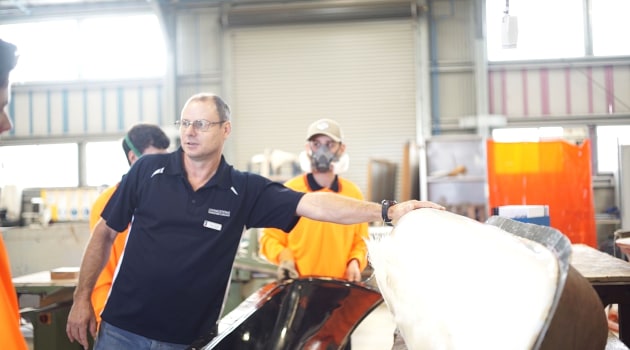 Students undertaking the Certificate 1 course in boat building receive a thorough understanding of the boat building process by constructing their own scale powerboat, learning skills such as line drawing, wooden hull construction using the stringer and frame method, fibreglass laminating and epoxy gluing/laminating. Various types of boats are brought in for students to examine and learn about the design elements. In addition, they receive practical experience in metalwork; the workshop includes equipment which allows students to learn cutting, welding and forming of metals including aluminium. MIG, TIG and stick welding equipment are also available to work with.
"Over the multiple years that this course has been run, a number of our students have gone on to undertake apprenticeships in the industry," said Taylor. "Certificate training and hands-on experience provides students with the head start to a potential career in a trade. Currently there is an urgent need for new apprentices with fundamental boat building skills."
Taylor is an enthusiastic advocate for schools-based skills training and is working with people in the industry and the education department to promote the Trade Training Centre and encourage more students to consider taking up boat building as a learning option. He's keen to hear from anyone with an interest in fostering the next generation of boat builders and developing trade training pathways.
For further information contact Simon Taylor by email at tradetraining@livingstone.qld.edu.au or visit the website.
This article was first published in the January-February 2019 issue of Marine Business magazine.