What will Free Trade Agreements do for you?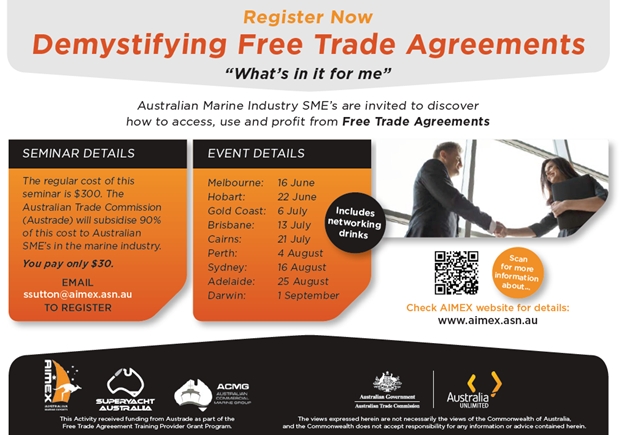 Nationwide training sessions available on recent China and South Korea FTAs.
A series of upcoming information events will give marine businesses the opportunity to find out about the impact that recent Free Trade Agreements with Australia's trading partners will have on their businesses.
AIMEX, the peak body for the superyacht and marine export industry, is running a series of training sessions entitled 'Demystifying Free Trade Agreements – What's In It For Me?' designed to deliver targeted technical information on how marine SMEs can access and utilise the China and South Korea FTAs.
AIMEX is partnering with international law firm, Hunt and Hunt, to present the benefits of FTAs for the marine industry with possible tariff reductions on imported componentry and on the export of products and services to these countries. This is intended to give Australian companies a competitive advantage in terms of cost of production and price reductions.
The sessions commence in Melbourne this week at the Ronstan facilities in Braeside, before travelling around the country to eight other locations, finishing in September. Presentations will also be held in Cairns, Darwin, Perth, Brisbane, Gold Coast, Adelaide, Hobart and Sydney.
Superyacht Australia CEO MaryAnne Edwards said: "This is tailored training to increase the competitiveness of Australian marine companies with their eye on export. They have great opportunities in the Chinese and South Korean markets, and the benefits of the FTAs need to be accessed by as many companies as possible who are trading with these markets to increase their bottom line and their competitiveness."
Seminar dates:
Thursday June 16 – Melbourne
Wednesday June 22 – Hobart
Wednesday July 6 – Gold Coast
Wednesday July 13 – Brisbane
Thursday July 21 – Cairns
Thursday July 28 – Sydney
Thursday August 4 – Perth
Thursday August 25 – Adelaide
Thursday September 1 – Darwin
Registrations can be made for all events here.