We need to talk about inclusion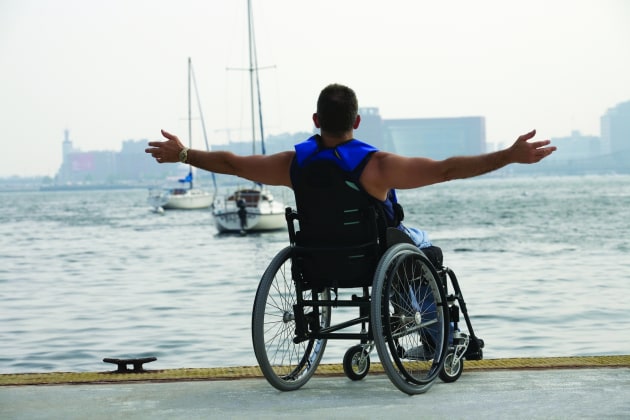 Darren Vaux argues it is time for the whole industry to embrace diversity and inclusion.
I was inspired by the speech by Chris Mitchell in his NSW Maritime Medal acceptance speech at the opening of the 50th Sydney International Boat Show in July. Chris talked with passion about his work as a boat builder, Sailability and the journey from segregation to inclusion enabling sailors of differing physical abilities to compete together as equals. The room of some 500 industry leaders fell silent as the power of his words sunk in.
There were a number of his statements that struck a chord with me. "Disability is not something odd or special as it is a normal function of living. We will all become disabled to some degree one day." And "Inclusion makes people from diverse backgrounds feel welcome". How well do we really do this as an industry? Not so good, I fear. So let's take a step back and see what it really means to us as an industry.
Broadening the base
At the Marine17 conference I presented a paper on 'Who are the future boaters?' The conclusions of my research indicated that we need to embrace diversity for our long time survival. By diversity, I mean that we need to broaden our horizon from our existing customer base that is predominantly middle to late middle aged Anglo-Saxon males. We need to make boating accessible to much older people (as our customers age), we need to strive for gender diversity, we need to strive for cultural diversity and we need to strive for physical accessibility. This is not only the right thing to do, it makes inherent good commercial business sense as these groups are an essential part of our future customer mix.
So how is this achieved? In essence, there are two parts to the equation:: physical outcomes using universal design and a philosophical commitment to inclusion.
Universal design is an approach to design that ensures the element or thing being designed can be understood, accessed and used to the greatest extent possible by the largest number of people regardless of their age, size, ability or disability. If we consider our aging existing client base for a moment, the typical age onset disabilities include reductions in eyesight, hearing and mobility, the same issues that face younger people who we would typically classify as disabled. From a purely demographic point of view, a large proportion of our customer base is faced with these challenges. To quote Chris Mitchell again, this is not odd or special, its normal.
In 2014 the NSW Government launched the Disability Inclusion Act and State and Government Agencies have developed Disability Inclusion Action Plans which are being translated into planning instruments applying to development. The key message here is inclusion (as against segregation) by applying the principles of universal design. For example, there should be no separate entrance for 'disabled access' just an entrance that is accessible by all.
So what does this mean for marinas and boats? There has certainly been a lot of work done by good people like Chris Mitchell to embody the principles of universal design into boats that can be sailed by disabled and able-bodied sailors alike but this has not yet permeated into the design of boats more broadly and to this extent it is limiting our access to these customers. The question really is: is it on the radar? It's all a matter of ergonomics.
Embrace the change
We often relate the term ergonomics to the design of furniture or cars but the principles are universal in all design. Ergonomics is essentially the science of refining the design of products to optimise them for human use. It embodies the sciences of anthropometrics and biomechanics to take into account the size, shape, physical attributes and abilities of human beings across the demographic profile. As this profile changes so does the ergonomics. Design standards, however, often lag a decade or more behind these inputs. This is where industry and manufacturers need to take the lead, do the research and embrace the opportunities..
The philosophical commitment to inclusion is the more challenging one as it requires industries, businesses and individuals to change their thinking. A good place to start is with an inclusion checklist and the first point of any inclusion checklist is: does the organisation have an inclusion policy? That is, has a decision been made that inclusion is important to the organisation and, from that decision, has a policy and an implementation plan been developed? This should cover the whole spectrum of age, gender, race and ability and is something we need to consider at an industry level.
What sort of industry do we want? Do we hold prejudices about who should and shouldn't be boaters? Surely not. Embracing diversity and inclusion is one of the greatest opportunities to grow and sustain participation in boating and those that embrace the opportunity will reap the rewards.
About the author
Darren Vaux is past chairman of the Boating Industries Alliance Australia, vice president of the Marina Industries Association, director of the Boating Industry Association, director of the award-winning Empire Marina Bobbin Head in Sydney, and the Australia, NZ and Pacific Islands representative for bedsonboard.com.
This article was first published in the October-November 2017 issue of Marine Business magazine.