Top trends for the marine industry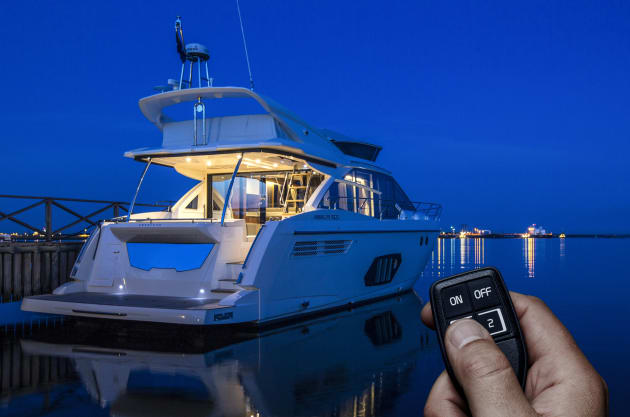 Darren Vaux highlights some of the emerging trends likely to impact on the marine industry throughout 2017.
Internet of Things
The permeation of the internet of things continued into our daily lives throughout 2016. Smart phones, smart watches, fitness trackers, home automation systems and many other connected devices continued to increase convenience and connectivity and, at the same time, provided unprecedented data on consumer usage, likes and dislikes though the usage of the devices. This connectivity is finding its way into boating and marinas as more sophisticated electronics on boats use it to provide remote and mobile operation of vessel systems and controls. Faults can be seen remotely as can fuel and water levels. Systems like air conditioning can also be switched on and off remotely. It would appear that the main limiting factor for these systems for boats is not the technology itself but rather access to high-speed remote broadband out on the water in some locations.
Mobile is king
Mobile devices are the most prevalent tool used to search for products, services, direction and research. Mobile specific presentation and optimisation along with video content is essential for connecting with potential and existing customers alike. Consumer decisions are highly influenced by third party reviews of products and services, the majority of which the supplier has no control or influence over. A Google search of your own business may provide insight into third party reviews of your business that prospective customers are seeing, as do your ratings on Facebook and boating specific sites like deckee.com. The drive towards mobile content will continue its relentless progress through 2017.
Vessel automation
Boats continue to get bigger and the general consensus amongst skippers is that one of biggest impediments to fully enjoying a day out on the water is putting her boat back in her berth when the sea breezes are up. Even experienced skippers know that with a breeze across the bow there is a fair amount on concentration required to make the perfect landing. New boats with joystick controls that integrate shafts/pod/legs with thrusters have gone a long way to simplify these activities and no doubt as the technologies develop we are not that far away from self-berthing boats (given we have planes and cars already). It will certainly be a plus for the industry when the pressure comes off that activity although developing and practicing these skills is one of the joys of boating. This will also become an issue for marinas that may need to implement certain technologies to support this automation.
Share economy
The share economy has been one of the major disruptors of 2016 and will continue to have a major impact in 2017. Airbnb and Uber have had a major impact on the hotel and taxi industries in Australia and there are already a number of boats listed on Airbnb as accommodation and charter. When will we see Uber boats genuinely enter the market and will AMSA provide the same accommodation to the new market that the road authorities have provided to Uber cars? To date there have been a few attempts around the world to test this model but they may have just been a bit early… These two items represent a significant challenge for the state and federal regulators as they decide how to manage these activities as they will eventually find a model and traction.
Lack of second hand stock
The GFC is now many years behind us but a less than obvious legacy of the 2008-2012 period is the low number of boats that were manufactured during this period leading to a low number of second hand boats available that are four to eight years old. Over that same period there was also low investment in the development of new models so boats that were built during that period struggled to compete with the volume of boats built up to 2007 and now offered as much cheaper second hand same model alternatives to the new stock. Last year saw the release of a number of new models from most major manufacturers with a range of technological improvements which makes the purchase of new boats a compelling proposition once again and new vessel sales have seen an upward trend that should continue to develop through 2017.
Jobs on demand
The nature of employment in Australia and other western countries is changing. Employment in a number of industries is moving towards services on demand or a contracted workforce where individuals may take on a number of freelance roles. This is particularly prevalent in the over 50s where consulting and contracting is continuing to grow. What this means for the marine industry is that the traditional Monday to Friday work and weekend play is being redefined. People with more flexibility may chose to relax during the week and boating may be ideal at this time as the waterways are often quieter. This is a market that will continue to develop during 2017.
Baby boomers go boating
The baby boomers are riding the equity wave on increasing house prices in a period of life when they are ready to downsize. This equity bonanza has created the capital that allows for a variety of recreational pursuits including travel, caravanning and boating. As an industry we have to continue to make it easy for boating to be the retirement beach house, secure in the marina while you are off overseas and ready for fun on your return. The baby boomers continue to be the biggest slice of the boating market and we need to focus our efforts on meeting their needs while finding a way to engage with Generation X, Y and the Millennials for our future boaters. One thing is for sure: their approach to boating will be different to their parents and we will need to understand their needs (which are set out in the trends above) and have products and services that satisfy these.
Regional markets
The world is certainly an interesting place. The rise of nationalistic and isolationist governments in the USA and Europe will change the nature of globalisation. The economic rise of China and the Asian region will also redefine consumption and resource demand across the globe. Culturally these markets do not have the same lifestyle affinity with the water that western markets have traditionally had although vast quantities of the world's boats are actually manufactured in these areas with local demand for the product fledgling and limited.
These are unprecedented dynamics that when coupled with new and disruptive technologies create significant change. Success is always built out of the adaptation to change (not the extension of the status quo) and within the marine industry our opportunity is to get ahead of the momentum of change, not be overrun by it.
About the author
Darren Vaux is immediate past chairman of the Boating Industries Alliance Australia, vice president of the Marina Industries Association of Australia, director of the Boating Industry Association and director of the award winning Empire Marina Bobbin Head in Sydney.
This article was first published in the February-March 2017 issue of Marine Business magazine.