The next step for clean marinas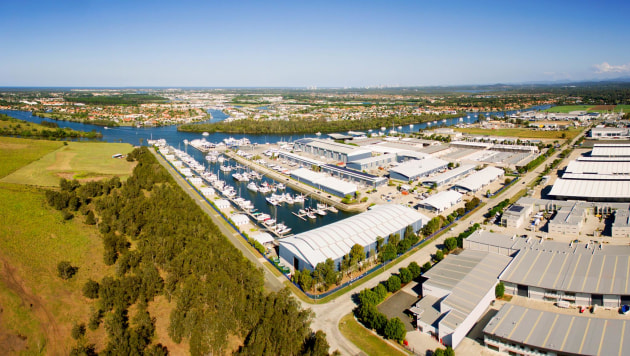 Jeremy Visser outlines a new environmental management tool available for marinas.
Marinas and boat harbours are important infrastructure assets connecting individuals with the aquatic environment. In recent times, there has been an increasing trend of good environmental management of these assets, as exemplified by the high uptake of marinas participating in the Clean Marina and Fish Friendly Programs coordinated by the Marina Industries Association (MIA). Consistent with this trend, there is now a new tool developed by the Infrastructure Sustainability Council of Australia (ISCA) that will provide further support to the industry in achieving and recognising best practice in the management of environmental risks associated with marine infrastructure.
ISCA Infrastructure Sustainability Rating Scheme
Before discussing ISCA's Infrastructure Sustainability (IS) Rating Scheme, it is important to distinguish between two levels of environmental management. The first is an approach that can be summarised by the idea of 'pollution prevention'; this approach focuses on managing infrastructure to avoid causing environmental impacts. This is the primary obligation of all infrastructure managers under environmental legislation and approvals.
The second approach emphasises going above and beyond simply avoiding harm and focuses on creating benefits to the environment.
The IS Rating Scheme incorporates both approaches, emphasising the need to manage infrastructure in a way that both avoids impacts and improves the environment. It involves overlap and crossover with the Clean Marina and Fish Friendly Programs but differs in the following ways:
Greater breadth of 'themes' and 'categories' considered, ranging from ecology, energy and heritage through to climate change adaptation, community health and well-being, and innovation.
Greater emphasis on improvement to the environment.
Covers both existing and proposed infrastructure, and can be used in the planning of new assets.
Allows marine infrastructure to benchmark their performance against other significant infrastructure assets outside of the marine environment (e.g. airports, railways, sewerage systems, water treatment plants).
Originally launched in 2012 as v1.0, the IS Rating Scheme has been endorsed by the Federal and State Governments and was recently updated to v2.0. To date, the scheme has primarily been used by utilities operators and state-owned corporations but has a growing pool of users.
Examples of assets that have been rated using the tool include: the Webb Dock West, Gold Coast Light Rail, Sydney Metro Northwest, Rous Head Industrial Park, Elizabeth Quay Redevelopment, and the upgrade of the Whitsundays Sewage Treatment Plant. These projects, ranging in value from $5 million to in excess of $1 billion, represent a range of brand new, existing or redeveloped assets managed by a variety of public and private entities.
IS for marinas and harbours
Whilst the above examples are all major infrastructure projects, ISCA has recently introduced a streamlined scheme for 'small projects' which would lend itself more to marina and harbour projects. Many credits under the new tool now allow for smaller projects to gain a rating (defined as projects with a capital value of less than or equal to $20 million).
The Transport Departments from several State Governments have committed to the use of the tool for all future developments, including retrofit of existing facilities. As many harbours in Australia are managed by these departments, it is probable that the IS rating tool will begin to gain greater prominence in the marinas sector in the next five years.
Environmental management for marinas, arguably, can be viewed as a series of 'levels'. The lower levels progress from little regard for or interaction with the environment through to a level of compliance with legislative requirements. This is followed by entry into accredited programs, with Clean Marina Program level 3 representing the 'base' level, while level 4 and the Fish Friendly Program are a higher level of sophistication. Achievement of infrastructure sustainability, as measured by the IS rating tool, represents the next level. With this understanding and based on current trends for the marina industry, adoption of the IS rating tool will be characteristic of a new 'wave' in environmental management by the more sophisticated marina operations.
Purpose and benefits
There are a variety of benefits that the IS rating tool could provide for marina operators. These include future planning of existing assets and operations to plan for environmental improvement. This is of particular relevance to the marina industry as a number of facilities have aging infrastructure that require ongoing upgrades, decommissioning, retrofitting etc.
It can also help achieve environmental management best practice with new assets, including as part of expansions and construction of brand-new marina facilities, and assist in scoping whole-of-life cycle costs and risks for marinas, with a focus on resource efficiency that reduces operating costs.
For marina owners, the tool is also a way to rate the environmental performance of different assets that may be managed by the same operator as well as providing a distinction in environmental performance rating between assets managed by different operators. This may be important for reputational/marketing purposes.
The rating also ensures that environmental management is undertaken in a way that is easily recognised and understood by regulators who may not otherwise be familiar with the marina industry. The increasing adoption of the IS rating tool by State Government departments means there will be a greater recognition of operators who manage infrastructure in accordance with the tool. As such, it provides a way of comparing the marina industry as a whole against other infrastructure sectors (e.g. rail, road, water supply) since the rating tool is not infrastructure-specific.
As the rating tool helps identify areas where retrofits and upgrades are required for infrastructure to achieve sustainability, it provides a solid basis from which funding applications and lobbying can be made for marine infrastructure improvements.
Finally, the rating can be used to demonstrate the environmental credentials of the marina industry as a whole.
Next steps for marinas
For a marina operator wishing to achieve recognised infrastructure sustainability, there are a variety of activities that can be undertaken. These include internal or external audits of infrastructure and systems against the rating tool categories, and engagement of sustainability consultants to input into updates to assets/operations, including design of new and retrofitted structures. It is also highly recommended that marinas enter the Clean Marina and Fish Friendly Programs, as compliance within these programs will represent a strong basis for establishing a commitment towards infrastructure sustainability.
To be officially rated against the IS rating tool, ISCA requires an independent review by an accredited professional. This professional is engaged independently of ISCA and may also serve as an advisor for improvements made prior to the rating being finalised.
For any operators interested in learning more about the IS rating tool, visit the ISCA website. BMT WBM has ISCA accredited professionals as well as extensive experience in marina environmental management and can provide further advice on the application of the tool.
About the author
Jeremy Visser is an environmental consultant with BMT WBM, a global consultancy specialising in mechanical, maritime, water and environmental engineering and hydraulics. www.bmtwbm.com.au.
This article was first published in the October-November 2017 issue of Marine Business magazine.