The future is here 
(whether we like it or not)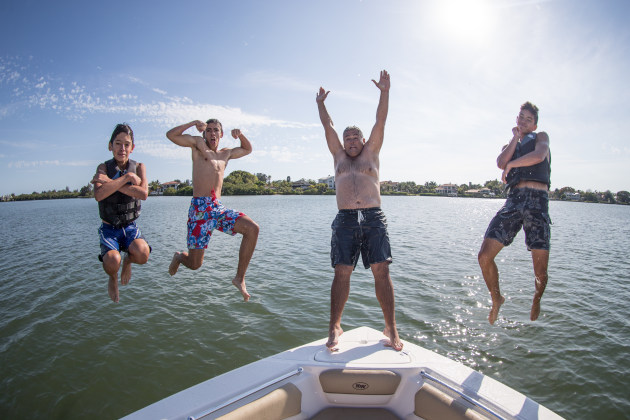 From invasive weeds to the recycling of old boats, the 2018 ICOMIA Congress covered a variety of boating topics, as Darren Vaux reports.
I recently attended the ICOMIA Congress in Berlin where representatives from around 40 countries came together to discuss current issues and the future of the boating industry. The key themes that ran through the varied sessions included increased regulation, particularly in the areas of environmental protection and safety, changing consumer behaviour and its impact on how we market to and capture consumers, and industry apathy and resistance to change.
There is an increasing focus on end-of-life boats and the pathway to disposal. The ongoing use of fibreglass in its current form to build boats is unsustainable in the long term as there is currently no viable way to recycle the material. The boating industry has been left behind by others like
automotive where modern cars are now manufactured to be recyclable up to 95%. Surprisingly little is being done to address the problem on both sides, neither the large scale development of alternative materials nor solutions for end-of-life boats. Understandably, there is even some resistance to engage in the discussion as traditional manufacturing processes and infrastructure have been built around the use of GRP.
So what happens to end-of-life boats? Primarily they are either abandoned, sunk or used as mooring minders, none of which are good for the industry or the environment. There is already discussion that end-of-life boats may be a catalyst to address the recyclable content of boats by chain of custody or a levy to cover the cost of disposal. The key issue is that the last owner is often the least financially capable of addressing the problem.
Invasion of the waterways
The impact of invasive species on bio-diversity and single-use plastics and micro-plastics in the marine environment has been identified as a global risk of a scale commensurate with climate change. Although ballast water in ships has long been identified as a culprit, local transfer of species through estuaries and in freshwater lakes is also a significant issue. Single use plastics have also been calculated to represent 27% of beach litter. Boating industry programs have been developed around the world, including the Check, Clean, Dry programs in New Zealand and the UK. These programs are predominantly about education and awareness of the potential impact of transporting invasive species between waterways.
These aren't just theories. There are now a number of locations within the Netherlands where previously navigable waters have been affected by an invasive weed that wraps around propellers making navigation difficult. Invasive species threaten continued boating activity and it is incumbent on all of us to make sure we use our best endeavours to minimise the risk in this area.
Getting people to just do it
Boating engagement is following the same trajectory that it has followed for a number of years. The average age of the fleet and boaters themselves is getting older. The engagement of women in boating remains steady at low levels (around 15%). Participation, however, is showing growth. This is driven primarily by new pathways into boating though boat hire, shared ownership, boating clubs, the sharing economy or peer to peer. More people are boating on fewer boats.
The National Marine Manufacturers Association (NMMA) in the US has outlined its approach in a five-step purchase funnel whereby prospective boat
owners move through the phases of Develop, Desire, Dream, Decide and Do. All first time boat buyers start in the Develop phase. The NMMA's statistics indicate that 2% of prospective boat owners who enter the Develop phase end up at the Do phase, that is they purchase and own a boat. So, clearly, to grow our industry we need to increase input into the Develop phase by whatever means possible.
Traditionally this is by boat shows, experience events and general marketing, but is it enough? Global evidence suggests it isn't. We need to push boating experiences into other markets. We need to compete and/or collaborate with overseas and domestic holidays. We need to do the same with caravans and camping. We need to make access to boating and boating experiences easier and not harder. We need to push back against restrictions on boating activity. We need to smash down the barriers to boating.
New boating paradigms
It's no secret that I am a strong advocate for the new economy paradigms. Shared ownership, club membership and peer-to-peer models are essential for the future of our whole industry. It's the way our future customers will consume. It is financially and environmentally questionable to own a private asset that sits idle and unused for 95% of the time. Sure that's the discretion of the owner but as the baby boomers downsize and the millennials come though we need structures and solutions that match their needs.
The reality is that if we want to see growth in our industry we have to get many more people experiencing boating and we have to make it easier for them to do it. We have to look hard at the regulatory frameworks under which we operate and test them against modern standards and global benchmarks. The fact is, by global standards, we are over-regulated and this over-regulation translates to increased costs, barriers to entry and reduced competition. It makes boating less competitive with other discretional recreational pursuits. It's bad for the industry and we need to work with our regulators to reduce regulatory burden and cost.
We have some of the most amazing boating destinations in the world and a climate to match. We have a population that is clustered around the coastline and yet our participation rates in boating are modest compared to other locations as diverse as New Zealand and Scandinavia. This is our greatest opportunity and we need to shed our conservative and protectionist attitudes and work together for growth. The future is here, whether we like it or not.
About the author
Darren Vaux is director of the Boating Industry Association, vice president of the Marina Industries Association, executive committee member of ICOMIA, director of the award-winning Empire Marina Bobbin Head in Sydney, and the Australia, NZ and Pacific Islands representative for bedsonboard.com.
This article was first published in the August-September 2018 issue of Marine Business magazine.