Sydney's marine infrastructure under threat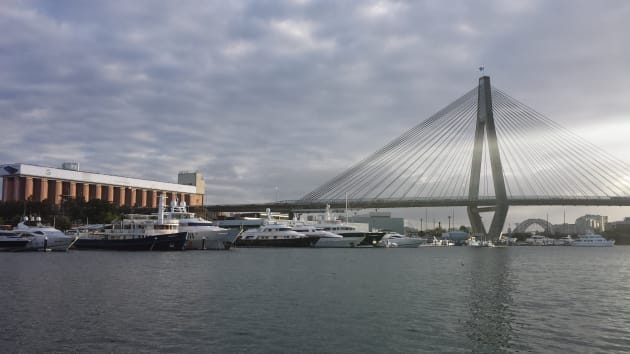 Darren Vaux outlines the threat to vital marine infrastructure from proposals to develop parts of Sydney's harbour foreshore.
I recently attended the Working Harbour Forum in Sydney organised by the Sydney Business Chamber, the Tourism and Transport Forum and the Committee for Sydney. The attendees were the key stakeholders in the retention of the infrastructure to support maritime activities in Sydney Harbour and the discussions brought into sharp focus the threat that the marine and boating industries share with other maritime industries forming part of the working water economy.
What is the issue?
The NSW government recently announced that The Bays Precinct and White Bay areas in Sydney Harbour would be redeveloped into an 'Innovation Precinct' applying a 'higher purpose' to inner city industrial lands. We have seen this all over the city and none more pronounced than around Zetland and Alexandria where millions of square metres of industrial and commercial property have been demolished to make way for high density residential development.
Let's be clear about one thing: urban renewal, gentrification if you like, is an important part of a city's maturity as the nature of industry changes and the city's growth in population is better served by building more accommodation close to infrastructure. The big issue is that the most desirable and valuable land is near the water and you don't need a phD in economics to determine that the use that gives the highest site value in isolation is high density residential use.
What often gets confused here is the concept of 'highest and best use' as the total economic benefit of the residential use is often minimal compared to other infrastructure uses and the industries and employment they support. This is often ignored in the analysis and decision-making process. For example, shipping is the most efficient way to transport bulky goods. Take away shipping and the goods need to be transported by road which is less efficient, more expensive and puts a significant burden on road infrastructure with the impost of heavy vehicles.
The trouble is that working harbour and port infrastructure use is often seen by governments as an under-utilisation of assets and the temptation is often too great to just sell most of the land to private developers to fund other projects or receive developed parts of the site as an outcome. This is often a high value short-term solution.
As a result, what is often ignored is the broader implication of the change on industry, employment, the economy and, ultimately, the long-term health of the city. It is this distance between cause and effect when coupled with short political cycles, and even shorter news cycles, that drives short-term thinking. This is why it is imperative for affected industries to take the initiative and articulate the importance of this infrastructure in both the short and long term.
Large tracts of both Government-owned and privately-held industrial waterfront lands have already been lost to residential development. The problem with this is that once a site has been strata subdivided into residential it is effectively sterilised from future adaptive re-use. We have effectively removed the opportunity for renewal from future generations.
As an example, within the Sydney CBD there are numerous high-rise office buildings that were constructed in the last 50 years and have been demolished, consolidated and redeveloped in the last 10 years. Clearly the site of any new building in the city is on the site of a former building(s) or infrastructure and this conversion and renewal is happening within a generation. This is only possible as the sites are held in single ownership and for commercial reasons. Introduce hundreds of owners living on site and it becomes an impossibility.
This renewability is essential for the long-term health and success of a global city. The most precious land we have in Sydney is at the land/water interface and the financial pressure to convert it to residential is high. We need to make a stand though or very shortly we will be without the essential infrastructure we need to support a vibrant harbour economy and our city will be poorer for it.
Why is this happening?
If we focus on government-owned lands it is worth considering how governments report expenditure and how this is different to businesses. In the simplest view, businesses run a capital account and a revenue account, that is a balance sheet and a profit and loss. If you sell a capital asset (say land or buildings) you convert a fixed asset into a liquid asset (cash) and it is adjusted in your balance sheet from one asset type to another. If you use the liquidity (cash) to fund expenses then your capital value decreases and so potentially does your revenue potential as you now have less capital.
Governments report against the Budget which is more akin to a revenue account. That is, if they sell assets (eg land), they report this against the revenue account which results in a surplus (profit) or deficit( loss). Governments are often not held to account for the reduction of capital and their economic management (and therefore political competency) is measured on their investment in infrastructure while at the same time delivering a surplus (seen as good) or a deficit (seen as bad). Clearly the temptation for all governments is to privatise public assets and there is no easier target than 'surplus' waterfront land sold for residential development.
There are numerous examples where this has occurred in the past. Two current ones are Wentworth Point in Sydney, where land owned by RMS and long earmarked as a maritime precinct is being offered to the market for the development of over 3,000 apartments and a small passive boat storage facility, and the latest proposal for Rozelle and White Bay which could decimate the Harbour's capacity for boat storage, boat servicing, light commercial and tourism, housing and servicing the fishing fleet, and access for essential shipping. These assets are better retained in government hands and preserved for essential maritime infrastructure with a view to the long-term economic benefit and resilience of the city.
What can we do?
In the UK, the protection of access for shipping in the River Thames was achieved through the introduction of 'Safeguarded Wharves' which requires any development to protect the ongoing industrial use on both public and private lands. What we need for Sydney Harbour is an audit of all remaining working sites and an economic analysis of the role these sites play in the city and the State's economy and its social fabric. Part of this study should be an analysis of the implications of the erosion of working capacity through the loss of these sites.
Like all industries, our future is dependent on ongoing growth but our capacity to meet this growth (be it through access, storage or servicing) is under serious threat. Our future prosperity relies on more capacity, not less, and we need to work with our colleagues across the various maritime sectors to protect the future of our collective industries.
This article was first published in the October-November 2016 issue of Marine Business magazine.