Steber pilots distance learning
NSW boat builder develops new distance learning program with TAFE.
Steber International based at Taree on the NSW mid-north coast is piloting a new distance learning program which, if successful, could help to regenerate the pool of skilled and qualified tradesman in the industry, particularly in regional areas.
The new apprenticeship program, developed in conjunction with the Boating Industry Association, TAFE NSW, Northern Sydney Institute and Training Services NSW, combines on-the-job training with remote learning delivered online.
One of the first apprentices to take part in the program is Beau Paff from Taree who is an apprentice shipwright at Steber's Elizabeth Street factory. He receives practical on-the-job training and tuition Mondays to Thursdays and each Friday undertakes online training via TAFE NSW Northern Sydney Institute.
Being able to receive tuition online means that Paff can spend more time learning in his workplace without having to spend time travelling to Sydney on a regular basis.
Glenn Williamson, faculty director, construction and engineering, Northern Sydney Institute, said that as the sole provider of apprenticeship training in marine craft construction in NSW, the college had developed the program in order to reduce the need for apprentices in regional locations to travel to Sydney. However the program could also be implemented in metropolitan workplaces.
"Under the program apprentices are supervised in the workplace by qualified supervisors. TAFE NSW trainers visit the workplace at regular intervals to review progress, provide additional training and carry out assessments. The program has the advantage of enabling learners to train and be assessed in real workplace situations."
While TAFE NSW has employed workplace training in other industries for some time, this is the first time it has been adopted in the boat building sector.
"The program, developed by TAFE NSW trainers and education managers after several visits to the Steber workplace, consists of structured training that is aligned to the national training package requirements and skills needs of the workplace," said Williamson.
In addition to assisting apprentices from regional companies, there is also the opportunity with the program to cross train with other manufacturers, thus creating a more diversified pool of skilled tradesmen.
Fully-equipped to train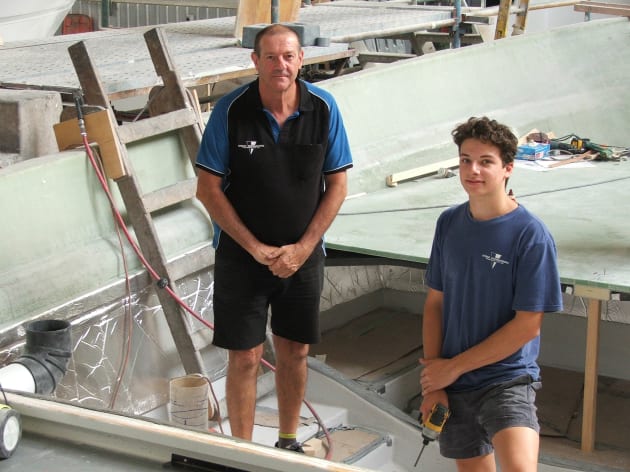 Currently the program delivers online access to theoretical knowledge which is supported by videos although future plans include streaming live lessons to the workplace.
Of course, in order to be successful, the program requires a fully-equipped workshop encompassing all the essential trades of boat construction. In that regard, Steber International is the ideal company for implementing the new approach.
"We are unique in that we have joinery, upholstery, stainless and aluminium shops plus cabinetry and spray booths, all in the one large complex," said Alan Steber, general manager at Steber International.
The company also has a long history of training new marine tradesmen, many of whom have gone on to be employed elsewhere in the industry. Steber calculates that, to date, the company has produced over 150 shipwright apprentices.
Several years ago, the company won six consecutive Shipwright of the Year Awards at Newcastle Vocational College and also took out the Vocational Trainer of the Year Award. In 2011, a Steber employee, Jim Bolton, was named AIMEX Marine Industry Young Achiever and has gone on to play a key role in Steber's export service and support group which involves servicing vessels overseas, as well as at the Taree factory complex.
"The boat manufacturing industry will continue to grow and prosper but only if it maintains a laser-like focus and commitment to the ongoing training and upskilling of its workforce," said Steber. "The government needs to continue its support of this industry which has a billion dollar turnover per annum."
This article was first published in the February-March 2017 issue of Marine Business magazine.