Sea-Doo's winning by design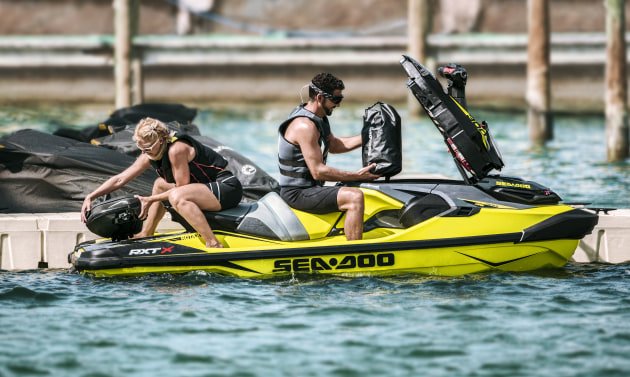 BRP's approach to product design is winning plaudits for its Sea-Doo models.
If you're a BRP user – Sea-Doo, Ski-Doo or Can-Am – and you happen to meet Denys Lapointe, please feel free to tell him exactly what you don't like about the products he designs. He won't be offended, in fact he'll probably thank you. As the senior vice-president of design, innovation and corporate image at BRP, Lapointe goes out of his way to find out about the things that users find problematic with the company's products, even if they are fans of the brand.
On a recent trip to New Zealand, Lapointe spent some time with farmers observing how they used their all-terrain vehicles and noticed how one of them had adapted the vehicle to carry his dog. On another trip to Australia, he hung out with some surf life savers – BRP donates equipment to Surf Life Saving Australia – and realised that they all drove with bare feet whereas the vehicle's pedals were designed with studs for use with muddy boots.
Such insights are pure gold for a designer such as Lapointe; only by watching how people use the products is it possible to learn how to improve them.
It's an approach which clearly seems to be paying off. Marine Business caught up with Lapointe recently while he was in Sydney to collect three Good Design Australia Awards in the Product Design – Automotive and Transport category. Two were for Can-Am vehicles and one was for the Sea-Doo RXT-X PWC which has been praised for its easy-access storage space, waterproof sound system and attachable accessories such as an auxiliary fuel tank, as well as for its overall sleek design.
For Lapointe, the RXT-X is all about creating a PWC that will extend the user's ability to enjoy new experiences on the water.
"These products allow you to go much further in distance, are much more comfortable, they have more fuel capacity and you can really go places. With the hull design, the wave penetration is much smoother, especially for ocean riding where it can get quite rough."
At the other end of the product range is the Sea-Doo Spark Trixx, lightweight and easy to ride, which also won a Good Design Australia Award last year and has proven to be very successful for BRP in appealing to a younger demographic.
"At one point our average age of consumer was, say, 57 years but the Spark has enabled us to bring in a whole new generation in their 30s," said Lapointe. "It's really rejuvenated the industry by bringing in young people to the dealerships asking for the Spark."
PWCs regularly attract negative publicity due to the inconsiderate actions of a small number of riders. Lapointe, who has been designing Sea-Doo models since the late '90s, says the situation today is far better than the early days when PWCs were largely unregulated. Education plays a key part in improving consumer behaviour but good design also has a role. BRP has been instrumental in introducing features such as the Learning Key which allows first-timers to limit their speed until they get accustomed to the craft, and the iBR (Intelligent Brake and Reverse) system which enables users to stop quickly if necessary.
"There are a lot of things we brought to the industry to help end this chaos of the '90s, and today it is much more controlled. You can't prevent an individual going out and being stupid but we teach and we do a lot of things on the manufacturing side to make sure people behave and respect the rules of the water."
This article was first published in June-July 2018 issue of Marine Business magazine.