Right place, right time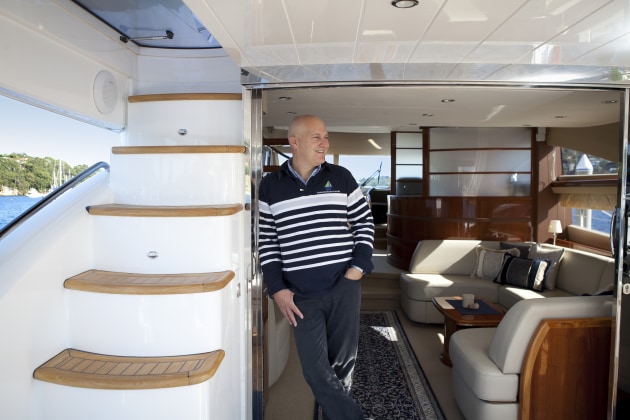 PROFILE: Andy Young, Boating Syndication Australia.
It was a genuine Sliding Doors moment which first saw Andy Young, owner of Boating Syndication Australia (BSA), get into the marine industry. Having migrated from South Africa with his family in 2006, a job offer which failed to materialise saw him struggling to put down roots in Sydney. One day, after a particularly dispiriting day trying to sell carpet, he stopped by chance at The Spit marina on his way home and saw a job ad for a boat salesman. Despite never having been boating previously, let alone working in the industry, he landed the job and within weeks had racked up sales worth $1.8 million.
"I was just lucky," says Young today looking back at that life changing moment. "I was lucky that I stopped. I was lucky the sign was up. I knew nothing about boats. I came from Johannesburg and the closest seaway was 700 kilometres away. The first time I saw a Riviera 4700 Sports Yacht, I'd never seen a boat like it in my life – and that was at the second job interview."
If the beginning was fortuitous, there's no doubt Young has made the most of it. After working for other syndicate operations, he started out on his own with one boat and has built BSA into a highly successful business. The company now has over 360 clients on its books who are co-owners of 27 boats ranging from 40 to 88 feet. Based at The Spit marina on Sydney's Middle Harbour, the company also has syndicates at Rushcutters Bay across the Harbour, Pittwater, Brisbane and the Gold Coast, employing 23 permanent staff and 40 contractors.
An introduction to boating
The syndication model is a proven means of introducing new people to boating, giving them access to premium quality boats which would otherwise remain out of their reach. With shares at BSA starting from $22,000, new and experienced boaters get to enjoy the boating lifestyle at a fraction of the cost of running their own vessel. Owners have use of the vessel whether or not it is fully syndicated (Young says the first two or three owners will typically sell the rest of the boat through referrals) and can sell their share before the end of a syndication, if possible, or buy an additional share if they want more access. Users pay for their own daily costs as well as sharing the ongoing running costs such as berthing, maintenance etc which are all itemised upfront.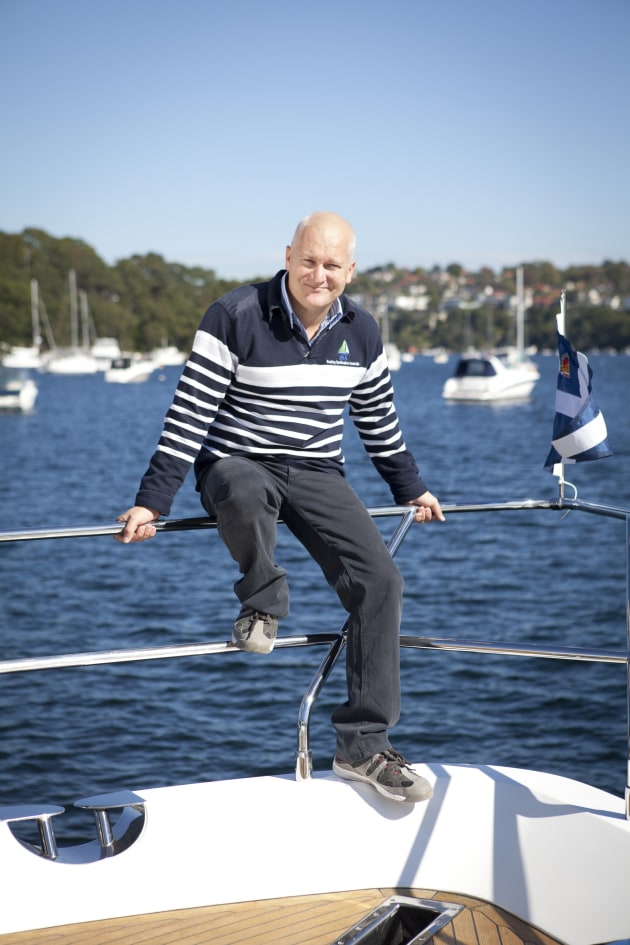 Owners also get to share in the proceeds of the sale of the vessel at the end of the syndication, usually after three years. As part of the service that BSA provides, there is an emphasis on preventative maintenance in order to maximise the equity value of the boats. As a result, BSA offers owners a guaranteed 60% return on the resale of the vessel, although Young says the return is often much higher, depending on the model.
"My business is not just about selling shares. If I'm to retain the owner as a client, they want to know that they're not going to get stung and lose a fortune. So I look at that when I'm buying the boats."
The company recently branched out into its first sail syndicate with a 52 foot Buizen built on Sydney's northern beaches, while another new addition is the 88 foot Long Reef model which garnered a lot of attention at this year's boat shows and comes with its own full-time skipper and onboard cinema. Following the success of this larger boat, Young now plans to design and build his own Long Reef 60 model in China and bring it to Australia to be fitted out in Brisbane.
In conversation, Young is an astute observer of boating trends with a wealth of stories about owners, dealers and manufacturers. While some builders prefer to keep the syndicates at arm's length, not least at the boat shows where Young says they are often treated as "second-grade citizens", he believes boat shares play a vital role in the industry.
"I see boat share as being the most critical business at the moment. We've bolstered the industry, buying the second hand boats which allows the owner to go and buy new boats and allows the dealer to have a slot in the factory to manufacture a boat."
He says he would like the industry to be more "open-minded" about change in the market.
"The industry is entrenched with old people and old people do not like change. There are younger guys in the industry who are trying to change things but who are not supported by any of the older guys because they don't want change."
No one could accuse Andy Young of being afraid of change. While it was a fortuitous turn which saw him get his first break in a new industry, he has certainly embraced that opportunity and made his mark on the local boating market.
This article was first published in the October-November 2017 issue of Marine Business magazine.