Protect yourself with PPSR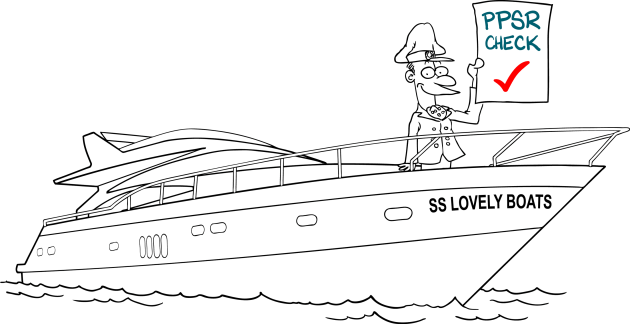 Thousands of businesses rely on the Personal Property Securities Register. Are you one of them?
The recent case of a boat builder in Victoria going into liquidation highlighted the risks of supplying goods and services to another business which subsequently defaults on payment. Even if the amounts involved are not huge, the knock-on effect for a small business can be devastating, creating cash-flow problems and possibly even driving them out of business too.
In these circumstances, the protection afforded by the Federal government's Personal Property Securities Register (PPSR) can make a difference in terms of whether or not a supplier is able to get something back or is simply treated as another unsecured creditor, in which case they typically get nothing or very little.
So what is the PPSR? In effect it is a single, national online database which records those people or companies with an 'interest' – in other words a financial stake – in a range of assets such as motor vehicles, goods supplied on consignment and even intangible property such as copyright and patents.
In fact, the range of goods and assets which can be registered on the PPSR is very broad, encompassing just about anything of value except land, buildings and fixtures.
At the boat shows this year, you may have noticed stands presenting information to boaters about the benefits of using the register if they are buying a used boat from a private or unlicensed seller. A search of the register will reveal if there is any
finance still owing on a boat which, in the event that the seller subsequently defaults on their repayments, could result in the boat being repossessed.
Checking to see if a boat is on the register requires the HIN and a small payment. It can be used for trailers and outboard engines as well and, although intended primarily for private buyers, can be used by dealers to check if there are any issues with second-hand stock they're buying in.
Get to the front of the queue
The second aspect of the PPSR of relevance to the industry is the protection provided for businesses supplying goods, leasing or hiring, or selling on consignment. In these cases, businesses can register their 'interest' in the goods so they are protected in the event that the buyer defaults or goes out of business. If they don't register the goods then, if something goes wrong, they risk having them sold off to pay secured creditors.
But what about contracts? Many businesses include a retention of title clause in their contracts indicating that the title to the goods remains with them until paid for in full. However these clauses still need to be backed up by registration to offer full protection. If not, someone who has registered an interest will get precedence in the creditors' queue if a buyer goes belly up.
It's important for a business to register an interest as soon as they start dealing with a new customer, or with an existing customer on new terms, rather than waiting for the goods to be delivered. The protection applies from the time of registration and 'first in time equals first in line'. If you supply the same goods to the same customer on a regular basis using the same terms then you may only need to register once.
And if you're not sure about dealing with a new customer, you can check the register to see if other businesses have secured interests against the customer's assets.
It costs $2 to do a search of the register while to register an interest costs from $6 for seven years. Businesses which have been registered since the PPSR was launched in 2012 should be aware that any registrations made back then will be coming up for renewal or extension soon, so now is the time to check the details are accurate and up-to-date.
Only a current registration can be renewed; if it has expired you'll need to make a new one.
This article was first published in the December 2018 issue of Marine Business magazine.