PROFILE: Matt Robinson, Moby Marine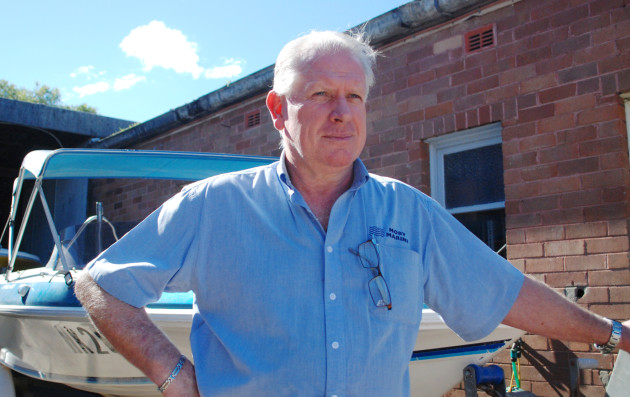 Marine Business met with Matt Robinson at Moby Marine Services to find out what makes this mecca for mechanics so special.
For any marine mechanic, the warehouse at Moby Marine Services at Mortdale in Sydney is an Aladdin's cave of parts and spares. Rows of shelves are packed from floor to ceiling with all manner of replacement parts for outboard and stern drive engines – filters, gaskets, control cables,
lubricants and oils, propellers and impellers, electronics of all sorts. Name anything you might want to fix a marine motor and the chances are it is stashed away somewhere among the nooks and crannies of Moby Marine.
As such the company provides a vital service in helping to keep the marine industry moving, sourcing parts from dozens of suppliers around the world, maintaining them in stock and then distributing them as required to mechanics and repairers throughout the region. The items that flow through Moby are part of the lifeblood of the industry, the thousands of individual bit and pieces that enable boaters to keep on doing what they love.
Matt Robinson, Moby Marine owner, estimates there is about $2.5 million worth of stock on the shelves – a considerable investment but one which is necessary given the range of engine types and brands that need to be looked after. The inventory of parts and spares covers all the major engine brands – Mercury, Yamaha, Suzuki, Honda, Evinrude, Tohatsu in outboards, Mercruiser, Volvo and Yanmar in inboards – plus other mechanical systems. In addition, Moby also strips down old engines for hard-to-get or obsolete parts for which there is still a demand. Robinson describes the company as the "Repco for boats".
Of course, having the parts in stock is one thing, knowing what they do and how to fit them is another. That's where the experience of Robinson and his team of eight staff comes in, the years of hands-on knowledge as to which part is right for any particular job and the best way to do it. Often when customers turn to Moby, it's not just the part they are seeking so much as advice on what to do. The information that is imparted here to mechanics around the country is part of the industry's intellectual property, the accumulated wisdom passed on from one generation to the next.
"Our strong point is product knowledge," says Robinson. "The mechanics know they can get the parts they need and we can guide them."
Robinson himself gives the impression of someone who could strip down a two-stroke whilst blindfolded – and still find his way around the Moby warehouse to find the right replacement part. Marine engines are second nature to him. He started the company in 1980 after 10 years working as a mechanic for d'Albora Marinas. Over the years, Moby moved around various Sydney marinas in Cammeray, Glasdesville and Blakehurst before finally settling at Mortdale.
On the day that Marine Business visited there was a steady stream of walk-in customers who obviously know where to go to find the parts they need. These days though most transactions are done over the phone or via the company's extensive online catalogue. The company delivers nationwide as well as to the Pacific Islands and uses same-day couriers for local deliveries and overnight delivery around the country.
A worldwide supply base
Over the years, Robinson has seen the market for replacement parts evolve and diversify. These days it is a global industry with manufacturing sources as varied as rubber components from Italy, control cables from India and Korea, and pistons from Argentina. The USA is still a key source of
aftermarket parts as the industry over there is large enough to sustain its own manufacturing base - companies such as Barr Marine, GLM and CDI Electronics. Moby was the first to import ignition and diagnostic equipment from CDI which Robinson describes as better quality than the OEM systems. The parts are all still 100% made in Alabama.
Locally, the current state of the market is "challenging" he says although Sydney's seemingly endless summer has been a positive factor. This highlights the extent to which marine businesses such as Moby are influenced by the numbers of people who go boating and how often. Robinson would like to see more education of the public about the importance of repair work being carried out by properly-trained technicians. He helped set up the Marine Industry Mechanical Repairers Association (MIMRA) in 1998 and believes the scheme should be promoted as a means of making boating safer and more attractive to potential users.
"People think marine mechanics is like working on a car engine but it's not. It's more like aviation. If something goes wrong, it can have serious consequences."
In his position, he is well-placed to see the consequences of 'backyard' repairs gone wrong. All it takes is for a novice – or even an experienced - boat-owner to have a bad mechanical incident out on the water and the allure of boating as a lifestyle quickly vanishes. The expertise and service that Moby offers is all about ensuring that boaters enjoy a trouble-free time on the water whatever their mechanical needs.
This article was first published in the June-July issue of Marine Business magazine.