PROFILE: Brooker hits 50 years young
An iconic Australian boating brand is enjoying a new lease of life at 50.
When they hit the big five-oh in years, many people find that life inevitably starts to slow down somewhat; time may seem to pass even faster but the need, or even the ability, to move quickly is perhaps less pressing. Been there, done that.
In business though, there can be no let-up. Stand still for too long and you quickly get left behind. For local boat builder Brooker Marine in Sydney, this is a lesson that has been well-learnt.
Now in its 50th year, the company has been enjoying a remarkable renaissance in recent times with new owners, a new management team, new production facilities and new boat models hitting the market. Rather than stodgy middle-age, the company is displaying all the vitality of youth with a new energy that befits its slogan '50 years young'.
The name Brooker is one of the most iconic brands in the local boating market. Just about anybody of a certain vintage who has spent time messing about in boats has either owned, used or traded a Brooker tinny and/or trailer at some point in their lifetime. The brand is to boats what Holden is to cars or Victa to mowers – as true blue as you can get and built for Aussie conditions (although a noteworthy difference is that Brooker remains 100% Australian-owned).
Coming from a background in steel fabrication and scaffold manufacturing, the company first started building aluminium dinghies and punts in 1966 under the leadership of Norm Brooker. One of Brooker's original tinnies can still be seen at the company's current HQ at Lidcombe in Sydney. The Brooker brand soon gained a reputation for tough, affordable boats such as the iconic CT10 and CT12 car toppers. Brooker tinnies were the first boat for thousands of Australian families, built to withstand regular use and rough handling. Indeed, as current CEO, Kevin McCarthy, commented, the legendary toughness of the boats was a double-edged sword for the company as owners tended to hang onto their favourite Brooker tinny long after they might have traded in another brand. Hence another Brooker slogan: Built for life.
During its heyday in the 70s and 80s, Brooker manufactured up to 7,000 boats a year. Distribution at one time was through the Waltons department store chain which would stock more than 1,000 tinnies at the start of each summer. The Brooker SeaAl range dominated the Sydney market with designs such as the Super Skewer popular with many recreational boaters and fishos.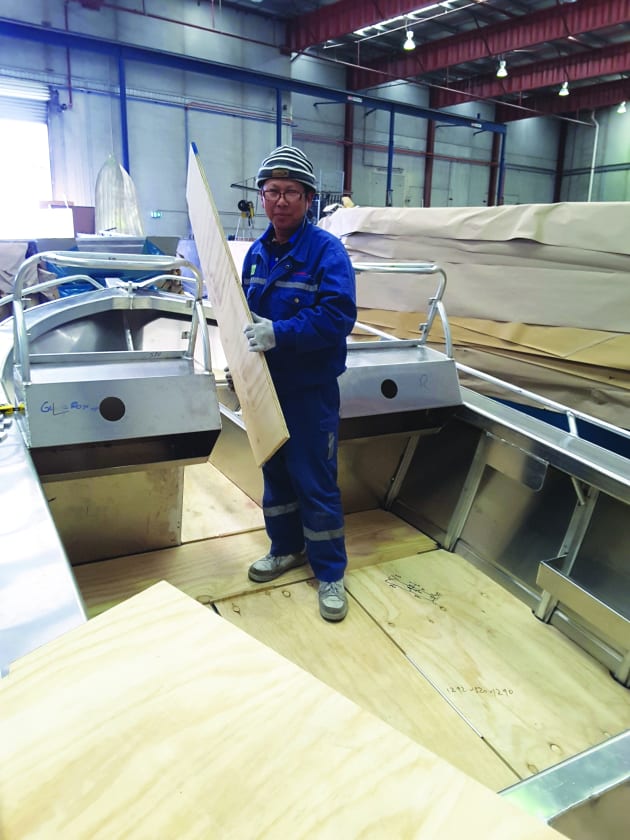 At the same time as it was building thousands of boats, the company was also revolutionising how they were transported. Back then, trailers were typically made from C sections with full welded bracketry to suit each particular boat model. Brooker made trailer designs for a range of boats, both its own and for other manufacturers, including wooden and fibreglass models. During the 70s, the company pioneered the use of trailers made from box section steel with bolt-on adjustable bracketry. This meant that a smaller number of trailer frames could be adjusted to carry boats of all shapes and sizes – a design which has become standard throughout the industry.
Brooker was one of the original innovators in putting together boat and trailer packages, building everything in-house, as it still does today.
Bringing in new blood
Times change, however, and like many local boat builders in recent years, Brooker struggled through various economic downturns, changes in the boating market and against competition from new players. It would have come as no great surprise to many observers to see the Brooker name go the same way as other local boat brands, becoming a relic of the past existing only in the memory.
Instead the opposite happened. In 2011, the current owners took over with the intention of revitalising the brand and bringing new energy to the company. A new management team including McCarthy and business development manager, Adrian Pickering, was appointed, and the business relocated to more spacious premises in Lidcombe where it has room to expand and develop new product lines. The company is proud of the fact that it is still Sydney-based, delivering jobs and skills in the city's manufacturing heartland.
At the same time, the company began to put more resources into marketing the brand as well as introducing new models such as the latest Bowfisher and Stealth console boats. All the new models are wider and deeper in design, responding to the current trend for roomier, more stable boats, with 3mm side wall construction and extra ribbing for added strength (the company offers a lifetime structural warranty on all hulls). Its DeepDeck hull design features a lower internal floor and higher freeboard for safety and comfort.
While Brooker has a long history of building tough hulls, these days there is also a much wider range of customisable features available for customers to design and build their own ideal boat. McCarthy says there are now 63 model configurations across its current range of dinghies, runabouts and console boats, and about 20-30% of what it produces is unique to that particular build.
This calls for a delicate balance between flexibility – being able to respond to specific customer requests – while also maintaining the manufacturing efficiencies that come from producing a set number of designs. The company has embraced Lean Manufacturing principles and has been training staff to identify and tackle areas of waste and inefficient work practices. As anybody who has taken on this task knows, it is a process that calls for a sustained cultural change within a workplace and a willingness to adapt from top to bottom.
Factory-built racer
With new models and more resources behind it, the company has also been more active in the market, appearing at boat shows around the country and engaging with customers through social media, a necessity for any major brand these days. One interesting recent activity involves the company building the first boat model designed specifically to take part in tinny racing, a high-speed, high-thrills sport that attracts a dedicated band of racers, particularly in South Australia.
Typically the boats that take part in tinny racing have been modified by their owners to go fast and handle the stresses of going flat-out on a twisty narrow course. Powered by engines up to 30hp, they can reach top speeds of 90km/h. In a first for the sport, Brooker has been working with some of the top racers to develop a purpose-built boat with the goal of making it the fastest factory-built boat available to compete in all classes.
McCarthy admits that even for a company such as Brooker with its decades of aluminium boat building expertise, it has been a challenge to perfect the ideal racer. On such a small boat designed to skim along at high speed, the manufacturing tolerances are exacting. And while the overall market for the finished boat may not be huge, the branding opportunities are immense. Tinny racing is an exciting spectacle – check out the Red Bull videos on YouTube – and one which draws an enthusiastic crowd of participants. It's also a cheaper and more accessible sport for young people who want to go fast on water to get involved in. For Brooker, it's an opportunity to align the brand with a unique event for which it is ideally suited and thereby reach a new audience.
Such adrenalin-pumping action may not appeal to every 50-year-old but as Brooker Marine is demonstrating, it still possesses plenty of youthful vigour after five decades in business. Here's to the next half century of boating.
This article was first published in the December-January 2017 issue of Marine Business magazine.