More power to the people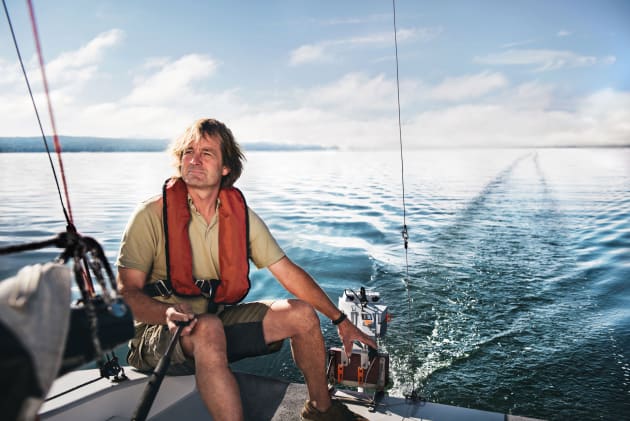 Marine Business talks with Jason Hodder at Power Equipment about the electric propulsion market.
It's about 18 months since local marine engine distributor, Power Equipment took on the distribution for the German-made range of Torqeedo electric outboards and announced that it was setting up a new dealer network.
Since then, according to Jason Hodder, Torqeedo product manager at Power Equipment, about 20 dealers have signed up around the country as part of the company's strategy to establish four or five key representatives in each state. It's been a very deliberate process, he says, with the goal of finding the right dealers rather than just the most dealers.
"We didn't want to go down the path of mass marketing. It's more specialised dealers that we're looking for, people with a passion for the product and an interest in electric propulsion.
"We were prepared to wait for the right dealers to come to us and work with them."
The dealers selected include a mix of specialist marine dealers, chandleries and some dealers who specialise in electric and solar power. NSW and Queensland are the most well-established states in terms of dealerships and product awareness, but Victoria and South Australia are fast catching up, Tasmania is growing, while there is room for further representation in WA.
"We're trying to have a mix of dealers," says Hodder. "It's a specialist product and still in its early stages. We just want to make sure there is an opportunity for everyone to have a good market share."
To date, about 200 units have been put in the market, not a huge number by any means but a first foothold in a traditional market dominated by petrol-driven engines, and one which is only going to get bigger. The three main models in the Torqeedo line-up are the Ultralight, Travel and Cruise
models, each targeted at a specific market. The 1hp equivalent Ultralight model is aimed at kayak users, a potentially huge market given the number of kayaks sold each year. The most popular 'bread and butter' model is the 3-4hp equivalent Travel model which suits small dinghies, tenders and small day sailers up to 1.5 tonne, while the 5-20hp Cruise model is suited to a range of larger boats.
With such a new product and technology, Hodder says the focus had been on ensuring that it is well supported with available stock and parts.
"We either do it properly or we don't do it all," he says. "We're committed in the long run to ensuring we make a success of the product in Australia."
Electric appeal
The obvious appeal of the Torqeedo engines lies with their environmental credentials – no emissions and the ability to be solar-power recharged – but Hodder says other key selling points are the engines' light weight, quietness and the convenience of not having to carry fuel. One unexpected market has been the caravanning and camping market where users are well-versed in the use of rechargeable devices and like the idea of not having to carry around extra smelly fuel for their outboards. They also tend to be older users who may appreciate not having to use a pull-start on a two-stroke.
With the prospect of emissions standards on small two-stroke engines in the future, Hodder also believes there is an opportunity for electric outboards to gain market share in this sector. A key consideration here, however, is that the electric outboards are currently more expensive than comparable petrol-driven engines although Hodder says it is important to take into account the total cost of ownership and the fact that the Torqeedo models are virtually maintenance-free and any solar energy used to recharge them is completely free. For life. In terms of the overall size of the market for electric motors, Hodder says "the sky's the limit", adding that compared to five years ago, electric propulsion in many fields is now no longer a pipe dream but rather a reality.
"Electric propulsion is a really addictive product," he says. "Once people use it and see how easy the outboards are to use, how punchy they are, it really surprises people how well they go.
"We can't convert everyone but we're getting the interest – people are much more aware of the product now, they know about it and they're not scared about it anymore. It's very exciting."
More than just electric
In addition to taking on the Torqeedo range, Power Equipment has been expanding its marine propulsion options in other areas too. In May this year, the company announced it was taking on the Australian and New Zealand distribution for John Deere Power Systems which includes its range of marine diesel engines as well as industrial engines.
Hodder says that while it is too early to give specific details about how the new arrangements will work locally, he is confident that John Deere engines will complement the Yanmar range for which Power Equipment is best known.
"We're not the only dealer in the world to have those two products side-by-side," he says.
Other new releases in the pipeline include the beast-like Oxe diesel outboard and the Neander Dtorque 50hp diesel outboard distributed by Yanmar. Both these products – due to arrive later this year – will have specific applications, such as the military which favours a single fuel source as well as commercial users who will be attracted by the fuel economies offered by diesel.
Combined with the Torqeedo electric systems and Power Equipment's track record in conventional diesel engines, the complete portfolio adds up to one of the most diverse and extensive marine propulsion offerings on the market today.
This article was first published in the August-September 2017 issue of Marine Business magazine.