Marine businesses go mobile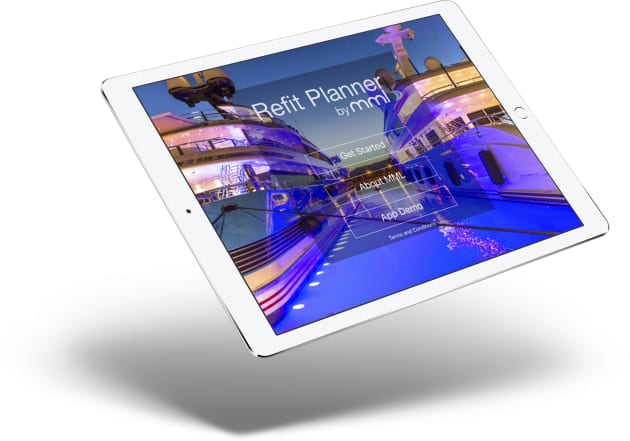 Mobile apps present new opportunities for marine businesses to engage with their customers. Simon Enticknap reports.
Boaters today have access to a wide range of apps on their phones and tablets to help them make the most of being out on the water. They can check the weather, plan their trips, download the latest charts and maps. They can use their phones to control their fishfinders and plotters, adjust the trim tabs and change channels on the radio. Such on-water control through the touchscreen of a phone would have been unheard of just a few years ago but today this is simply a reflection of what users expect.
You don't need an IT expert to tell you that the world of computing is becoming more mobile. Take a trip on any rush hour bus or train and it quickly becomes apparent how many people are getting their information via a smartphone or tablet, even if it is only endless games of Candy Crush. It may be hard to believe then that sales of smartphones are actually predicted to slow down in 2016, according to Gartner market research, growing by only 7% worldwide to 1.5 billion units (this compares to 73% annual sales growth in 2010). Mind you, market penetration in mature markets such as the US, Europe and Australia is now over 90% so any growth is not being fuelled by new users but upgrades and replacements instead.
And where there are phones there is also a multitude of apps to use on them – more than 2.2 million available via Google Play and another 2 million via Apple's App Store. Combined downloads total over 180 billion. Good times, indeed, for developers but for other businesses the rise of the app as the means by which people interact, buy and sell poses particular challenges.
Businesses which have been used to managing their IT needs via static workstations and fixed assets such as websites are faced with the prospect of catering for a customer base and perhaps a workforce that is always on the move. It's not enough just to have a website that is mobile-friendly – although it should be – the mobile app offers a different level of functionality and interaction, any time, anywhere. Developing an app for your business raises a number of issues though, not least the plethora of devices on which it must work, as well as questions of security and usability.
For marine businesses that have invested time and money in creating a website for their brand, the prospect of now having to go through the same process for the sake of an app must seem daunting. Nevertheless, there are a growing number of applications in the industry that highlight what can be done in a mobile world.
Planning on the go
One interesting application from New Zealand comes from Marine Management Limited (MML) which has developed an app called RefitPlanner which, as the name suggests, is designed to assist with planning refits for superyachts and commercial boats.
MML is a consultancy and project management company which specialises in end-to-end project management of ship refits in the superyacht, commercial and naval sectors. The RefitPlanner app is an extension of the tools that the company already uses but presented in a way that makes it easier for customers to specify the work they want done and, as a result, get more accurate estimates of the time and cost involved.
After installing and registering with the app, users can enter details of the work they want carrying out on their vessels, adding information such as documents and photos. The app prompts users to answer questions in order to extract more information and, behind the scenes, an MML project manager reviews the information and provides feedback to ensure that the final project specifications are as comprehensive as possible.
Matt Liddell, business development manager at MML, said that while RefitPlanner draws on standard planning and refit management techniques, the combination of a mobile app with project management support means the refit planning process is more informative and interactive.
"The beauty of using an iPad is that crew can answer the questions at the location of the work item, take photos, highlight them and add text, while this information is synched to the RefitPlanner.com website," he said. "The nature of the questions are such that a crew member can be given the tablet and just work through what they can, all the time adding value to the refit work package."
The ultimate goal of using the app is to avoid issues with refits that go over-budget and over-time, often as a result of poor planning.
"We hope it will be a win-win for all involved in the superyacht and commercial refit industry," said Liddell. "Yacht captains and owners get a better idea of the cost of a refit and how long it will take as they provide shipyards with more detail going into a refit period, allowing estimates to contain less unknowns.
"The shipyard is better able to manage their resources, whether it be project managers, yard space, directly employed staff, subcontractors, or yard services like dry docks and synchrolifts.
"For MML it's an opportunity to assist a yacht, shipyard, or management company with the preparations for, and the management of, a refit. This streamlines the process ensuring costs are identified up front and a realistic schedule to match cost and work projections is produced."
RefitPlanner is already being used in the super-yacht industry in refit preparations for 2017 and Liddell said feedback from those currently using it has been positive. Looking further ahead, MML hopes the industry will engage with the app with the potential for licensing it for wider use.
"If people like it or can see its potential through evolution then the more stakeholders we have influencing its development, in a positive manner, the better the result will be for the industry," he said. "It's not something that everyone will want to be involved with or will ever use but I believe those who do will see the benefit."
Let's do launch
Marinas are another sector in which apps have a useful role to play. At Sydney Harbour Boat Storage in Balmain, the company is using the US-developed BoatCloud app to enable customers to book launch times through their phones. Customers simply log-in via the app and make a reservations for the times they want to go out. The app only shows the launch dates and times that are currently available so they can't select a time which is already booked. They can also order extra services such as food and drink.
For the customer, the appeal of the app is that it enables confirmed reservations to be made 24/7; there's no need for phone callbacks or waiting for email confirmations. There are no double bookings or confusion over what time was booked. From the business perspective, staff can use the app to get a live picture of what is scheduled and the valet services required for each launch. The forklift driver can have a tablet version out on the dock and update the launch schedule as each boat is put in the water or retrieved. The system also generates reports to show how efficient the yard has been and when the busy periods are.
According to Jeremy Rose at Sydney Harbour Boat Storage, another key advantage of BoatCloud is that it integrates with the MyTaskit marina management software which the company is planning to implement. MyTaskit is a US-based software platform designed to manage marina and service yard operations such as service requests, estimates, job approvals and scheduling plus billing, inventory and accounts. This is important because although having a user-friendly app for customers to make bookings is an advantage, it also needs to integrate with the back office functions so there is no manual transferring of information, no double data entry – tasks which are inefficient and error-prone.
The combination of BoatCloud and MyTaskit provides a holistic approach from the moment the customer pulls out their phone to make a booking through to the scheduling, job tracking and ultimately the payment for services provided. 
This article was first published in the October-November 2016 issue of Marine Business magazine.