Marina leases face uncertain future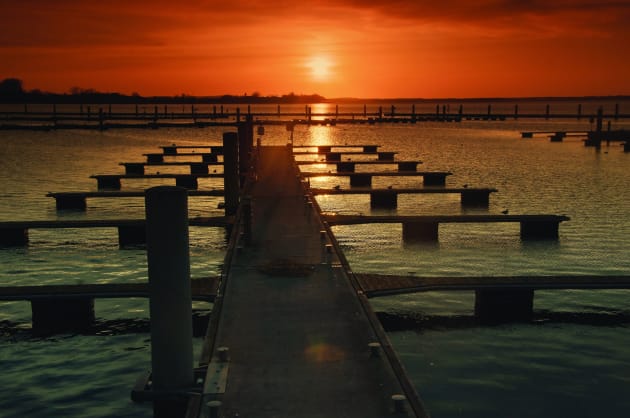 Recent policy shifts on how marina leases are managed in NSW threaten the long-term viability of these important boating businesses. Darren Vaux and Howard Glenn outline the issues.
All along the coast and waterways, getting out on the water is a big part of the liveability and quality of life for local communities. Boating, fishing and water-based activities also attract the tourists that create jobs. Millions of Australians go boating, in over a million boats big enough or powerful enough to need registration. Millions of others choose to get out on the water on smaller craft that don't even need registration. All of these boats have to pass through a land/water interface to launch, or they need to be stored on the water because it's too hard to get them in and out of the water.
What happens at this land/water interface is of critical importance to boaters. Waterfront land is also where people want to live, so local and state governments need to set aside land for non-residential purposes. Over recent years, most state governments have had programs underway to spend boating levies and fees on necessary boating infrastructure, such as boat ramps, pontoons and dinghy racks.
The big challenge, now widely accepted in government and industry alike, is that the growth in on-water boat storage and water-accessible service facilities is essential for the survival of the boating and marina industries. Tens of thousands of boats need to be stored on the water, and this number is increasing in line with population growth and growth in recreational lifestyles. All these boats need servicing, cleaning, repair and maintenance on an ongoing basis.
Governments don't need to be in the game of managing or providing boat storage facilities, but they do need to have policies in place that allows businesses to carry out these services in a commercially viable, accessible, safe and environmentally sustainable way. Numerous studies have been undertaken over decades to evaluate the current and future need for on-water boat storage and service infrastructure. The common and overriding conclusions of all of these reports is that there is a desperate need to deliver increased on-water boat storage and service infrastructure in all waterways in populated areas and in popular holiday destinations.
Leases are needed over small areas of waterways
Land adjoining the waterfront where boating facilities are located is a mixture of freehold land and leasehold land, owned typically by private parties, state agencies or local councils. Almost all of the waterways – the seabeds or riverbeds below the high-water mark - are owned by government. In NSW, the three main wet-land owning agencies are Crown Lands, RMS and National Parks.
State government agencies and local councils typically lease land to private entities (or clubs), and then the private sector invests in the development of the required infrastructure (marinas, slipways, hardstand, workshops) and operates the facilities for profit. This makes strategic sense for governments as there are considerable capital requirements and risk in the development and operation of these facilities.
There is a key issue that needs to be considered here. Why doesn't the government just sell the land or the seabed to facilitate this investment? There are several fundamental reasons:
1. Marine infrastructure is not the most valuable use of the land when viewed in isolation of the site. This would typically be high density residential and there are numerous examples where waterfront marine infrastructure has been sold and replaced by waterfront apartments. Where a broader economic and social view is taken, boating facilities are very important to the lifestyle of a large proportion of the population and in doing so are a significant contributor to economic activity and employment as well as the social well-being of the community. So holding this off the private market makes sense.
2. Needs change over time and there needs to be some flexibility in accommodating these changes. In an urban design sense, cities need flexibility for renewability. The loss, subdivision and unitisation (say as strata apartments) of key sites can block, or at the very least makes extremely difficult, the future re-use of these sites for other purposes. There is a compelling argument for the seabed and associated dry land to be held in government hands, but leased on a long-term basis to the private sector for development and use.
3. Leasing provides the opportunity to consider the strategic use of the land for future generations and the reconfiguration, consolidation or expansion of uses to accommodate future need.
Leasing makes sense. But essential to the success of a leasing approach is to create an investment environment where business investors can attract capital for investment without freehold title. Business investment is generally dependent on the security and operational autonomy that comes from development, investment and operation on freehold sites, or at very least, certainty of tenure.
How to deliver this outcome
With these points in mind, it is relatively straightforward to provide a framework to deliver this outcome. We know this because there are large numbers of marinas and boat storage facilities already built, here and around the world. We have distilled this approach through best practice. The steps required are:
1. Prepare a strategic plan that sets down the forecast requirements for this infrastructure against the audit of existing facilities and map a pathway for its delivery. [This work has been done for Sydney Harbour, and is underway for other waterways, thanks to Transport for NSW, working with industry.]
2. Streamline planning policies around the approval process for this form of infrastructure. Historically this has been high risk, expensive and full of long delays. Most planning instruments are land based, and have dealt with this form of development poorly. Projects have been vulnerable to organised groups of immediate neighbours who have influenced local council views on development of this type. Several different agencies need to give consents, in a complex sequence, and they rarely coordinate.
By contrast, residential development greatly eliminates public access to the waterfront, whereas marinas provide public access and landing points and are of great significance for the broader population they serve. Residential approval processes are straightforward – anything involving the water is never straightforward. The first is common, the latter is infrequent, and many local council staff will only ever deal with one instance in their career.
When government wants to build infrastructure, it has a streamlined planning approval process, but when private investment is needed, the planning process can cost more than the infrastructure. This issue will only see progress when a maritime infrastructure State Environmental Planning Policy (SEPP) is established, much in the same way that the Seniors Housing SEPP has seen progress in that arena.
3. Create government property policies that allow for commercial investment in infrastructure – for both initial and ongoing investment. The three state agencies which own and lease the seabed are challenged with this, and it would be good if there were a common set of policies. All three were part of a government working party with industry that developed 'Maritime Property Principles' which were all endorsed and supported. But the implementation has stalled for years.
For any of the 'landlord agencies', there are three key factors that influence the viability of an investment:
Length of tenure and renewability of tenure
Affordability of rent
Consistency of policy
How initial and ongoing investment works
Using a marina as an example, considerable initial investment is required in undertaking all the technical, planning and environmental reports required to support planning approval. Often, due to the issues outlined above, the planning approval process ends up in the Land & Environment Court. Assuming approval is achieved, there is already considerable investment and time committed to the proposal during which no return from the investment (or the land) is achieved.
Then the development phase sees the installation of piles, pontoons, service infrastructure and other support services (like fuel and pump-out) along with land based facilities – buildings for offices, bathrooms, workshops, slipways, hardstands and associated plant and equipment.
There is an investment decision to be made in relation to initial capital vs design life vs ongoing maintenance and capital re-investment cycles.
Historically state agencies have adopted the policy of renewal of leases with existing lessees, if they meet two key tests:
that they have been a good and complying tenant; and
there is no higher level strategic review that requires the use of the land for other infrastructure, for example a bridge widening. (The occurrence of the latter has been extremely rare.)
As a consequence, investors in marina infrastructure have sought to invest in long-term infrastructure from the outset. Then they maintain and re-invest in this infrastructure with the expectation (and generally advice or written policies of the landlord) that their lease will be extended during the term, to allow for additional new investment. As a lease gets towards the end of term, a direct negotiation happens that facilitates the existing tenant undertaking a further redevelopment, getting further investment underway.
These assumptions (based on direct and policy representation and government practice over the last 50+ years) are essential for the appropriate and ongoing development of this type of infrastructure. It motivates lessees to continually invest in, maintain and renew infrastructure. It motivates them to develop, maintain and grow goodwill in their business activities.
Recent policy shifts need urgent rethinking
An alternate position has been recently postulated by some state agencies in response to largely unrelated matters at the Independent Commission Against Corruption (ICAC) in NSW.
This position can be summarised as: wouldn't it be better if all leases were put back to market at the end of term? What if someone else wants to operate that site? The public wants us to offer agistment leases to the market at the end of lease, so let's do that for all leases. Retail leases are put back to market at the end of five years, why not these leases?
To a public agency, all business activity can look the same, and in today's climate, any dealing with business can create perceptions of risk. That's why it's important that government and business associations meet regularly to consult, and to make sure there is a very clear understanding of the real issues and opportunities that underpin a sensible policy framework.
Existing lessees invest through the term of their leases with the reasonable expectation that their existing leases will be directly negotiated within market parameters and renewed. They don't amortise (pay off) their capital expenditure to the end of the initial lease term – they keep considerable value in the business.
A change in government policy that seeks to now eliminate the ability of incumbent lessee to renew is in effect a case of unfair appropriation of private assets by a government agency without fair compensation. Care needs to exercised so that a rapid reaction to broad recommendations to avoid corruption in administration don't lead, on the other hand, to heavy handed and unconscionable conduct in the treatment of good and complying tenants. Corruption is a failure of government administration practice. However, it would appear that the proposed solution has the greatest impact on existing good and complying tenants.
There are many existing lessees in holdover – past the end of the initial term - but because of problems with lease administration by the government agencies are still waiting to get confirmation of a lease extension. These sites are often in desperate need of re-investment, but the business still has goodwill of considerable value. The failure to provide future certainty for these lessees has blocked supply of vital infrastructure.
Existing lessees with considerable remaining term, and who have made significant capital investments, have taken their existing investment decisions based on the expectation of extension and renewability of their existing leases. Their capital, finance and associated valuations have been based on this premise. Ill-conceived policy change that undermines this framework could lead to financial distress for existing lessees if valuations are prejudiced and financial covenants breached.
What about other types of leases?
There is a great difference between seabed leases for maritime infrastructure and other types of commercial leases such as retail and commercial office leases. With these retail/commercial leases, the level of capital investment is low as it relates to internal fit-out that is typically amortised (paid off) over the term of the lease. It is also often low relative to the turnover of the business. In most cases the goodwill of the business is not dependent on the location of the business and the lessee can relocate to alternative premises without loss of goodwill or business value.
For a marina investment, the level of investment is high relative to turnover, the goodwill relates to the location and the business can not be relocated with loss of most, if not all of its value. The lease of a seabed for infrastructure is comparable to the freehold title of the dry land on which the office/shop building sits. For good reasons, you can't generally buy the seabed – but you still need long and continuing title to afford to build something worthwhile.
It is a clear policy option to go to market at the end of a five-year retail lease for a shop or an office. But if you go to market at the end of an infrastructure lease, you're essentially taking the whole business from the people who built it.
Fair value
A key premise of this is understanding what is fair value and how this relates to both rent and tenure.
Considerable investment in financial analysis by both government agencies and industry associations has been applied to the question of sustainable and fair rents and lease tenure. The current 'market rents' are a reflection of the expectation of renewal of leases in the absence of the need to fully amortise investment over the term of the initial lease. This is an important point as any change to this would have to see a substantial downgrading of affordable seabed rents.
These studies have established that the sustainable occupancy cost – that is viable affordable rent payments to government which allow for long term viability – is within a known range of percentages of gross turnover. There is no longer any potential windfall for government to market test these rents as any competent operator will be only able to pay rents within the known range. Outside this range, you can't guarantee delivery of the objectives of well serviced, well maintained and re-invested infrastructure over the course of the lease.
None of this precludes new operators from entering the market. Existing marina businesses trade on the open market, at various stages in the investment cycle. Greenfield/brownfield sites released by governments for the development of maritime infrastructure are offered to the market in open competition. The biggest obstacle for new entrants to the market are the uncertainty of government policy, and lack of clarity on the process for assigning leases, not the availability of investment opportunities.
End of lease fire sales
If existing businesses had to be put to market at the expiry of a lease, any sensible investor would amortise the infrastructure and extract its value during the term leaving no value on the table at the end. Apart from the poor delivery of service that would result from degrading infrastructure in the last decade of operation there would be a period during which the infrastructure would not be available. New development approvals and new construction periods, often taking years over would be needed. The resultant financial outcome (as well as utilisation of assets) for government would be poor.
These two alternatives are illustrated in figure 1 where the red line represents investment and re-investment during the term and the blue line an amortisation approach. The community's, government's and industry's best interest are in the re-investment approach.
We need clear policies that ensure that there is certainty in the investment framework that gives effect to this approach. This is achieved by:
Setting policy and lease terms that provide for extensions (though variation) of existing leases for additional capital investment, based on the presentation of a business case by the proponent.
Recognise that the infrastructure and goodwill developed and paid for by private investors is the property of those investors and can not be appropriated by the lessor without compensation.
Strategic review of sites should be undertaken at least 10 years before expiry of current leases, to see if there is any likely alternative use for the site other than that for which it is being used now. If a decision is taken after public consultation that the land must be used for something else, then there would be no extension of the lease, but there would be plenty of notice. Where the lessee maintains and invests in the infrastructure to the end of the term, then they should be paid fair compensation for the improvements and goodwill at the end of the term as if the lease was continuing. This should be treated as a cost of the re-allocation of the land for the alternate purpose.
Rents for maritime infrastructure should be based on the already known percentages of turnover. This is just a good business practice of sustainable occupancy costs to ensure that the maritime business is viable.
Leases should contain provisions that promote best practice and reward lessees for exemplary environmental, public access and safety outcomes without overburdening lessees with administration and reporting requirements.
The financing challenge
Marinas and boat servicing facilities are unique investments. They are treated by banks as 'specialised assets' and as such their investors have limited access to expensive finance. Consequently, they are capital- and equity-heavy investments. The revenue returns have a high operating cost component and carry significant OH&S and Environmental risk. They are an active investment.
They are vitally important to support the economic and social contribution of the broader boating industry but, for some reason, are often treated poorly and with suspicion by their government landlords in a recurrent cycle. This is most likely a result of misunderstanding, a perception that they are the domain of the rich or are otherwise an easy target by uninformed administration.
The reality is vastly different from this as the industry is proliferated by operators whose primary interest is boating and the boating industry.
Any objective view of marina investments would conclude that there are lower risk, less active and high return investments elsewhere in the economy. We must be careful not to push investment away from the industry through ignorance of these issues.
Clearly we need to create an investment environment to motivate experienced and skilled operators to remain in the industry and continue to invest in this much-needed infrastructure.
About the authors
Darren Vaux is past president and director of the Boating Industry Association (BIA), vice president of the Marina Industries Association, chairman of the Maritime Advisory Council in NSW and director of the award-winning Empire Marina Bobbin Head in Sydney. Howard Glenn is national CEO of the BIA.
A shorter version of this article was first published in the December-January 2017 issue of Marine Business magazine.