Look to the skis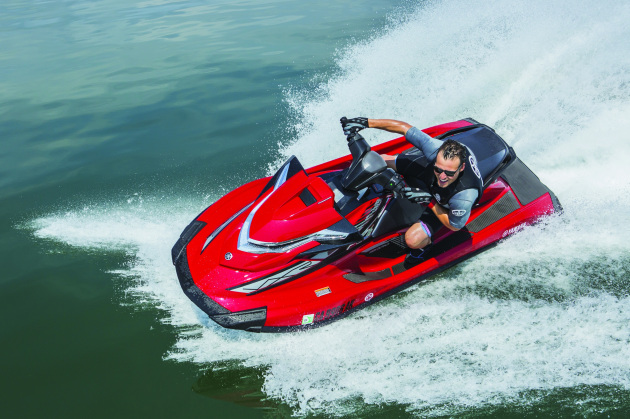 Despite the bad rap they often get, it's time for a sensible discussion about PWCs, argues Darren Vaux.
PWCs get a bad rap. Their reputation suffers from the poor behaviour of a minority, perceptions of the noise of PWCs as they used to be and, let's call it what it is, prejudice from certain sections, mainly older, members of the boating fraternity. Consider some interesting facts.
All Jet Skis are PWCs but not all PWCs are Jet Skis. That's because Jet Ski is a brand name of Kawasaki and Jet Skis were the first PWCs to achieve large scale market share. In much the same way Hoover is synonymous with vacuum cleaners.
PWCs are the fastest growing category of boat ownership in Australia with an increase in annual sales of some 40% in the last 10 years.
The average age of PWC licence holders is about 15 years less than the average age of boat licence holders.
Modern PWCs are clean, quiet and have luxuries like 'brakes' (like the Yamaha RIDE and Sea Doo IBR systems), low speed manoeuvrability, suspension and cruise control.
Modern PWCs are affordable luxury and performance, are easy to tow with a vehicle and store at home, and can carry up to three people.
So why are PWCs so much maligned? PWC licences are much more expensive than boat licences with the
justification that the cost of regulatory compliance and enforcement for PWCs is much higher as the rate of behavioural offences is higher. This is certainly the case where the behaviour of a small group of individuals is creating difficulty for other PWC users, the boating public and the affected communities, but it is not the norm.
Prohibition not the solution
In the past, a heavy-handed approach was taken to ban PWCs from certain areas, including Sydney Harbour. This has just served to concentrate the problem in other areas, as against addressing the core behavioural issues. I am all for dealing with individuals who break the law and endanger the safety of others in an appropriate and firm way but this should not extend to punishing those who adhere to the law or creating an atmosphere of regulatory enforcement and supervision across the broader boating community. This is boating; it's for fun, for relaxation and for thrills and, all things considered, is generally very safe and good natured.
The profile of PWC ownership is also changing. A number of larger boat owners are opting for PWCs as an alternative to, or in addition to, their tender. And why not? They are easy to ride, a great way to explore and can comfortably take two or more people to the beach or beyond.
Likewise, doesn't it seem more sensible that young people can get out on the water and enjoy the thrill of riding and exploring on a PWC than seeking the same thrills driving or riding motorbikes on our roads? I'd rather come off a PWC than a motorbike.
Motorbikes are a good analogy as poor behaviour on the roads results in the loss of licence or vehicle impoundment but there is never any discussion about banning motorbikes from certain roads due to bad behaviour. Those who break the law get punished. It should be the same for PWCs.
At a time when the average age of the recreational boating fleet continues to age and the industry is seeking new ways to engage our future boat owners, including Millennials and women, we must recognise that PWCs are an important and growing pathway into boating that needs to be nurtured.
Safe places for PWCs
It's time for a sensible discussion at the policy level about PWCs. There needs to be a study into how and where PWCs are used by the wide range of users. Those seeking the thrill of speed and tight cornering need destinations where this use is safe and acceptable. In the motor vehicle and motorbike space, venues for racetrack drag racing were created to take the behaviour off the streets. Why not the same for PWCs?
I am sure that industry and government could collaborate to create great locations for PWC social drag races and circuit riding under supervised conditions in locations that would not affect anyone and give a focus and legitimacy to the behaviour. This will likely reduce conflict and relieve the pressure on those areas that are the main sources of trouble. Prohibition doesn't work. Directing activities to appropriate locations does.
PWCs aren't all about speed and thrills. There are plenty of explorers and fishers who are low key users with a compliance record equivalent to the rest of the boating population and they should be treated as such. It's a great way to connect with friends and family and is a physical and immersive experience quite different to other boating experiences.
There is great potential for a wide range of tourism events like organised coastal and estuary adventure rides that can open up the thrill of boating our magnificent waterways and coastline to a new generation of boaters and tourists. Such a plan should see the return of PWCs to Sydney Harbour, at least on a trial basis, as it is both iconic and quintessentially Australian.
It is time for industry and government policy makers to come together to develop proactive policies that promote safe and appropriate use of PWCs across the range of uses and locations. Coupled with this should be a compliance regime that appropriately punishes bad behaviour but does not penalise compliant riders by association. Perhaps certain areas will only be open to riders with a clean compliance history. Look at what has been achieved to date with lifejackets and the proactive campaign to increase lifejacket wear rates. Perhaps the same philosophy can deliver for PWCs.
About the author
Darren Vaux is director of the Boating Industry Association, vice president of the Marina Industries Association, director of the award-winning Empire Marina Bobbin Head in Sydney, and the Australia, NZ and Pacific Islands representative for bedsonboard.com.
This article was first published in the December-January 2018 issue of Marine Business magazine.