Legends of speed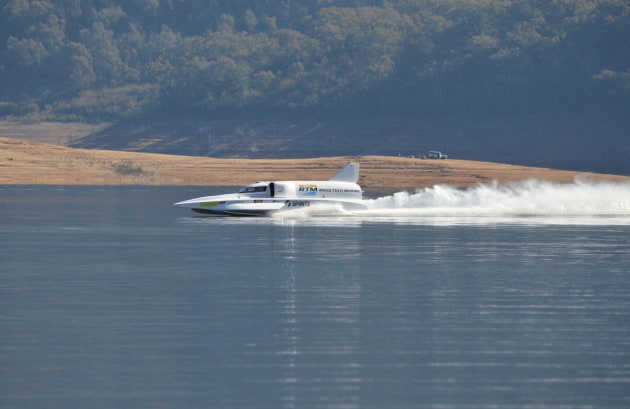 The Warby name is legendary in the world of water speed records. Now a new generation is taking up the challenge of being the fastest on water.
One of the highlights of this year's Sydney International Boat Show was the opportunity to meet the Warby father and son, Ken and David, and hear about their water world speed record attempts, both past and present. The pair were at the show with their latest jet-propelled boat, Spirit of Australia II, which Dave is hoping to pilot to a new world speed record, breaking that of his father's which he has held since 1978.
The story of how Ken Warby built the original Spirit of Australia in his backyard in Concord, Sydney, is the stuff of legend (why nobody has made a movie of it is mystifying). Built outdoors, the boat could only be worked on in fine weather. It was built using mainly hand tools with the only power tools being a drill, a circular saw and a belt sander. To help raise money for the project, Ken took up oil painting and travelled around Australia displaying Spirit of Australia and selling his paintings at shopping centres.
In November 1977 on Blowering Dam near Tumut in NSW, he piloted Spirit of Australia to a new world record speed of 464.46km/h (288.60mph). A year later he was back to break his own record, smashing the 500km/h and 300mph barriers in the process and recording a top speed of 511.121km/h (317.596mph).
And that's where it still stands today. Others have made attempts to take the record and paid with their lives including Ken's good friend, Craig Arfon. Others have dreamed the dream without even making it on to the water – until now.
A new generation and a new Spirit
There is something very fitting about Dave Warby taking on the challenge of beating his own father's record. The two campaigns bear a lot of similarities. For a start, neither are big budget operations but very much a labour of love, relying on the support of friends and volunteers to do a lot of the groundwork. The new boat is infused with the spirit of the original Spirit of Australia, based on the same hull design but a lot more powerful thanks to its Rolls Royce engine taken from an Italian air force Fiat Gina G-91 jet fighter.
Apart from the family connection, the current attempt has other links with Ken's successful campaign 40 years ago. Back then he bought three jet engines at an RAAF surplus auction to serve as his power source, later on enlisting the help of some RAAF apprentice mechanics to overhaul them. Some of those apprentices, now a little greyer, are also working on Spirit of Australia II.
Building it themselves means the Warbys retain total control over the boat's development and have an intimate knowledge of its capabilities. Both are highly experienced powerboat racers with a vast knowledge of what it takes to push a vehicle into unknown territory. While he has always acknowledged it, Dave Warby says that working on the project together has given him an even greater respect for his father's skill and tenacity in becoming the only person to design, build and drive their own boat to a world water speed record.
"You've got to be blindingly focused, committed and dedicated to do it, and you have to go about it the right way," he said. "You've got to have an extremely good knowledge of the design of a world water speed record craft, you have to know how to drive a race boat at speed. They are the essentials."
So what's it like to power a boat along at speeds on water that only a handful of people have ever experienced?
"With every race boat you feel the boat. You are part of the boat. I know that sounds strange but you are. You're focused on the water ahead but at the same time glancing down, monitoring the engine. You don't get a sensation of travelling fast.
"I've asked Dad many times what it was like and all he said was, 'The end of the lake comes up quicker every time you go faster.' I'm starting to think that's true."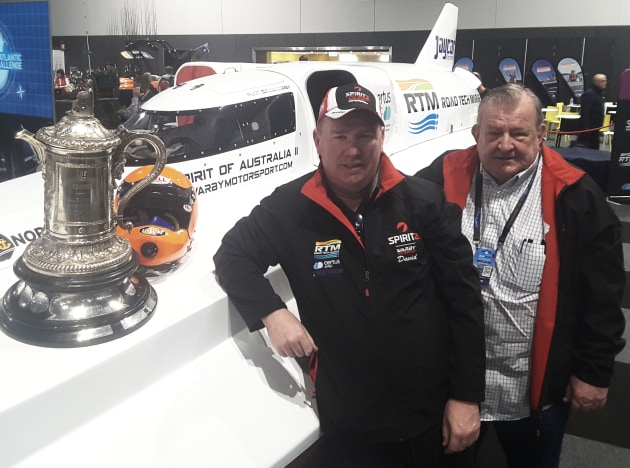 Despite it being one of the most dangerous challenges on the planet, one which has already claimed numerous lives, Dave says he has no fear.
"It's not a matter of being fearful, it's a matter of having a healthy respect for it. I've got a huge amount of respect for the fact that I've got a jet engine right behind my head."
Predicting an exact date for the record attempt is almost impossible to do; there are so many variables in play and the Warbys have adopted a softly-softly approach, gradually building up speeds during test runs on Blowering Dam and adjusting the boat's design in response. So far they have topped 350km/h, which still leaves some way to go although the pair have no doubt the boat is capable of doing it.
All being well, the attempt will go ahead sometime next year and Dave will get his chance to write his name into the record books. Anybody lucky enough to be there when history repeats itself will have the opportunity to see a new legend being born.
Update: According to the Warby Motorsport Facebook page, the next test run at Blowering Dam will be in March 2019.
This article was first published in the October-November 2018 issue of Marine Business magazine.