FOR SALE: Cove Marine, Port Stephens
Business opportunity to acquire well-established marine service centre in NSW.
Cove Marine located at Oyster Cove north of Newcastle, NSW is being offered for sale by Expressions of Interest (EOI).
Located at 50, 60A and 63 Frederick Drive, Oyster Cove, on the southern bank of the Karuah River, the site offers six hectares of waterfront land suited to all facets of boat handling, repair, maintenance and storage.
Cove Marine is a long established marine business servicing the popular boating and recreational waterways around Port Stephens. The current management team has been operating the marine service centre since 1991.
Fully compliant with stringent EPA requirements, the land holding offers significant expansion potential. Features of the site include:
Site area of approximately 61,550 square metres
Zoned IN4 Working Waterfront
On-site buildings include chandlery, office administration and various sheds
Strategically located close to major retail marinas
Water licence for potential marina berths
Refuelling facilities
Substantial expansion land for additional boat storage and workshops
Existing finger wharfs and swing moorings are in place to accommodate inbound craft for repairs and/or storage. The current Crown land licence provides significant scope for further jetty/wharf and mooring developments.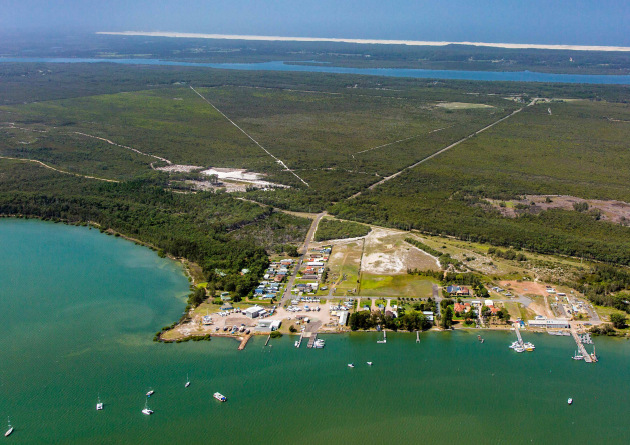 Cove Marine offers the closest access to Port Stephens and the Myall Lakes from the Newcastle area, servicing a wide geographic area along the east coast of Australia. Boating services offered onsite include:
Anti-foul removal
Minor and major hull repairs
All mechanical repairs
Full refurbishment services
Full range of insurance repair works
Electrical and navigation equipment repairs
Regular mechanical service work
Short term and long term storage
Moorings
The sale represents an ideal opportunity for the incoming purchaser to leverage off the already well-established holiday and recreational destination of Port Stephens, considered one of the best cruising areas on the east coast.
Beyond the core objectives of the land zoning, other permitted land uses are supported by the zoning with consent. These include: charter and tourism boating facilities, freight transport facilities, garden centres or landscaping materials supply, heliport, home businesses or home industries, industrial retail outlets, service stations, vehicle repair stations, vehicle sales or hire premises, and warehouse distribution centres.
For further information, contact either Matt Kearney at Colliers International on 0427 921 206, 02 4915 4014, email matt.j.kearney@colliers.com or Allan Kentwell at PRD Newcastle and Lake Macquarie on 0411 536 626, 02 4926 0600, email allan@prdnewcastle.com.au.
The closing deadline for submitting EOI is 4.00pm on Thursday 17 May 2018.
Sponsored content