Flexibility key for future training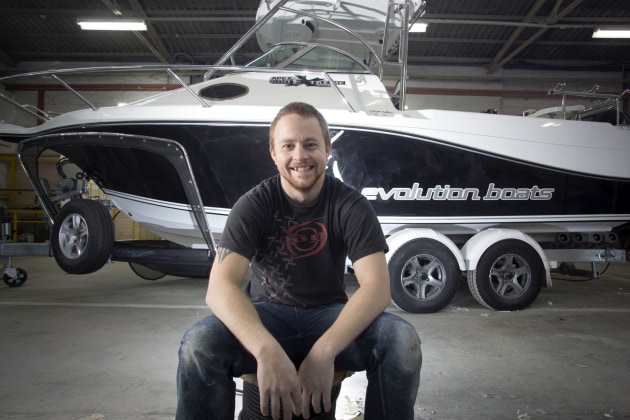 GOTAFE in Victoria is delivering flexible learning opportunities for marine apprentices.
GOTAFE in Victoria is leading the way when it comes to marine engineering training. In the last 12 months, the innovative training provider has introduced a Surf Craft Manufacturing Apprentice Pilot Program, developed a Mobile Spray Booth, and is expanding into South Australia.
"We are the only marine construction provider in Victoria, and have students based throughout NSW, Tasmania and we are in the process of introducing into South Australia," explained GOTAFE commercial manager, Brett Ambrosio.
"We pride ourselves on taking our training to students, instead of requiring students to travel. We believe our students are better off learning on the equipment they use every day, learning on the job.
"Many of our apprentices are based in small- to medium-sized businesses and we understand that time off the job is a big cost to employers. That's why our trainers do the travelling, we see it as a better fit for businesses."
Simply the best
Melbourne-based Evolution Boats specialises in fibreglass offshore fishing boats. Owners Paul and Melinda Junginger have seen five apprentices go through GOTAFE, with three currently undertaking training.
"GOTAFE are simply the best training providers we've worked with," explained Paul Junginger. "Their trainers are approachable and have the ability to communicate well with students.
"By visiting our business, their trainers are able to gain intimate knowledge of what we do and can relate what the students are learning back to our business. They structure the training to suit our needs.
"Back when I went through my apprenticeship, I was required to do it all, do the travel. A lot of the training now is computer based so can be accessed at any time. Their trainers answer the phone 99.9% of the time. GOTAFE makes it easy for everyone."
Have booth, will travel
To further assist rural and remote students in Victoria, GOTAFE has developed a Mobile Spray Booth designed to level the playing field and enable training opportunities for all.
"The Mobile Spray Booth is fitted out with an extraction system and fibreglass equipment that enables the latest training to be delivered to industry with no limitations on location," said Brett Ambrosio. "The booth opens up entirely and a canopy is pulled down to enclose the area so students can complete spray painting at their workplace or onsite.
"We can now take the booth to students who wouldn't necessarily have access to specialised equipment, to allow them to complete the required assessments."
Paul Junginger agrees: "The booth is fantastic. It's well set up and allows jobs to be completed in the correct environment.
"The booth allows GOTAFE's trainers to demonstrate to our apprentices without interfering in our business practice. They can show them in their own time, in their own way, using their own equipment – that's the beauty of it."
Not just about boats
GOTAFE is renowned for offering unique programs in specialist marine fields, and has secured 12 apprentices as part of its new Surf Craft Manufacturing Apprentice Pilot Program launched last year. The program, developed in partnership with Manufacturing Skills Australia (MSA) and Composites Australia, is designed for pre-existing marine workers to up-skill into composites.
"We've been pleased with the response from industry, with 12 apprentices currently undertaking Certificate III in Engineering – Composites Trade (MEM31112) through the Pilot Program," said Ambrosio. "The Pilot Program focuses on laying up composites, undertaking repairs and modifications, adjusting resin chemicals for different products and joining techniques."
GOTAFE's strategy seems to be paying off with apprentice Jordan Farquhar from Gippsland Ports recognised as a finalist in the BIAV Apprentice of the Year Awards for 2017.
For further information on training opportunities at GOTAFE, contact Brett Ambrosio at enquiry@gotafe.vic.edu.au or call 1300 GOTAFE (468 233).
This article was first published in the December-January 2018 issue of Marine Business magazine.