FEATURE: Moor room in Tasmania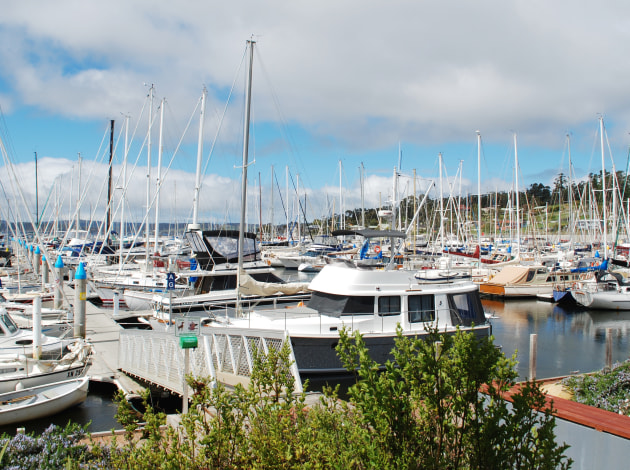 Demand for new berths is fuelling a wave of marina infrastructure expansion in south-east Tasmania.
Demand for berths from local and interstate boaters is driving several new marina developments in south-east Tasmania, most notably along the popular cruising waters of the Derwent River and D'Entrecasteaux Channel. New marinas and extensions due to be completed in the coming months will add hundreds of new berths in the area and result in a significant upgrade to the local boating infrastructure.
On a recent visit to this most beautiful part of the world, I had the opportunity to visit a number of the local marinas and find out more about how the industry is developing in this region.
First stop was the Prince of Wales Bay Marina next door to the Incat manufacturing facility in what is known as the Tasmanian Maritime Precinct. This is a relatively new marina having only commenced in 2012 and has now grown to encompass 170 berths. Located upriver from the Hobart waterfront, the marina offers competitive berth rates and proximity to marine trades including CleanLift Marine where tenants on an annual lease can get a free lift.
Marina manager David Kirkland said it is not unusual for tenants – including interstate owners – to combine a stay at the marina with having work done on their boats. The marina is also more sheltered than other marinas further south down the coast, providing all-weather protection.
An interesting aspect of the marina is that it uses the French designed and built Poralu Marine pontoon system which combines an aluminium infrastructure and polypropylene walkways. This makes for a lightweight, very durable and flexible docking system compared to wood and concrete constructions. The UV protected polypropylene decking is also designed to be easy to lift and replace, as well as being non-slip and enabling filtered light to penetrate below.
The marina is now embarking on another expansion phase which will see the addition of two more arms for an extra 80 berths as well as an extension to existing arms that will add another 30 berths. Piling work is due to begin about now for final completion in February-March 2018.
A vision for Margate
Next stop is a marina so new it doesn't even really exist as yet, or least only as a vision and a set of plans. Although there is a boatyard and jetties already there, Margate Marina is a new development scheduled to begin construction in 2018. Approval has been given for the construction of a 300 berth marina on the site along with a hardstand area, clubhouse and function rooms as well as a residential development.
Stage 1 of the development, due to begin soon, will see the construction of 124 berths from 10m to 25m. The construction work will be carried out by Queensland company Pacific Pontoon & Pier.
A key part of the marina development is the installation of a huge 400m long, 4.5m wide wave attenuator. The site will also be dredged to increase the navigable depth and the fill will be used to extend the hardstand area
While the final development calls for some imaginative visualisation at the moment, there's no doubt about the potential for this site. The location is ideal for boating access to Bruny Island and the D'Entrecasteaux Channel and yet only half an hour's drive south of Hobart. As such it will appeal to those sailors and boaters who want to explore further south without having to moor in Hobart.
The marina is already taking expressions of interest for berths in the Stage 1 development. When it is completed the marina will be a valuable addition to the state's boating infrastructure.
Taking care of the Cove
A short distance away is one of the most popular marinas in the region, Oyster Cove. Even on a weekday when Marine Business visited it was a hive of activity, not least on the impressive hardstand area which has room for two dozen boats.
John Brand, marina manager, said the hardstand occupants are a mix of long-term refits and short-term haul-outs. It is serviced by a 50 tonne capacity Marine Travelift. The area is cleverly designed to ensure that all waste water drains into a central sediment trap, while individual hardstands have keel pits so that owners can work on their boats at a more convenient height.
There are currently 250 berths at the marina with a waiting list of about 50 prospective tenants and a wait time of about 12 months. Not surprisingly then, the marina is planning a further extension which will push the arms out another 25 metres and increase the number of berths by 50.
A recent development for the site is gaining Clean Marina and Fish Friendly accreditation from the Marina Industries Association, the first marina in Tasmania to do so. John Brand outlined some of the measures implemented at the marina in terms minimising waste and promoting recycling efforts.
"We're mindful now in everything we do that we can't do anything to harm the environment," he said.
The whole site is also a testament to the drive and energy of owner Phil Boustead, a former potato farmer who sensed the potential of the site and, being a practical individual, made it a reality. Next up, there are plans to convert an old chandlery store into a restaurant.
A world away from care
The final stop is at Port Cygnet Sailing Club, not a marina as such but a good example of what makes Tasmania so alluring to many boaters – a perfect picture postcard location, an enthusiastic and active boating community, and the freedom to explore some majestic waterways.
The club has 70 moorings and about 350 registered members, not all of whom are sailors however. There's a popular rowing club which uses two
locally-built skiffs as well as a model boat club which holds races every week – conveniently the boats can be controlled from the clubhouse veranda. Members also have access to a slipway and can work on their boats for a fraction of the cost of a typical haul-out. It makes the mainland's congested, expensive cruising grounds seem like a world away.
The site of the clubhouse also has a connection with Tasmania's boating history as it was here that the famous Wilson Brothers boatyard was located for many years and where generations of skilled craftsmen built some of Tasmania's most iconic ketches and schooners. Wilson Brothers still have a shed across the bay, a reminder of the state's rich boating history and its links to today's changing industry.
Marine Business travelled to Hobart courtesy of Brand Tasmania.
This article was first published in December-January 2018 issue of Marine Business magazine.