Dunbier: 50 years of innovation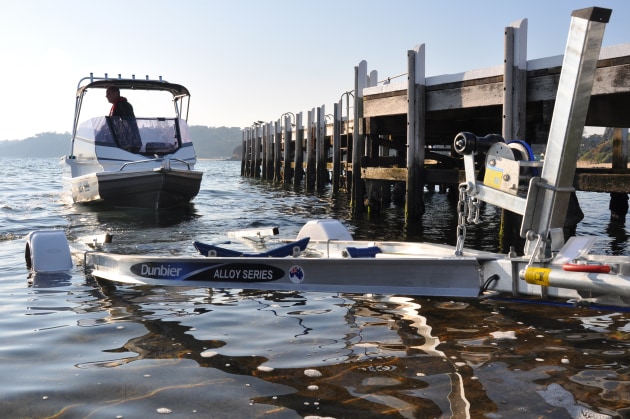 Celebrating 50 years in business in 2019, the Dunbier story is one of innovation and a willingness to take on fresh challenges.
Local trailer manufacturer Dunbier Trailers celebrates 50 years in business this year, a remarkable achievement in an industry which has seen many well-known companies and marine brands come and go during that time. Its success in becoming the leading trailer manufacturer in the local market is built on a proven business formula of listening to the industry, providing great back-up wherever it is required and constantly innovating. It is also a story of perseverance and a willingness to take calculated risks when other businesses might hesitate to act.
The story begins as a backyard project undertaken by Russell Dunbier's father-in-law who, having acquired a Caribbean boat in the '60s, decided to build a trailer for it. Russell himself was a pastry cook by trade, having left school at the age of 13, but he got involved in the project, learnt how to weld and when the trailer was finished he decided to build another one… and another, and so on.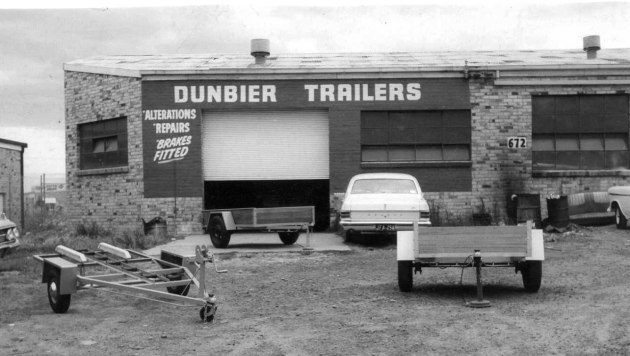 In 1969, Dunbier moved into a 150m² factory in Moorabbin and started manufacturing different products, not just trailers. At the same time too, Russell was driving a taxi at night in order to pay the bills. In the early '70s, the boat trailer business took off with several local dealers coming on board such as Boatarama, Gales Marine and JV Marine World, still a Dunbier dealer today. This set a pattern for the company in working closely with the boat dealers and building the business in tandem.
For the first couple of years Russell worked by himself before taking on staff as the boat trailer business expanded. As it grew, the company also moved several times into bigger premises, buying its first manufacturing facility in Braeside in 1985 and then moving to its current premises on six acres of land, also in Braeside, in 1998.
The early '90s also saw a major milestone for the company when Russell decided to start sending trailers inter-state, initially into Queensland.
"At the time I didn't think it was possible to ship a trailer inter-state," he said. "We started putting them on top of trucks and going there. The next stage we hired complete trucks."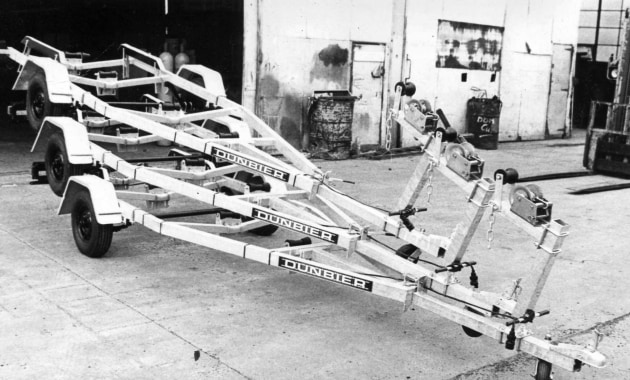 Expanding into Queensland helped to extend the selling season which, in Victoria, goes quiet during the winter months. Further north, demand is more constant throughout the year, which helped to keep the factory busy and even out the cashflow. It was no overnight success however. Local Queensland dealers were initially suspicious of this interloper from the south and it took years of knocking on doors and going to boat shows, talking to dealers and showing them the trailers, before the business really took off.
The company opened its first inter-state office in Brisbane in 1989, followed by Sydney, then Adelaide and Perth. Today, this network of branches forms the backbone of the company, ensuring that dealers and customers can get support in their home state as well as having a supply of stock on hand. It's what differentiates the company from other trailer manufacturers and has been instrumental in establishing the brand as one which can be trusted and relied on.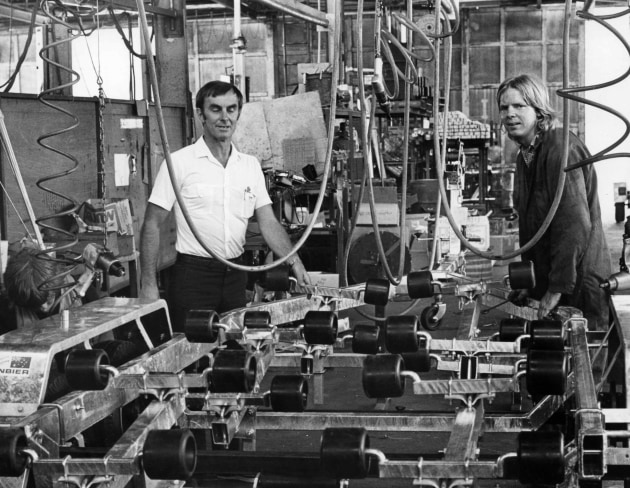 "The main thing is that you've got to back the product," says Russell. "If there's a problem with a product, you've got to back it up and fix it. So if someone comes in with a trailer and it has a genuine fault, we fix it. I think that's helped us along the line, having that attitude, not just a sales spiel."
SupaRolla success
Not surprisingly, over the course of five decades, the trailers themselves have changed enormously in terms of their design, the materials used and how they are manufactured. The function remains the same – getting boats in and out of the water as easily as possible – but how that is achieved is a constant process of improvement. One of the key innovations for Dunbier was the development of the SupaRolla trailer which remains its most successful model to date. While there were other multi-roller trailers on the market before the SupaRolla, mainly from overseas, Dunbier was instrumental in perfecting the design.
"I could see an opportunity for the company at this point so I spent approximately six months developing the SupaRolla trailer, and refined it to suit all boats. The important part was to make sure it works easily for the consumer," said Russell. "All the testing at the different boat ramps with high and low water levels was done with a Caribbean 5.3m hull which just about annihilated that hull in the early days of development.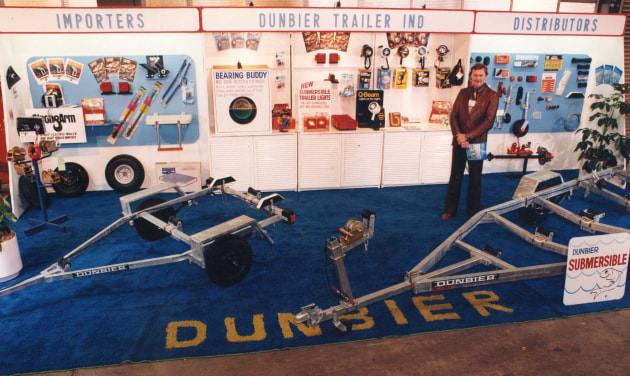 "It was really just sheer persistence and some frustration… but in the end we got it right. Not too many changes have been done on this model over the years because we got it right from the start."
Another major milestone for the company was the acquisition of fellow Australian manufacturer Mackay Trailers in 2014. This enabled the company to offer a far wider range of models including customised trailers. While the production boat trailers are still an integral part of the company's business, today it also builds for a greater variety of markets such as trailers for rowing shells. The PWC market has also come along in leaps and bounds in recent years, reflecting the growth in that sector.
While integrating the Mackay business into the Melbourne factory, Dunbier has been careful to retain the skills and quality workmanship for which Mackay is known, particularly in the custom-build market. Together, Dunbier-Mackay can now offer a one-stop shop for all types of trailers.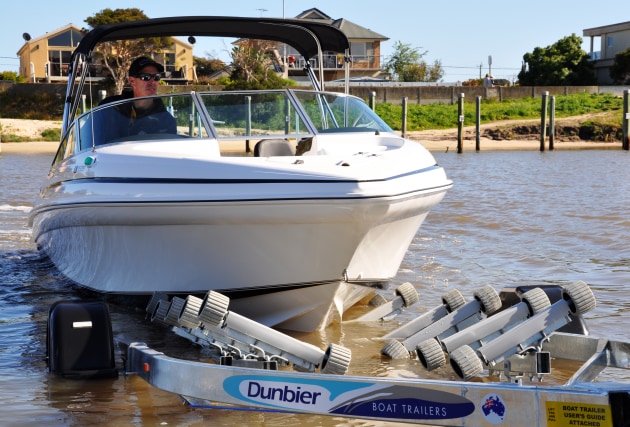 A family business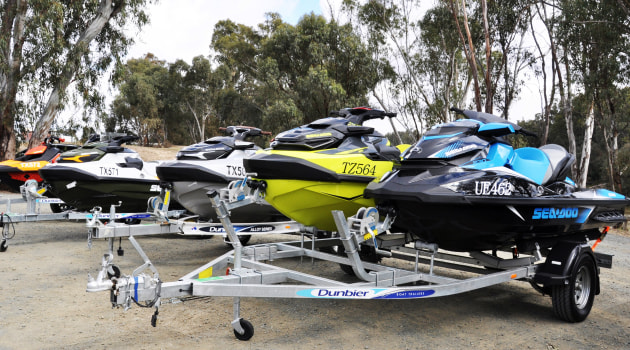 The other constant throughout the company's history has been the important role that the Dunbier family has played in all aspects of its growth. Russell's wife, Kay, has worked alongside him since the beginning and still comes into the office three days a week. Their children and partners, and now grandchildren, have all taken on roles in the company, giving it fresh energy and direction when needed, and ensuring there is always someone there to carry it forward.
"Kay and I feel extremely fortunate because we probably wouldn't do it without the family," said Russell. "They back us, in and out of the business, so it makes things so much easier."
With the third generation of family now closely involved in the running of the company, Dunbier is well-placed to respond the latest boating trends, marketing itself to the next generation of boaters. Even after five decades, there is an appetite for change and innovation. Talking with three generations of the family – Russell Dunbier, managing director Michelle Reid and marketing manager Emily Reid – two words that come up regularly in conversation are "interesting" and "exciting". There's a genuine enthusiasm for the business which is as strong as ever. Typically enough, when asked what the 50th year holds for the company, Michelle Reid replies:
"We're working on some new model releases to go in a different direction. We're excited about that, two or three new models which will be ready to release in the next few months."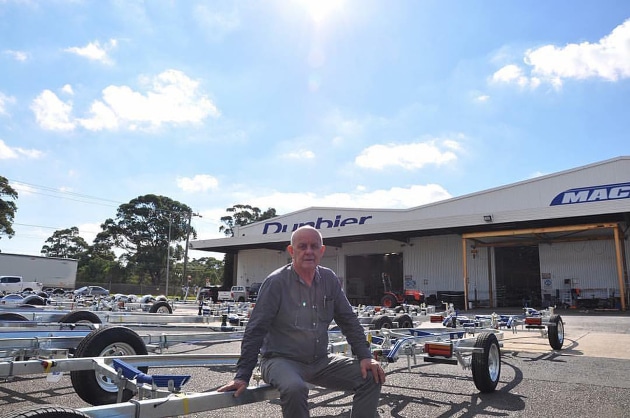 This ability to keep moving with the times is fundamental to why the Dunbier name today is so closely identified with the boat trailer market. Asked what the company has done over the past 50 years to enable to it survive when other well-known boating names have fallen away, Russell Dunbier comments:
"We haven't gone to sleep. In any type of manufacturing if you go to sleep somebody comes straight in over the top of you and takes your business. There is very good competition out there and that's what keeps you alive."
At 50 years young, the Dunbier story looks set to continue for many more to come.
50 years of Dunbier trailers
This article was published in the May-June 2019 issue of Marine Business magazine.