Cyclone Debbie: the aftermath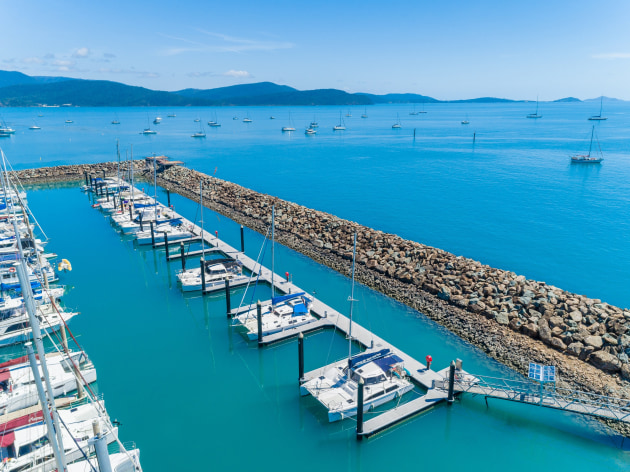 In the latest issue of Cruising Helmsman magazine, Rosemary Jilderts looks at the recovery efforts in Queensland in the wake of TC Debbie.
Every year hundreds of thousands of local and international visitors flock to the Whitsundays, one of Australia's most beautiful and popular tourist destinations, of which Queenslanders are justifiably proud.
Airlie Beach, the hub of the area, has always been a lively place with great restaurants, bars and clubs where tourists can party into the night. Or for those wanting the quiet life there are coves, beaches and rainforest to explore just minutes from town. Everyone's taste and budget is catered for, notwithstanding Tropical Cyclone Debbie's recent visit.
Airlie Beach and Shute Harbour are jumping off points for people wanting to visit the islands, to swim, snorkel and dive, to relax and sunbake on white coral beaches or to dig their toes in the fine white sand of Whitehaven Beach. Tourism is the mainstay of the region so any disruption is a major concern.
In March 2017 tropical Cyclone Debbie made landfall as a slow moving category 4 cyclone with winds of more than 150kph and gusts in excess of 200kph wreaking even more destruction than was expected due to its slow transit through the region. In typical North Queensland style recovery plans were quickly under way, and the clean-up began. It was a massive project but with hard work and determination many businesses were soon back up and running.
Abell Point Marina
Abell Point Marina is one business whose management refused to let Debbie beat them. It was a huge task but the effort by all involved was remarkable. With heads down and bums up, everyone pulled together.
In the immediate aftermath, 20% of the on-water berthing at Abell Point was damaged amounting to approximately 120 berths in this 507-wet berth marina. In a coordinated effort between Superior Jetties, CGU Insurance and Oceanic Marine Risk, the restoration works commenced 3 April, a mere five days after the cyclone passed over the Whitsundays.
In the initial stages of the project a team of volunteers from Boating Industry Association arrived on-site to assist with the make-safe stage of the restoration project. Experienced marine trades personnel from marina managers to pontoon specialists arrived on-site to offer support and assist with commencing repair works.
Within days a temporary walkway for L Arm and the marina's fuel dock was fitted, and by week 6 the walkway had been replaced for new.
With considerable coordination between the Superior Jetties and marina team, commercial operators and private vessels were relocated to the south marina for the pontoon replacement works to commence. A priority for the project was to ensure minimal disruption to the marina's on-water tourism operations whilst the repair works commenced.
The 8 September 2017 marked the completion of the on-water restoration project at Abell Point Marina.
"I am delighted to announce the cyclone restoration project at Abell Point Marina is now completed," said Joscelyn O'Keefe, marketing and business development manager. "After five long months and a great deal of hard work and commitment from the team here and our contractor Superior Jetties, the final pontoons have been installed and signed off.
"As you may be aware it has been a mammoth task, with 120 berths damaged and a complete replacement of six arms over the last five months, the effort has been incredible.
"In the wake of Hurricane Irma in the Carribean, the enormity of extreme weather events such as TC Debbie is becoming a reality for our marine industry around the world. In a small community like the Whitsundays where tourism is our life-blood the rebuild of our on-water accommodation was an absolute priority and essential to ensure the ongoing business operations of our 80+ commercial on-water operators.
"Furthermore, as the marine industry in Queensland is such an important economic driver, it is important to show the rest of the country and the world that we are back in business."
Superior Jetties project manager, Ryan Hogan commented: "This project has been the culmination of our team down south working some very long hours to produce a fantastic product, and outstanding subcontractors who went above and beyond to get the marina operational again. It's been a real pleasure to work in North Queensland again and with a client that's dedicated to running a truly world class marina. This has definitely been the best project team I've ever had the pleasure of working with."
Hogan gave a special mention to services provided throughout the project by Orca Marine Services, Proserpine Electrical, Whitsunday Drainage Contractors and Pacific Marine Group.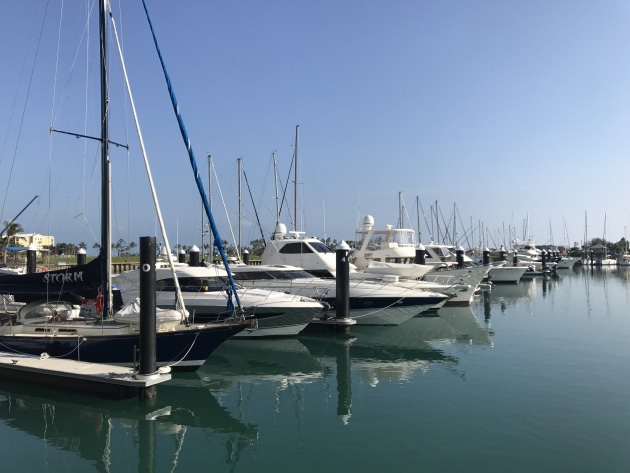 Port of Airlie
"I am pleased to report all marina repairs since Cyclone Debbie were successfully completed a few weeks ago," said Port of Airlie manager, Kristy Cunningham. "During that time we maintained a strong occupancy within the marina as our team worked closely with marina builders to ensure minimal disruption to both berth owners and customers.
"Looking forward, Port of Airlie currently holds strong bookings and has received many enquiries from investors on the back of another successful Airlie Beach Race Week."
Hamilton Island
"I am very pleased to advise that the Island is back up and running and we have returned to business as usual," said Stephanie Maguire, PR, events and sponsorship manager.
Immediately after the cyclone, thanks to a huge remediation effort from the staff, the Island was able to reopen to guests 10 days following the cyclone. The Reef View Hotel was the first accommodation option to open, and this was then followed by the reopening of the Beach Club.
For Hamilton Island, it was five months of hard work to have the Island fully restored and ready for Audi Hamilton Island Race Week. That was the target for the business and it was achieved. Race Week saw over 200 boats and a highly successful onshore program. One of the key highlights was Prince Frederik of Denmark attending the event and racing on Wild Oats X.
One of the most exciting developments since the cyclone was the opening of Hamilton Island's new IGA supermarket. Being able to provide a facility, which allows for a full grocery shop and stocks a wide variety of items that are competitively priced has been a benefit for both guests and staff.
The Island's luxury resort, qualia, also reopened ahead of Race Week following an extensive refurbishment. These works were planned ahead of Cyclone Debbie but were brought forward immediately after the cyclone. The qualia fleet was also boosted with the arrival of a new luxury Palm Beach motor yacht available for qualia guests to hire."
Hayman Island
I was unable to make contact with anyone for comments however it is rumoured that up to $80 million worth of repairs are needed for the 160-room luxury resort and it will remain closed until the refurbishment is completed.
Daydream Island
Due to substantial damage caused by TC Debbie, Daydream Island Resort and Spa will stay closed until 2018. The operators decided there was no financial sense in reopening this year as they already had refurbishment plans for 2018. The renovation investment has been increased by more than $15 million to over $65 million including funding for a new marina.
"The clean-up has progressed well and we're hoping to begin major works late this year. The increased investment by our owners reflects their wish to bring Daydream Island back to its spectacular best and ensure the island's infrastructure is upgraded to support operations well into the future," said Daydream Island resort general manager, Dawson Tang.
"We're looking forward to unveiling the fresh new look for Daydream next year and it's very pleasing to see so many visitors already returning to this stunning region."
It is anticipated that the newly refurbished Daydream Island Resort and Spa will be opening for guests in mid-2018.
Charter companies
Charter boats were back on the water within a few days after Cyclone Debbie.
"TC Debbie was very kind to us and we had no significant damage to any of our vessels. Visibility is now back to what it was pre-cyclone and our guest reviews are a testament to that," said Dave Gibson from charter company, Ozsail.
"As we head through spring and into summer, our busy season, our team is confident and motivated to continue the growth of both domestic and international travellers to the Whitsundays region.
"Airline's like Tiger and Jetstar are making this easier than ever, with flights still up to 50% off their RRP continuing."
Tour operator, Asher Telford, said: "It's an exciting day for everyone in the Whitsundays – that most boats survived and we are back in business."
Island transfers are operating as normal, including airport connections.
Mainland
Most businesses at Airlie Beach have reopened their doors and are welcoming visitors and patrons. Mainland tours and trips are all operating throughout the region including Airlie Beach, Proserpine, Bowen and Collinsville.
The Airlie Beach Hotel, in the centre of town, has been closed for repairs however the bottle shop opened mid-September, the 20-room motel the following week and Mangrove Jacks a week after that. The four-star hotel rooms won't reopen until April 2018. All other hotels and resorts are operating.
Tourism Whitsundays sales and marketing manager Tash Wheeler said: "The school holidays have started off strong for our tourism operators, from what they are saying, and we should see good bookings from now all the way until the Christmas and New Year break.
"The temperature is picking up, the lush tropical vegetation is back and everything is looking promising for a strong spring and summer season. We have just received the latest visitor statistics, which show growth for both domestic and international visitation during the past year, so things are looking more positive for the destination."
Consistent lobbying for six months by Whitsunday Mayor Andrew Willcox and Tourism Whitsundays CEO Craig Turner resulted in a landmark joint Federal and Queensland Government funding package of $7 million to help the local tourism industry bounce back. Of this, $4.5 million will go to four infrastructure projects located in the Whitsunday Islands, Bowen and Lake Proserpine, and a $2 million Tourism Recovery Fund will provide grants for projects that will drive tourism to the Whitsunday Regional Council area. The grants are for people with amazing tourism ideas but no capital to fund them. Up to $500,000 will fund coral propagation research and coral gardening.
By the end of September business in the town itself was almost back to normal with the Airlie Beach Hotel and other popular spots also bouncing back. While there were still repairs being carried out on some buildings most businesses had reopened their doors to visitors and patrons.
So, there is absolutely no reason to put off your trip to Airlie Beach and the Whitsunday Islands. Charter boats are taking tourists to beautiful beaches and reefs; the snorkelling and diving is still amazing and the sailing is, as always, fantastic.
So what can we all do to help in the area's recovery? Yachties who have time to spare can sail in, stay in the marinas, restock at the local supermarket, spend some money and support the area. Others could drive or fly in. Take the cruises, stay in the accommodation, buy a hamburger or a three-course meal and a beer or two, and help this most beautiful of areas which we all love so much.
Those who can't visit can still help by promoting the area. Tell interstate and international friends and rellies about our amazing Whitsundays and suggest that they head there for a great holiday and I guarantee they won't be disappointed and will enjoy everything that this incredible area has to offer.
A longer version of this article was published in the December 2017 issue of Cruising Helmsman magazine.