Two brothers are representing their well known family name as they forge their own way in the boating industry.
Ryan Short started his career in the marine industry at 17. At the time the Sydneysider worked with his late father, well known marine industry identity Andrew Short, at his Taren Point-based business. There Ryan worked the slipway, detailed boats and generally helped out, learning the boating business. Two years later he became the service manager at Andrew Short Marine's Middle Harbour outlet at the Spit, Mosman. 
Ryan Short says he's always been around boats, getting on the water as often as possible during school holidays and weekends - any spare time usually had a boat involved. Like his father, he has a great affection for sailing and racing in particular. While his business currently prevents him from attending as many sail events as he'd like he has previously competed in the Sydney to Hobart and Melbourne to Hobart events, five Sydney to Southport/Gold Coast races, Hamilton Island Race Week and others.
In 2010, at the age of 21, Ryan Short started his own business, Ryan Short Marine Services, also based at the Spit. Now at 28, he runs a couple of businesses in partnership with his brother Sam, 24, from the Spit location of Ferguson's Boatshed Marina at the southern end of the Spit Bridge. The Marine Services arm currently offers a variety of services for customers including access to a travel lift, 61 feet of hardstand storage, and servicing facilities for all types of powerboats and sailing yachts up to a maximum 31 tonne capacity.
Ryan and Sam now have 10 employees on the payroll, from shipwrights to mechanics, electricians, detailers, slipway attendants, a service manager and admin person who manages the office's accounts and day to day running. Another arm of the Short business is based in Brookvale where the rigging of engines on trailer boats and associated works is carried out.
The brothers' boat dealership, Short Marine, this year became the exclusive NSW dealer for the American Grady White boat range and shares coverage of the brand across the rest of Australia outside of Queensland with that state's dealer. Short Marine is also a Yamaha outboard dealer.

The Shorts struck the deal with Grady White after being introduced to the manufacturer via their Yamaha connections. A factory tour of Grady White's factory in Greenville, North Carolina saw the young brothers leave a favourable impression on management there and soon secured an agreement to represent the American brand in Australia. Grady White currently offers around 27 models from 18-37ft in length in centre console, dual console, bay, walkaround and express configurations.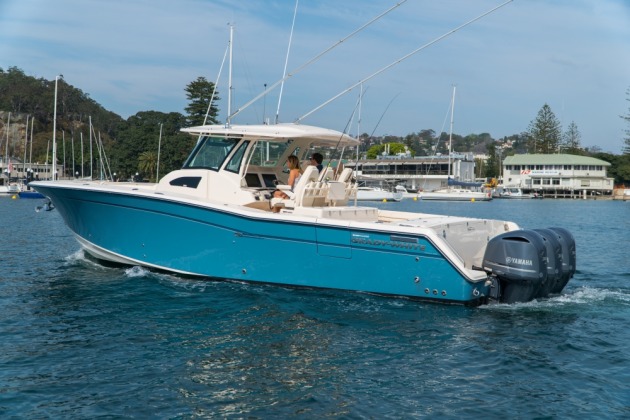 Ryan says the Grady White factory visit proved a real eye opener for the brothers who saw firsthand the professionalism and state of the art facilities typical of many large American boat building concerns.
"They have over 50 dealers, none as young as us, but they we're impressed with what we had to offer," he explains.
With another busy summer boating season looming, Ryan Short relates some advice he'd give to customers planning on getting into boating for the first time.

"Pick the right boat and importantly buy it from someone who can give you quality after sales service and training. Buying a product that's safe and user friendly for the family will ensure you have an asset that you will get the most out of."

Wise words from a relatively young player in the marine industry. Watch this space. 
By Mick Fletoridis