Business profile: Midway Marine, WA
Warwick Rann of West Australian boat dealership Midway Marine currently runs the thriving concern alongside his parents, Jim and Joan. He recently spoke to Mick Fletoridis about business life in the west. 
Tell us about Midway Marine
We've had two yards in the Rockingham area and next year will be our 20th year. We previously owned JPW Wholesalers (chandlery) and dad built that up, we were in wholesale and then we made the silly decision of going back into retail (laughs). Retail's been good for us, we're boaties and we enjoy boating, we use our product. We're constantly out in boats; my family, mum and dad and my kids.

What are the family member's roles within the business?
Mum, Joan, does the accounts and we're all directors – Jim's the main director – and I manage the business. Dad's 72 and he's been in the boating game for years; everyone (affectionately) calls him "the dinosaur of the industry" - he's a lifetime member of the boating industry association (BIA) and well respected around here. People often come to him for a lot of advice.

How did you first get into the boating industry?
I've been involved in it since I was 15. From school I went straight into boats, basically. I think I was conceived on a boat (laughs) … we had Safety Bay Honda on the other side of town, a company we started from scratch and we were a Honda dealership and sold SeaJay boats and Coxcraft and then 15 years ago we bought Midway Marine, which was basically "the opposition." We then shut the Safety Bay site down and moved to this premises; the GFC had hit us fairly badly so we decided to close one (business) down.

What boat brands do you currently sell?
We basically do dinghy and console packages with SeaJay and we do the Revival brand which is really strong in WA. We do the (Revival) 640 Deluxe as we've got Rottnest Island nearby and its popular with overnighters. We've just taken on Haines Hunter as well and I also do my own little boat, FishHunter.

What are the basic differences between the brands?
The Fish Hunter boats are our own designs and we get them welded up, we started those from scratch. After four years running we've sold about 23 (Fish Hunter) boats. They are just built for the hardcore fishermen or diver – no paint, no frills, just built tough, people love them. Rockingham is a huge fishing town, we service all the local boats and sponsor the local fishing club so this style of boat fits right in here. The Haines Hunter brand which we've just taken on will basically be our premium top of the line $100k-plus range.
The Revival range is an intermediate level affordable fiberglass brand that you can drive out to the shelf and fully enjoy your boating. We've been selling Revival boats for 10 years and have a huge customer base. We do a Revival fishing comp every year and have sold heaps of those boats. They're just well priced and perfect for WA waters. And obviously there are our SeaJay packages, which are well built boats from a well known brand. We are now also a sole Mercury outboard dealership.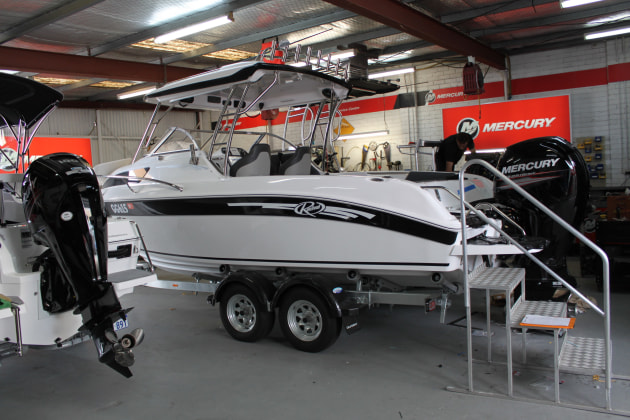 What other services do you offer?
We have a full workshop with fully qualified marine technicians. We do new boat fitouts, engine re-powers, servicing all year round on boat/motor/trailer, electrical work and we have a big retail shop. We sell top brands like Raymarine and Lowrance and basically anything you'd need for your boat under one roof. We also sell pre-owned boats and new trailers.
What advice would you give anyone thinking of getting into boating?
Have a think about the sort of boating you want to do. Everyone (initially) seems to think they need a cabin, but nine times out of ten you'll need deck space; if you're a growing space you'll find you need the deck space (over a cabin). Think about the choice of hull too in regards to aluminium or fibreglass and which will suit your needs and experience better. Budget also, obviously – you can only buy what you can afford and (while second hand may be cheaper) there are some good value new packages available at present. It's a tough one though, there's never the perfect boat, it's always a compromise.

Website: www.midwaymarine.net.au