Built by Bellingham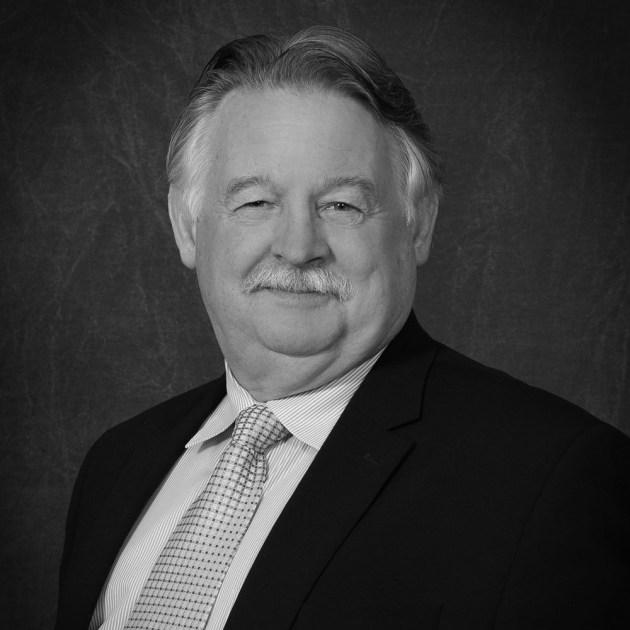 Australian marinas owe a lot to the innovations introduced over the past two decades by Bellingham Marine. John Spragg spoke to Marine Business about what makes the company so successful and what the future holds for the marina sector.
Few companies have been as influential in shaping where and how people go boating in Australia than Bellingham Marine. Over nearly a quarter of a century, the company has been responsible for many of the most significant marina developments around the country. Its technology and design expertise have helped create today's modern boating environment, delivering the infrastructure backbone that supports a myriad of different activities, recreational and commercial, both on and off the water.
Today the company directly employs about 40 staff around the country, has offices in Sydney, Melbourne and Brisbane, and manages projects not just in Australia but throughout the region in SE Asia, China and the Middle East. It is by far the most successful marina builder in the region and continues to set the pace in terms of new marina design and construction.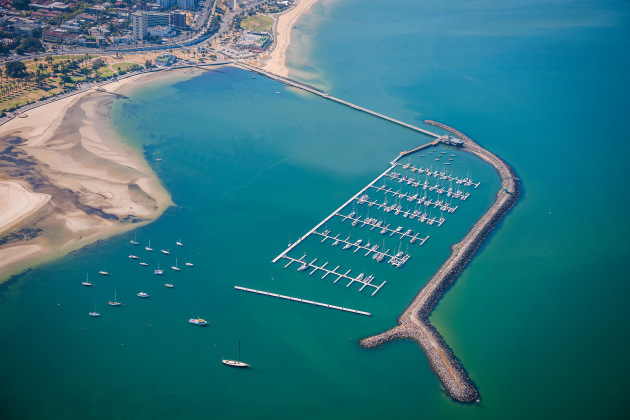 It was very different when the US-based company first arrived in Australia in 1996 to set up a direct presence here. Back then Bellingham Marine Australia employed just two people – current managing director John Spragg and his PA, Bernadette Williams (who sadly passed away last year). The company was in competition with another builder called Pacific Marina Developments which was using an older system developed by Bellingham. From the start though, Bellingham showed that its new technology was superior and it soon started to pick up projects.
In the US, Bellingham Marine had been building marinas since the late '50s and its Unifloat concrete dock system was recognised as being the leading product, spawning many copies but none as good as the original. Over the years, the system has continued to evolve as Bellingham developed new components such as telescopic piles, HDPE pile sleeves and the use of reinforced fibre glass for thru-rods and other parts. It was also one of the first companies to pioneer the use of wave attenuators in the marine industry, making possible developments which would previously have been unfeasible.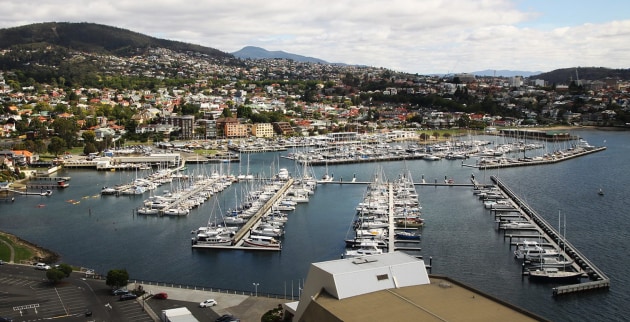 Australia soon embraced the Bellingham approach with dozens of projects being completed and thousands of berths created over the past two decades. John Spragg says the reason for the company's success comes down to a fundamental reason.
"The Unifloat system that was devised 60 years ago is by far the best system around," he says. "There's no doubt about it as far as strength, longevity and the ability for it to do what we say it can. The whole Bellingham system is a good system."
How good? In fact no-one really knows for certain how long a Bellingham marina will last; some of the original pontoons built in the US are still in use today, with upgraded parts, 60 years after they were first installed. Even so, the company continues to research new ways to enhance longevity and durability.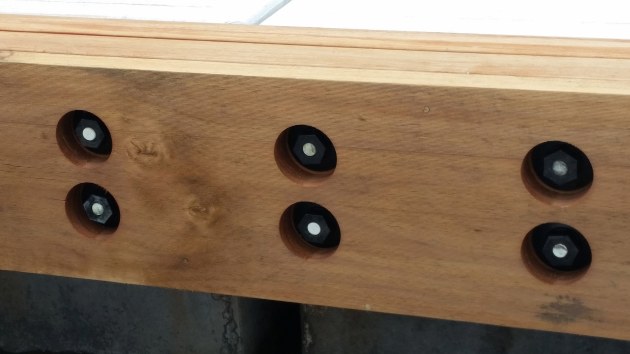 A good example is the development of the FRP Thru-rods, unique to Bellingham, which took 10 years of testing to refine. They were first installed in a non-test site at Westhaven Marina in Auckland in 2014 and, since then, thousands have been installed, becoming standard in most projects. The result is a solution which is strong, low maintenance and corrosion-free, contributing to the ultimate long-term goal of eliminating the effects of corrosion in components. These days, it's not just the thru-rods though which are non-metallic.
"We have removed all ferrous reinforcing on most projects, using FRP reinforcing and non-metallic mesh in our pontoons, and we're also offering protruded FRP walers instead of timber walers," says Spragg.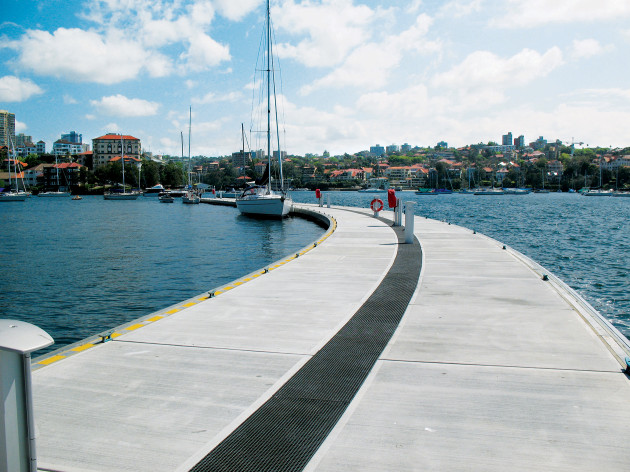 Landmark installations
Over two decades in Australia, the company has recorded an impressive list of landmark installations around the country. While Spragg is reluctant to highlight particular projects, believing that every client is important and every project notable, memorable installs include St George Motor Boat Club in Sydney, featuring a curved attenuator and then, subsequently, another curved attenuator outside it, as well as the Royal Sydney Yacht Squadron at Kirribilli in Sydney which features a long curved attenuator with telescopic piles that remain hidden from view – another Bellingham innovation.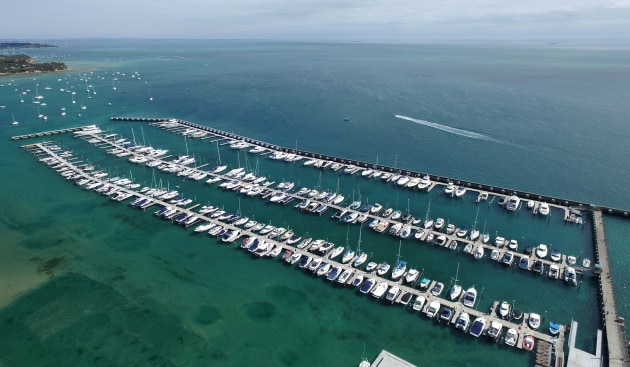 Others include the Royal Yacht Club of Tasmania and Derwent Sailing Squadron at Sandy Bay in Tasmania, Royal Brighton Yacht Club and Royal Melbourne Yacht Squadron in Melbourne, two stages at Blairgowrie Marina, a number of stages at Hamilton Island, all the way up to the latest greenfield project, the recently-opened marina at Trinity Point on Lake Macquarie in NSW.
Being involved in such ground-breaking projects has given John Spragg a close-up view of the marina sector over the past 20 years. Few in the industry can match his depth of knowledge and perspective on how the sector is evolving. He describes it as a mature industry, healthy but not exactly booming compared to other countries in the region in recent years (for a while anyway).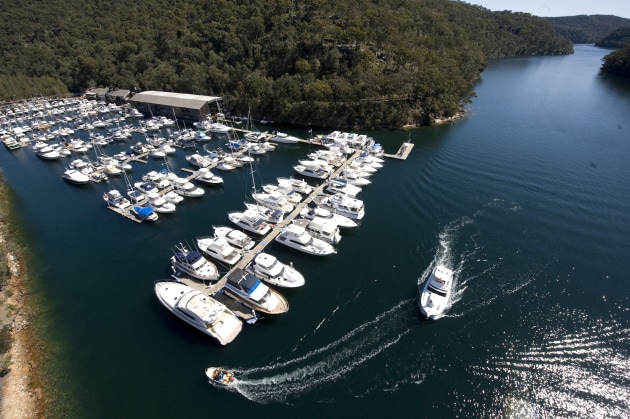 Year on year though, the local market continues to deliver a steady stream of projects, both greenfield sites and refurbishments. The biggest change, however, has been in how the marinas themselves operate and the range of services they offer.
"We're seeing marinas become more of a destination," he says. "They're not a boat park any more. Boaters are demanding a much more pleasant experience than 20 years ago."
With the demand from boaters for more and better-run facilities, Spragg has been at the forefront of initiatives in the industry to raise professional standards, whether it's the marinas themselves through programs such as the Gold Anchor and Fish Friendly accreditations or on an individual level via industry-sponsored training programs.
"Running a marina these days has become very much more hospitality orientated with a big focus on OH&S," he says. "You really have to have your staff up to speed."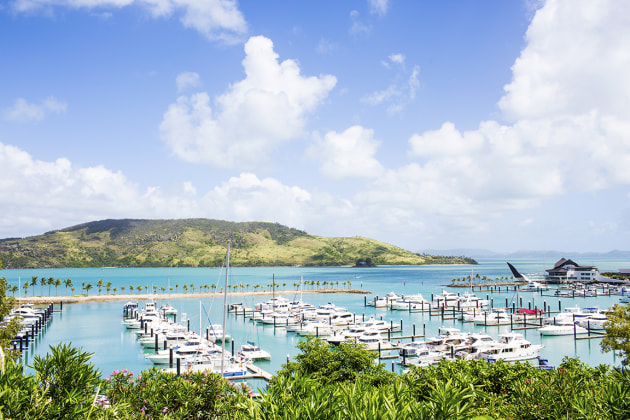 He's mindful of the fact that boaters of tomorrow will be a very different breed from those of yesteryear, less likely to spend hours 'messing around' with their boats and more focused on having a pleasurable experience in the time available - without the chores associated with boat ownership. It will then be the job of the marinas and clubs to deliver those services as required.
There are challenges ahead in responding to these changes but whatever the demands placed on the marinas and clubs, it's a sure bet that Bellingham Marine will be there to help them build for the future. Just as it has been over the past two decades.
This article was published in the May-June 2019 issue of Marine Business magazine.