A world in harmony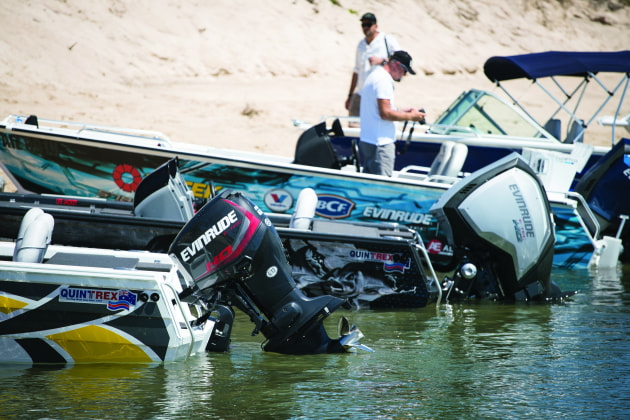 With Australia's outboard emissions standards due to come into effect in July, Marine Business spoke with Jeff Wasil from Evinrude about the new regulations.
There would be few people in the world more in tune with the requirements of engine emissions testing than Jeff Wasil, engineering manager in Emissions Testing, Certification and Regulatory Development at Evinrude, part of the BRP group. Recently appointed to chair the ICOMIA Marine Engine Committee, Wasil has many years of first-hand experience in testing and certifying engines to meet the strict US Environmental Protection Agency standards.
Speaking to Marine Business from Evinrude's manufacturing base in Wisconsin, Wasil commented that one of the most pleasing aspects of Australia's implementation of emissions standards is that it will be aligned with other global standards in Europe and the US.
"One of the things which is really important for us on the manufacturing side is predictability and harmonisation of standards," he said.
Unlike the automotive industry, the volumes involved in outboard engine manufacturing are not large enough to support having different regulatory regimes around the world, so from an industry perspective, it is important to have everybody singing from the same hymn sheet.
"This means that when we certify an engine to an emissions regulation, we can take that engine and sell it in different areas without having to do additional testing or development work."
As an example of where this harmonised approach didn't work, Wasil tells the story of Bodensee or Lake Constance in Europe where the standards were so strict that, at the time, no engine manufacturer could meet them. As a result, boaters couldn't buy new engines and the outboards became frozen in time as the older engines were kept running long past their use-by date.
"It basically created a museum of old engines as they were rebuilt over and over. The net gain in emissions reduction was negative because no-one had a product which could comply with the regulation."
Wasil acknowledges that users will often tend to hang on to older engines, more so than with older cars, if they are still running well. The appeal of the old carburettor two stroke engines is that they were light, had good power to weight ratio and were inexpensive to buy. On the other hand, Wasil says any cost comparison between conventional unregulated products and new technology engines should also take into account the whole picture of running costs and comparative fuel consumption.
"There are some pretty substantial differences between the amount of fuel you're going to burn and the overall runnability of the engine."
In terms of performance too, Wasil says the differences between old and new engine technologies are stark.
"If you take a conventional two-stroke and compare it to the E-TEC of today, it's like night and day. We've done a lot of work to get more power, more torque out of the engine while getting really low emissions and excellent fuel efficiency.
"It's really just a matter of trying the new product. The performance is really impressive. It puts a smile on your face."
Building a better two-stroke
Another key point raised by Wasil is that, contrary to some perceptions in the industry, emissions standards are technology 'agnostic'. There is no requirement that engines must be four-stroke or that two-stroke engines cannot comply. The only requirement is to meet the emissions targets; how that is achieved is up to the individual manufacturer.
Evinrude itself is the best example of this approach. Back in the early days of emissions standards in the US, the rush to develop new engines to comply with the EPA's regulations was one of factors behind the collapse of Outboard Marine Corporation, the previous owner of Evinrude. In the ensuing years, while other engine manufacturers invested heavily in four-stroke technology as the way forward, Evinrude under the ownership of BRP persisted with developing its direct injection two-stroke technology through the E-TEC platform launched in 2004. It went on to become the first outboard engine technology to win the US Environmental Protection Agency Clean Air Excellence Award.
The result is that today Evinrude is delivering some of the most fuel-efficient, low emission engines on the market with the current E-TEC G2 models consuming up to 20% less fuel while producing up to 30% more torque than competitive outboard engines.
This article was first published in the June-July 2018 issue of Marine Busness magazine.